News Details
eBay Watch - Inspector Gadget Lot
I am, it dawns upon me, a huge fan of the Inspector Gadget figures by DiC. However, I don't think that I have a single one! I do have the large 12" Gadget by Galoob, but the classy 6" figure-and-vehicle line appears to have so far eluded the Preserve. Well, I did pick up a carded Penny and Dr. Claw on Canadian cards
some time ago
but you know me, I don't really want to open them. So here, I'm delighted to see, is a fantastic, nearly complete set of figures! Time to reenact some episodes!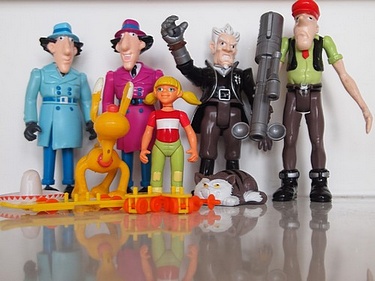 Some people complain that after all the waiting, all the wondering, and the tantalizing obscuring cardboard insert for the carded Dr. Claw, that he doesn't look crazy enough. Well, I can't agree, as I'm pretty surprised and delighted by the twisted face sculpt they dared to sell parents, and I like to feel it's cannon, coming from the same company, and that's just cool. Let's see what happens with this set - granted it is incomplete, but still a pretty cool sight to see!
Posted by charlie on April 20th 2012, 09:49 PM
Leave Comment

Share
---
No comments have been posted.
---