News Details
eBay Watch - Air Raiders set, Man-O-War with Ball!
I know I keep posting sales for a few lines over and over, but I can't help having favorites! In particular, an Air Raiders auction just popped up with the unicorn-rare Man-O-War, and the super extra rare styrofoam ball! The only other time I've ever seen one of those yellow 'surveillance pod' is, well, my childhood example that is safe here at the Preserve. Also - want to see something cool? Here is the the delightful
line-art
from the Man-O-War instruction manual. It'll be exciting to see what happens with
this lot
- I sort of suspect it won't go very high, so it's a great chance for someone to pick up a set of most of this important mid 80s series!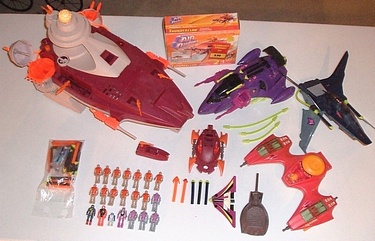 Posted by charlie on August 24th 2012, 09:14 PM
Leave Comment

Share
---
doctorkent
August 26th, 12:07 PM

It might be time to get some Air Raiders into the Kent collection, I think.
cparry
August 27th, 07:15 AM

Hopefully Ben sees this comment - I have a feeling there may be some head to head competition otherwise!
Ben
August 27th, 07:40 AM

Ah, crap. :-P And here I thought I might get a bargain!

The only thing working in your favor is that I've spent too goddamned much on other stuff in recent weeks.
doctorkent
August 28th, 07:26 AM

Ben, you can go for it. I'll just be watching this one.
Ben
August 28th, 08:27 AM

Looks like a certain recent 1980s book author has the high bid. I know he won the last Man-O-War, so he's probably after...something else...in the bag...
cparry
August 28th, 08:40 AM

Hmm, hopefully his heart isn't in it! I hope you give it a shot.
doctorkent
August 28th, 06:33 PM

Do you want me to ask him what's up? Maybe there is something here we've missed.

I was in the running until announcement of a new Glyos wave next week that takes the fun money that would have gone into these. I mostly want a Twin Lightning to start with. I finally got to play with some AR when I visited Bogs' house, and I now know I need them in the eternal Toyfinity battle. (and stupid Winston from GB Classics still, lol)
cparry
August 28th, 06:44 PM

You're in luck, doctor, there's a beautiful boxed Twin Lightning that appears to be in perfect condition - you even get to assemble it and put on the stickers!

I even purchased some toy catalogs from that comicntoyseller fellow, and he seemed to be on the up and up, so there's my vote.
Ben
August 29th, 06:24 AM

John, if Twin Lightning is what you're after, I MIGHT have an extra one (or two) if I win this lot. Gotta find them, and they might not be complete, but if you want to hold off, it might be worth it.

As for that other bidder, it looks like he's already been outbid by another high end bidder. When you only need one or two things out of that lot, it makes it tough. For me, there's enough I need there that it's justified.
cparry
August 30th, 09:47 PM

Holy crap! A final price of $612?! Given what the individual sets have been going for, that's really something. Probably comes down to the figures you mentioned, Ben. I hope neither you nor John got soaked for that high bid!
Ben
August 31st, 05:51 AM

Hell no! My high bid was about a third of that! The higher bidder was the aforementioned author.

Here's the thing: Are those mail away figures rare? Absolutely. But I've seen them sell on eBay before in the $75 to $125 range, even when properly labeled as the mail away set. Some nutjob has them with a Buy-It-Now of $950, so I think that gave the IMPRESSION that they're worth a ton of money. Now this lot also had a complete Man-O-War and most (but not all) of the other vehicles/playsets, but they just don't bring that type of money.

My fear is that this will temporarily drive the prices of Air Raiders in general up. People will see that lot and assume everything is worth that kind of money.
cparry
August 31st, 06:35 AM

Well, unless that fellow is trying to corner the market (and I enjoy how both you and Kent know who it is) there are a number of other sets posted currently that *should* go for way less.

I know what you mean, though, that prices are likely to spike after this - I guess anyone with duplicates should list them! (if only I knew were they were...)
---