News Details
eBay Watch - Mortimer Ichabod Marker
One of my 'grail' items was on eBay this week, and the bidding wrapped this afternoon. I've mentioned Bill Cosby's show from the early '80s, targeted towards preschool kids, called Picture Pages, and it remains one of my favorite things. The replica Mortimer Ichabod Markers that were sold for use with the home activity books are indeed rare - this being the first one I've seen this year, I believe. Well, it seems the price has gone up from around $150 to nearly $300 - well deserved! Click through for the final tally of this exciting and seldom seen collectible!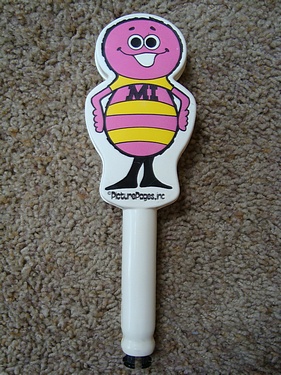 Someday - I'll add one to the Preserve!
Posted by charlie on August 31st 2012, 09:42 PM
Leave Comment

Share
---
doctorkent
September 2nd, 01:40 PM

I've been trying to get an answer from Mr. Cosby about this. Maybe this year, lol.
cparry
September 2nd, 02:25 PM

Wouldn't that just make my day!
Ben
September 4th, 07:15 AM

Each year for the past three years, a small group of my friends get together to watch Picture Pages tapes. They are HILARIOUS. I'm not sure what kids were supposed to learn except that they could draw lines. My sister created makeshift Mortimer Ichabod Markers for everyone to use, but you'd better believe I'd love to own one of these. I am DETERMINED to find it for a lot less, though.
cparry
September 4th, 07:33 AM

That is spectacular - I had a feeling you would know what I was talking about. When you successfully complete your quest, you'll have to let us know!

"There you are and here I am...."
Rich
October 1st, 08:04 PM

Lol.... I just scored a Mortimer Ichibod marker this weekend. The condition is perfect, just haven't had a chance to buy a battery for it :0)

Anyway.... Not really something I wanted or sought after, just stumbled upon it.
cparry
October 1st, 08:08 PM

Consider me properly jealous, Rich!
Rich
October 2nd, 08:39 AM

Thanks. It is cool :)
But since I am not in love with it, I think I will be posting it up on eBay soon.
cparry
October 4th, 06:08 AM

I'll be sure to keep an eye out :-)
---