News Details
eBay Watch - Massive Rock Lords Set
Well, someone has come out of the woodwork with a really beautiful set of Rock Lords, all listed individually. I zeroed in on these sales when I was surprised to see a Saberstone and Spearhead both with their weapons. Then I saw the Snarlie Narlie and knew it was on. Definitely a great chance to complete some collections out there, if you have the means this month!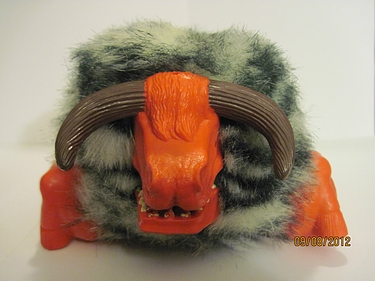 Amusingly, the only things they have listed other than this Rock Lords collection are some random items of clothing. Poses more questions than it answers!
Posted by charlie on September 10th 2012, 10:32 PM
Leave Comment

Share
---
Ben
September 11th, 07:29 AM

Saw these, too. Some of the starting prices/Buy-It-Now prices aren't bad (i.e. Sabrestone and Spearhead with weapons), but the prices on the Jewel Lords are pretty nuts IMHO. Certainly, I want to get a Sunstone and Solitaire into my collection, but not at those prices.

The second series of Narlies each sold for $35 almost immediately, so while Snarlie will certainly hog the spotlight, that's pretty impressive in their own right. You certainly don't see S2 Narlies all that often.

I'm curious to see what ol' Snarlie brings because...well, because I'm picking one up myself in a couple of weeks. I got a good/great deal on it, but I'd like to know just HOW great a deal I got. :-P
cparry
September 11th, 09:11 AM

Oh man, you continue to amaze and impress! A 'great deal' on the Snarlie - one of my Grails :-)

I'm sure you know, but he's been going for around $400 (or more!) the few times he shows up - I agree it will be interesting to see what happens. While the prices on those Jewel Lords aren't great, they're only a bit out of whack so maybe worth it given the wait someone might have until the next one. As for Spearhead, if I hadn't bought one from Kent a few years ago, I'd be tempted by this one, with his crazy weapon!

Also of note - he managed to sell his Solitaire with weapon for $125.
Ben
September 11th, 01:12 PM

His prices on the basic first and second series Rock Lords are a bit insane. I know the weapons are hard to get, but they're not THAT hard to get. Obviously, this is more of an opportunity to get some of the rarer pieces from someone who clearly loved the line and decided to collect it to near completion (seeing as how the only pieces the seller doesn't have for sale are the Shock Rocks, the "action" Shock Rocks, and Gettai Saurer/Fossilsaurus).

I was VERY fortunate to get Snarlie Narlie, but I don't want to jump the gun until I have the piece in hand. It's boxed, which actually puts me in an awkward position because I prefer my collection loose. I don't think I'm in a position to complain, though!
cparry
September 11th, 02:50 PM

Oh my gracious....your new Snarlie is boxed. Dude, that's pretty absurd. Look - I know you and John have this desire to open packaged toys - and while I appreciate that the chewy nougat in the box is what you want, we have to accept that a package which is nearly 30 years old has itself assumed an important place in the overall history of the item. Ah well, I just talk myself horse on this issue.

I should offer to triple the price of what you are paying, and buy it from you - then you can get this nice loose example that's on ebay now!
doctorkent
September 11th, 09:41 PM

Interesting auctions. We see this from time to time - people jumping out, and high quality pieces going up for sale.

Price-wise, the Jewel Lords are very dependent on who is watching auctions this week. I have Sunstone, and I paid about $65 for him. Obviously, Solitare with weapon is the top piece in that set. The S2 Narlies are really tough, but I think a lot of people lump them together. You either like Narlies or you don't.

In the end though, the essential problem with these figures is that the demand isn't super-deep. We may be nearing the end of a cycle where the third-tier lines are finally losing value because new people aren't getting into them.
I'm tempted to jump on Sabrestone for that price.

I finally got to see the Snarlie Narlie in action at Bogs' house - it wasn't working at first, but I shook the mechanism loose. Pretty sweet. And no one is ever going to beat the deal HE got on it. ;)
Bahglenn
September 20th, 01:26 AM

Yeah good Ol' Doctor Kent used his toy mojo & got my Snarlie Narlie working. We actually had it running along the floor, I still need to take a video of it doing this & then post it online. Oh & Doc is right; the price I paid for mine is too insane to believe but 100% true. ;-)

I like the weapon that came with Saberstone, almost like a bladed weapon with 2 lasers attached to it. I actually have a Ston'emm cast up in her colorway complete with blue light-piped eyes & it looks pretty sweet.
---