News Details
eBay Watch - Genesis Cordless Elite Controller Prototype
While the cables on the Sega Genesis controllers weren't disastrously short, we all know that wireless was the way to go. Also, in 1989 wireless things were simply bad ass, and if given the choice it was no choice at all. Well, it seems that Sega advertised this wireless controller option called the "Cordless Elite" but that it never came to market, or at least arrived in vanishingly small numbers. An eBay seller claims to have a (non working!) prototype of this controller system, which might be an interesting historical footnote for everyone's favorite 16 bit system (open to discussion!).
Click through to see the auction for this controller, but given the price the seller is looking for, be sure you know what it is you are bidding on before you take the plunge!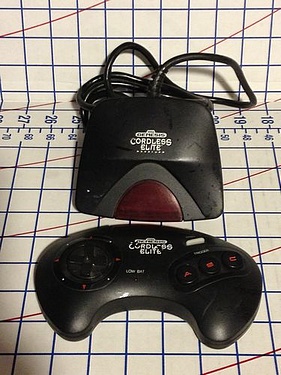 TEAR BACK FLAPS - DO NOT CUT!
Posted by charlie on January 21st 2013, 01:42 AM
Leave Comment

Share
---
MrXYZ
March 8th, 02:07 PM

I actually have this one at home. ( semi boxed even! ). It looks much better than this one and which actually sort of works. ( two buttons always work, one only sometimes. ) I payed 200 dollars for it at the time. Buy this thing only if you want to put it on your shelf, it sucks in real usage. ( as can be expected for a prototype )

If you want to actually use a wireless controller than look for the "normal" sega wireless controllers. they are much nicer, have six buttons, and work perfectly.

Despite it's current condition and price this is still a very very rare item though, you are not likely to see another like this in a long long time.
cparry
March 8th, 02:10 PM

Fascinating first hand info about this device - thanks!

While I do enjoy collecting rare items that don't necessarily have a 100% valid functional use, I'll probably move this one a little lower on the ol' list ;-)
---