News Details
eBay Watch - Air Raiders, Full Set!
Well, here's a first in my experience - a full set of Air Raiders in beautiful mint boxed condition. Hilariously enough, the only thing missing are the two carded sets of figures, which typically pop up on eBay for $9...
Now, the price on this set is pretty darn high, but I suppose I've never seen a MIB Man-O-War (except for my own, which I got as a kid), so I'm happy if a high value can get established for it. I suspect they won't get the $2500 they seek, but I wish the seller luck!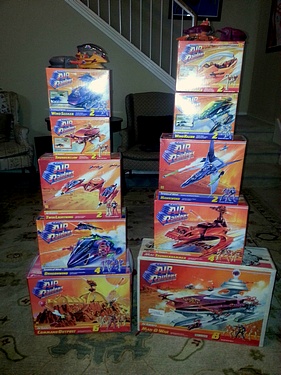 Posted by charlie on January 24th 2013, 09:18 PM
Leave Comment

Share
---
Ben
January 28th, 08:56 PM

If that lot had the mail-aways, he might actually get what he's asking. Clearly, the Man-O-War is not exactly the rarity we all thought it was a couple of years ago.
cparry
January 29th, 07:47 AM

It often seems to be the case that once a super rare item shows up a few times and sells for a decent price, people notice and start posting their copies of the thing they didn't know or care about previously. And so down goes the price!
---