News Details
Kung Fu Grip 4
Back in the grizzled bearded side of the Adventure Team, today we have the Air Explorer, also known as the Nordic Adventurer! With his blazing orange flight suit and stunning blonde locks, the sky won't know what hit it!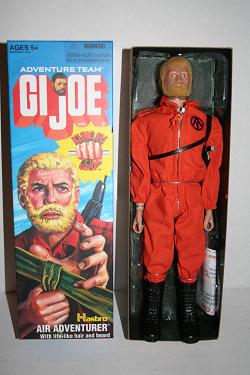 This series has really been a delight to work through, and the care taken with all the figures continues with the Nordic Explorer; from the matching blonde eyebrows to the orange pull cord on the flight suit zip, and the Adventure Team logo proudly blazed on his chest, kids and collectors alike can find something to enjoy and appreciate.
As a follow-up to an earlier ebay watch, I wanted to look back at the
final price
of the Snarlie Narlie from the Rock Lords universe. You read that right - $355 - really impressive. I hope to find another Snarlie auction soon, and see if this was a fluke, with the one big spender who wanted a fluffy bull Narlie having been satisfied. Though, for that price, there were obviously two to tango, so there remains an unsatisfied bidder who was willing to go to $354!
Posted by charlie on August 24th 2007
Leave Comment

Share
---
No comments have been posted.
---