News Details
Atari Force Mr. T ad
The new Atari Force comics have delivered the goods, and everyone needs to check out this amazing two-page spread for the 1983 NBC Saturday morning lineup.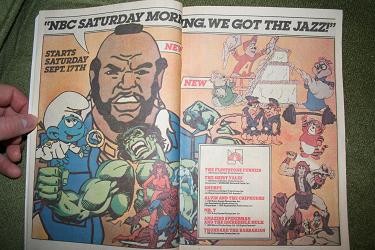 What an amazing lineup that set of pages represents. Everyone who has seen it so far remarks in particular on Thundarr, in particular that it was awesome. I think it's time to do a little research and secure some of those episodes for Preserve's sake.
Today we have an Internet Aneurysm that results from a search for 'nubian spider man', and gives us
this amazing gem
. An awesome behind the scenes picture from an awesome film.
You LOSE, good DAY sir
!
Posted by charlie on November 29th 2007
Leave Comment

Share
---
change
November 29th

What? There is a new Indiana Jones 4 moive coming out? No way. Shia Le Buff rocks. Did you see 'Holes'? Come on. =) No, really. I liked that movie. Plus he's the penguin in Surf's Up. He sounds a little like Bruce Willis. - Change
change
November 29th

So I am listening to the podcast...obviously...hey the RSS feed worked. Keep it. -- Hook up UncleCast on podalley and other places. Come on. =)
change
November 29th

Did you know there was a Cowboy BeBop comic? I picked up issues 1 and 2 for 2 bucks the other day. Still my favorite anime.
change
November 29th

Need help. Do you understand how this should work -- Datel - Action Replay: Ultimate Codes for use with Pokémon -- when I try to unlock pokemon the whole GBA freezes up? Have you played with this at all? My 5 yr son needs to know so of course need to know. Peace CPGP .
change
November 29th

"Ebay is your oyster!" - Come on people -- some one else use the comment feature. CP is jones'ing.
change
November 29th

love the break music... http://www.youtube.com/watch?v=TdnLhN4SeYY
change
November 29th

What?!?! I liked the Transformer movie. I bet you hate Jar Jar Binks. Haterz!! ;-)
change
November 29th

Mirror universe? Awesome!!!
jerry
November 30th

I don't know who this "change" guy is, but this seems like it's getting a little out of control...
change
December 1st

clearly. =)
---