News Details
GI Joe 25th Shipwreck
Friend of the Preserve, The Abyss, put it best when he said
"Of course I love Shipwreck! Every red-blooded American loves Shipwreck!"
. That is exactly 100% true here at the Preserve, and today we feature the GI Joe 25th Anniversary Shipwreck figure, in all of his impossible-to-find-in-stores glory.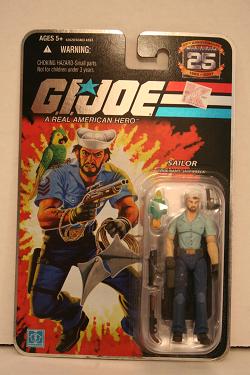 Hector X. Delgado is the man, and anyone who '
can splice a line, fry powdered eggs in the tooth of a gale and eat them, tell taller tales than a Senate Appropriations committee and take a three day liberty in Thule, Greenland and come back smiling
' I want to have on my team.
Posted by charlie on November 30th 2007
Leave Comment

Share
---
change
November 30th

And now for something completely different... http://www.youtube.com/watch?v=GBxWE_U7x2w&feature=related "Kill Spiders for Spongebob"
TheUncle
November 30th

"Well save my bones from Davy Jones!" I think that was a quote from the man himself. In other news, it looks as though Takara is going to cash in on the movie hype by offering 2 exclusive repaints of the soon to be re-released Ironhide and Ratchet: Ironhide in all black (his original color in the Diaclone line) and a hideously ugly lime green Ratchet. Which one of the four do I get- Red Ironhide, Black Ironhide, White Ratchet, or Lime Green Ratchet? Charlie, Change, Internet at large, let me know your opinions.
change
December 1st

My boys love the Dungeons and Dave, but I was not happy with them siging "Kill puppies for Satan". "Kill spiders for spongebob" was our re-write. =)
cparry
December 2nd

Uncle - you know that I'm always a fan of keeping it original, so I have to say you should go for G1 colors for you initial purchases.
change
December 2nd

Hmmm. Go ugly. Go often. I'd opt for Lime green, but that's because I don't know what I'm talking about.
cparry
January 1st

Not a bad suggestion either I suppose!
---