News Details
High Score 100 Real Gear
The first of the wave 3 Real Gear figures we're going to check out is the High Score 100.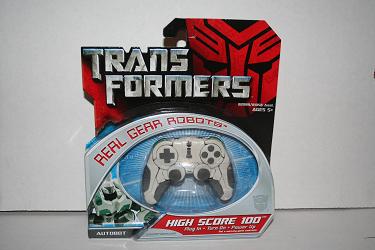 Actually ringing in a 10 on his Skill stat, High Score 100 has made himself a master martial artist by, I like to hypothesize, watching a whole bunch of kung-fu movies. You can draw your own conclusions.
Today we have an ebay watch for a nice set of Transformer boxes. In particular, this is a complete set of
all five Predacon boxes
, japanese style. Definitely cool to see them all together, and I wouldn't been too surprised if they sell for that price at this time of year. The seller is walking a very fine and sketchy line, picturing the boxes full which isn't what you get, but as usual, buyer beware!
Posted by charlie on December 9th 2007
Leave Comment

Share
---
change
December 9th

Hey Charlie. I gave Mark the Darth Maul figure as his St. Nick's day present (a crazy tradition celebrated in Milwaukee) from the Episode 1. He loves it. And much as it makes a toy collector cringe (of course he opened it and is playing with it) its what toys are for int he end, right? =) I guess it's a $35 figure. I got it for $2. Go figure.
cparry
December 9th

Hey man, I always say I'm happy when the toys get to the kids, and they definitely are meant to be enjoyed!
change
December 11th

hey...now that i'm actually focusing on the blog that transformer looks kind of cool...i'lll see if any are about in my neck of the woods...
---