News Details
Epic Crispin Glover
Update:
Today in video game news, EA has announced the first handful of titles to result from their new partnership with the mighty Hasbro. For more information about these games, featuring Littlest Pet Shop, Nerf, Monopoly and Yahtzee, we will post a link to the official press release when it becomes available!
It is entirely my own oversight, that I was not aware of the following fact, though I excuse it in part due to the total and complete lack of interest that most anyone should have in the film upon which this fact hinges. Finding that there was less than usual on the old TV tonight,
Epic Movie
snuck onto the screen after something more worthwhile had just finished. Mere moments before I was about to flee from the insipidness, I did a double-take. That can't be
friend of the Preserve
, Mr. Crispin Glover, playing the part of Willy Wonka? But, it is, and it is amazing.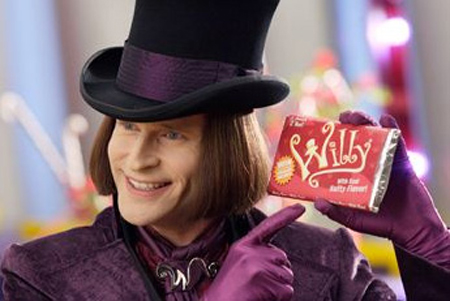 While I almost have to unconditionally insist that people avoid this movie on it's other merits, I have to instead just as strongly recommend it for the Crispin content. Most readers of the site, I hope, are fans of his, and this is just a total joy to see from an absurdist standpoint. Your best bet is to watch the first 10 minutes of the movie, and then the credits. That's worth the price of the DVD alone.
Posted by charlie on February 11th 2008
Leave Comment

Share
---
No comments have been posted.
---