News Details
Toy Fair - Tonner and more
Welcome to the latest update of Toy Fair 2008 galleries!
Mezco - Extra pictures of their Living Dead Dolls.
Tonner - High end doll company who now bring us Harley Quinn!
Toy Vault - Crayon Shin Chan and Cthulhu dolls!
We are continuing to plow through the pictures from the show, and the galleries aren't done yet! Today check out the excellent 'DC Stars' line from Tonner - I really dig the Joker and Harley Quinn figures, and they have a number of other well designed forays into markets that are very new for them.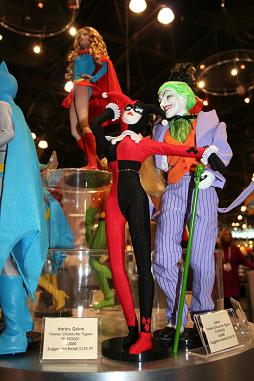 Down the hall from Tonner, in the urban alley, Toy Vault was showing off a fantastic array of offbeat and delightful products which all immediately made it onto our want-lists. To spare our more sensitive readers I'll not post a pic of Crayon Shin Chan here on the front page, but encourage people to check out
the gallery
. What I will highlight are their great plush Cthulhu figures, in a variety of maddening shapes and sizes.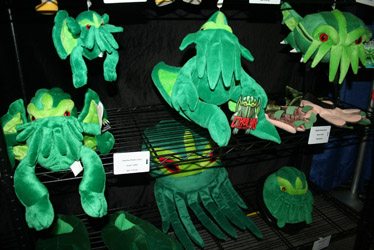 Lastly we have several supporting pictures of Mezco's Living Dead doll line, so as to make sure there is enough imagery in support of the article that The Uncle wrote about these products.
They are distressing little suckers, and very well done. Seems that they'd look pretty great in a collection along with some
Teddy Scares
- that's a shelf no one will mess with.
Posted by charlie on February 25th 2008, 01:22 AM
Leave Comment

Share
---
No comments have been posted.
---