News Details
G.I. Joe Resolute - Cobra Commander
Let's keep that G.I. Joe train rolling with additional wave 13 figure coverage. Today is extra cool, however because we get our first look at one of the 'Resolute' figures from the upcoming Animated feature. Granted we've had almost as many Cobra Commander figures in this line as we've had Snake Eyes, but the styling of this new item is really great, with the art to match!
Additionally awesome was the discovery of the latest wave of G.I. Joe Comic packs, which both feature Resolute characters! The Destro figure is pretty sweet, as are Tunnel Rat, Shockwave and yes, also Storm Shadow and his complex gear! Look for some coverage soon!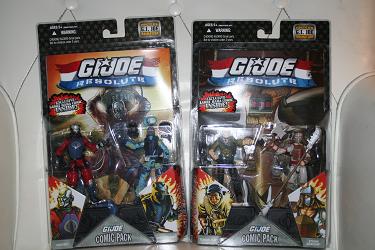 Posted by charlie on January 5th 2009, 06:24 AM
Leave Comment

Share
---
No comments have been posted.
---