Journal Archives from November 2013
Press Release - Toyfinity Mordle Drop on Thursday 11/21/2013

Press Release -
For those of you who have been paying close attention to more frequently updated toy blogs, you will have seen that DoctorKent and myself have been releasing our very own toy line, to decent reception! Well, another drop of amazing Mordles is on the way tomorrow night, to delight and astound your vintage sensibility. Click through to read our very own press release on the drop, and be sure to head to
Toyfinity
tomorrow at 9pm EST to grab some for yourself!
Read More
Posted by charlie on November 20th 2013, 03:48 PM
Leave Comment

Share
---
Best Lock Generic Brand Explosion
At Big Lots the other day, I couldn't help but notice the line of Best Lock building sets they carry, and their sudden brand explosion! Someone over at Best Lock is doing a great job acquiring recognizable brands, and these Terminator and Stargate sets look pretty good. Be on the lookout!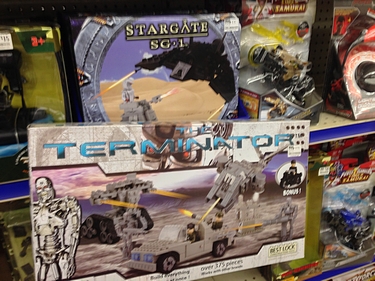 Posted by charlie on November 15th 2013, 03:50 PM
Leave Comment

Share
---
Star Wars Black - Biggs
I'm definitely a little shocked and surprised that both Hasbro and Mattel decided this year to scale back the detail and articulation on their 'basic' figures, leading to $8 offerings that have articulation straight out of 1982. Granted, I like vintage things, but not at today's prices!
Thankfully, they are at least providing an option of a more modern, detailed figure, in the form of the Star Wars Black line. I finally saw ol' Biggs chilling on the pegs, and thought he looked like a boss. These figures are $10, which makes them a pretty good deal by comparison. Try to find the set, why don't you?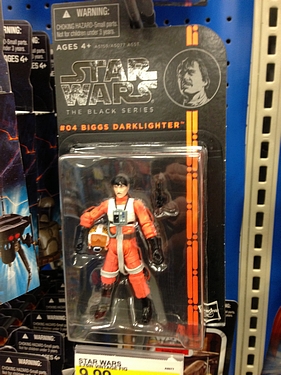 Posted by charlie on November 8th 2013, 04:09 PM
Leave Comment

Share
---
TMNT - Spider Bytez
Several years ago, Playmates was in dire straits with their long running and much beloved Teenage Mutant Ninja Turtles line. After decades of success, it seemed that interest had finally waned and they had even stopped attending Toy Fair, with distribution only through Diamond Select!
But now, as if out of the blue, their new TMNT line in support of the new animated series is, for my money, the most fun thing in the action figure department this year. While other big manufacturers are scaling down articulation and re-releasing the same figures for the 100th time, we get from Playmates things like Spider Bytez here. Good job! Track this, and his wild compatriots down, if you can.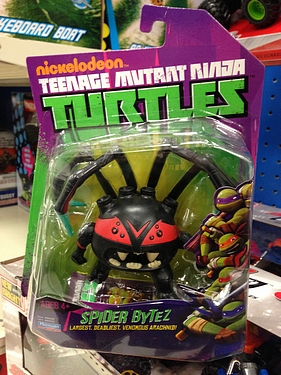 Posted by charlie on November 2nd 2013, 04:04 PM
Leave Comment

Share
---