| | |
| --- | --- |
| | Welcome to the New York Comic Con, 2008! |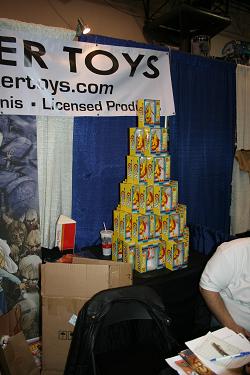 It was excellent to see Shocker Toys again, having caught up with them at Toy Fair, and then again at the recent Monster Mania X convention in Cherry Hill New Jersey. They really delighted convention-goers this time around, by bringing their show exclusive SCUD pre-posed figure along for the ride! Their pre-orders for the figure on line had closed, leading me to believe that I'd missed the boat on getting one of these great figures, but fortunately they found a spare case and had a very few for sale at the show! It looks great, has fantastic looking packaging, and makes us all excited for the newly retooled Indy Spotlight series 1 figures, and series 2 which is still in the final round of development.
Product Images (4/18/2008):
SCUD!
Indy Spotlight Series 2.
The faithful banner.
Series 2.
Indy Spotlight series 1.
SCUD pyramid!
Series 2 - note the new articulation.
Dick Tracy.
The Tick.
Ignacia.
---