| | |
| --- | --- |
| | Welcome to the New York Comic Con, 2008! |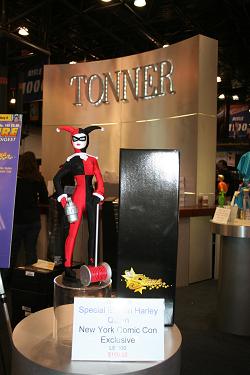 Tonner Dolls brought their new pop-culture inspired figures with them to the Comic Con, and the DC Stars were looking great! The belle of the ball was certainly little Harley Quinn, who was selling for $150 and is already going for twice that on the secondary market. With a limited production run of only 100 pieces, which got you use exclusive weapons, it is one of the best figures we've seen - though maybe we all just have a special soft spot for ol' Harley. Check out some additional pictures below!
Product Images (4/18/2008):
DC Stars!
Harley Quinn exclusive.
Super Girl.
Wonder Woman.
---