News Details
Toys and Games Catalog - 1980 Milton Bradley
I picked up this 1980 Milton Bradley catalog some number of months ago, and as things typically go around here I'm just getting around to shooting some photos of it this week. What to my wondering eyes did appear, however, but a number of missing pages - not eight tiny reindeer! There is so much other cool stuff in what remainder of the book I do possess, however, that I had to post the partial catalog even though it rubs me the wrong way to not have it 'complete'. You can enjoy a slew of fantastically '70s board games, and the Big Trak and Microvision! Two early staples of the Preserve, of which I suspect many others have fond memories as well. So - flip through the pages that I have - I bet you'll still have a good time!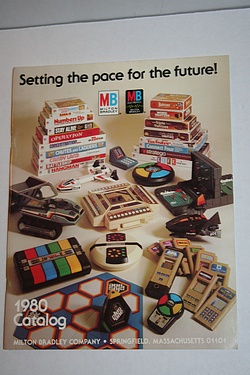 Do be sure not to miss the Star Bird Intruder, Avenger and Command Base - how cool are those!? A Captain Power predecessor that I knew nothing about! I mean, look at the Avenger there, it is totally a '70s version of the
XT-7
- remarkable!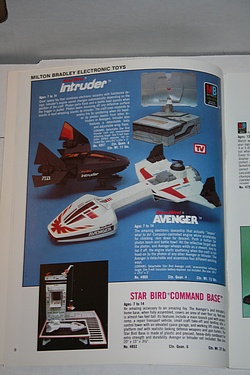 Posted by charlie on June 8th 2012, 08:38 PM
Leave Comment

Share
---
doctorkent
June 10th, 09:17 AM

If you want a laugh, I just picked up a junker Intruder at a toy show yesterday.
cparry
June 10th, 09:23 AM

First off - I'm delighted! I look forward to seeing it.

Secondly - how is it that NJ has toy shows almost every weekend?! Amazing!
Ben
June 11th, 07:55 AM

John, were we at the same show? The show in front of the shop in Richland? I was there early, like right before 10 AM.
doctorkent
June 12th, 05:27 AM

Charlie - ha, yes, we do just about.

Ben - yep, same show. I was there later, as is the tradition. You get anything good? I picked up an Imaginext Batcave, the aforementioned ship, a giant ship from Tim Mee toys that I had not seen before, and a couple of random Silverhawks/MOTU bits.
cparry
June 12th, 06:07 PM

I certainly can't complain, since you've tried to take me to at least one, and I'm the person with the impossible schedule.

Cool scores at the show!
Ben
June 13th, 06:21 AM

I spent WAY more than I intended, although I was not intending to spend much at all. I bought a vintage Droids A-Wing in fabulous loose condition for $100. I know the prices have calmed down a lot, but that was one of the only gaps left in my vintage Star Wars collection. I also rooted through a great 90s toy chest and picked out a shoebox full of Toy Biz Battle Builders, a bootleg of a Hot Wheels Attack Pack toy, and a figure from Bandai's Skysurfer Strike Force. Obviously, it was a day for pulling out random obscure bits.
---