Journal Archives from February 2013
Toy Fair 2013 - Magnote
One of my favorite visits this show was with a small company called Magnote. They were featuring a variety of different products, all of them creative, well designed, engaging and most excellent! I shot two videos as I was guided their their products for 2013, and I highly recommend you check them out - you might see some stuff you really like. Articulated robots you build out of colorful paper straws? Yeah, they've got that.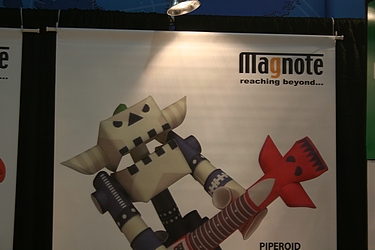 Posted by charlie on February 28th 2013, 08:27 PM
Leave Comment

Share
---
Toy Fair 2013 - Mattel Galleries Complete
OK, a few weeks late, but the Mattel galleries are finally complete! While I didn't spend a great long time on the Masters of the Universe Classics figures, I did see some super cool stuff in the Little People 50th Anniversary line, the North American return of Max Steel, and a Hot Wheels carcade machine!
Click over
to those galleries for pics and video from nearly every brand they had on display!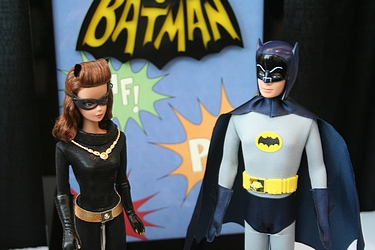 Posted by charlie on February 25th 2013, 09:50 PM
Leave Comment

Share
---
Toy Fair 2013 - Skyrocket Toys
I admit to being initially attracted to the
Skyrocket Toys
booth because it was starkly different from others on the floor that day. This is always a good plan, given the sensory overload that defines Toy Fair. Theirs was an enclosed space, like a huge camping tent, and pitch black inside save for their illuminated products and demo reels. How could I say no? Well, I had a great time learning about their cool products:
Illumivors
- Mechashark was nominated for toy of the year 2012, and this year they have the mechapede! Animated glowing legs add to the crawling motion in the dark.
Vehicles of Mass Destruction
- RC cars with firing air-powered missiles and an awesome fire control switch on the handheld. Coming fall 2013.
Sky Viper
- quad copter, can fly in all directions, pivot on axis, and do a one button flip. Even comes with a foam body for indoor play!
Fuze
- A super cool bike rim light effect, with a deep amount of complexity! Comes with images, but you can create your own using a mobile app. Even can add speed based effects to the animations, showing different pictures at different speeds. A very flexible and fun toy, which was rightly nominated for a Toy of the Year 2013 award!
Posted by charlie on February 24th 2013, 08:23 AM
Leave Comment

Share
---
Toy Fair 2013 - Lego Galleries Complete
Phew! It's always a marathon getting the Lego and Hasbro galleries complete, given how busy things always are around the house after 6 days spent in NYC at Toy Fair. But once again we have done so!
Click here
for the full set of galleries, each with video, from Lego's showroom on Sunday Morning. I'll try to add some annotations about set number and titles once some additional galleries have been processed from the show. For now - however - it's time to move on with the other great companies we saw at the show!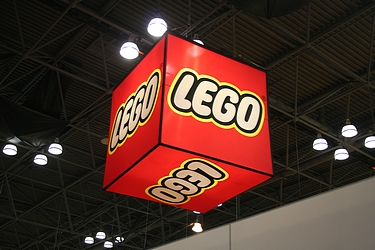 Posted by charlie on February 21st 2013, 10:43 PM
Leave Comment

Share
---
Toy Fair 2013 - NECA Gallery
Want to see the new Adam West Batman figure? Of course you do! How about some 1:1 scale Gremlins? Here is a little video I shot at the NECA booth, that you should check right out!
Posted by charlie on February 20th 2013, 09:05 PM
Leave Comment

Share
---
Toy Fair 2013 - Moose Toys Trash Pack
You know where I had a really good time at Toy Fair this year? Up at the hidden Moose Toys booth! You might not immediately recognize that name, unless you are a fan of their wildly popular Trash Pack figures, but let me assure you they have a lot going on. Someone in the design department - someone high up - has a deep and abiding love for '80s and '90s toys, and they are not afraid to show it. The playsets and action features that I saw on display were so exciting and well done, though I fear I only captured a small number of them with my video.
I'm still working on the gallery from their showroom, and a better writeup, but in the meantime I wanted to give much credit where credit is due, and to post my video of some of their new products so you can at least get a flavor of the goodness. The truly sweet-spot playsets were still embargoed, but they promised to send me info as soon as it was revealed, which I will be delighted to post here!
Micro Machines, Garbage Pail Kids, Boglins, oh my!
Posted by charlie on February 19th 2013, 09:41 PM
Leave Comment

Share
---
Toy Fair 2013 - Lego Lone Ranger
For some crazy reason, a lot of people will insist that "they don't like Westerns". I have no idea what this is based upon, and I for one like Westerns quite well, so am delighted by the new Lego Lone Ranger sets. It's not the largest assortment they have in the books for 2013, but it's bigger than Spongebob was, at least!
Check out
the gallery of these rails and wagons, then come back tomorrow when I'll hopefully have finished up the Lego coverage, and moved on to the rest of the show!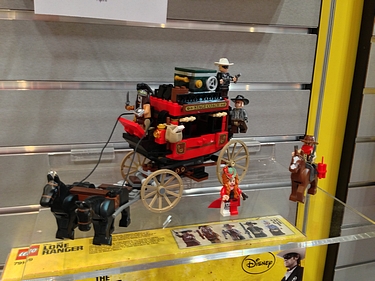 Posted by charlie on February 18th 2013, 10:16 PM
Leave Comment

Share
---
Lego Chima - from NY Toy Fair 2013
Lego is hoping to re-capture the massive success of their Ninjago line with the new Chima sets. Well, they are starting off well with this great looking lion castle! Everything looks great, and I hope they sell well -
click here
for the gallery and video of this new line.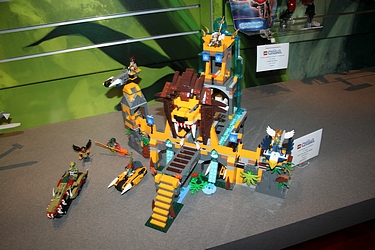 Posted by charlie on February 17th 2013, 11:04 AM
Leave Comment

Share
---
Toy Fair 2013 - Hasbro Galleries Complete
We're finally done poking and prodding and processing the images and video from day 0 of Toy Fair (ie. the Hasbro event, which always happens the Saturday before the show starts). You can
click here
for the glorious gallery of content, broken out by each of their brands. There is a video in very nearly all product galleries for you to enjoy, so you can drill into the topics you find interesting to you. Enjoy!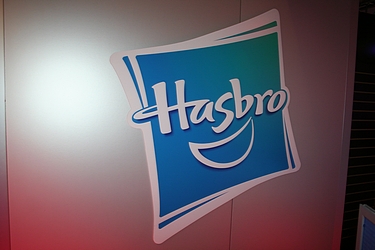 Posted by charlie on February 16th 2013, 08:55 PM
Leave Comment

Share
---
Toy Fair 2013 - Hasbro's Kre-O Line
Hasbro's Kre-O sets are a somewhat polarizing topic - it seems that people generally love them or hate them, and there isn't much room in between. Personally, I wasn't too won over with the Transformers sets, but then felt that they did a great job moving into other expressions for the sets when they released the Battleship line. While those ships have not continued, largely since they were based on a movie which is no longer topical, their new branded sets are pretty great. With Star Trek and G.I. Joe on shelves soon, along with an army of Kreon mini figures, I have to admit that I'm being won over by Kre-O!
Check out our first of two booth videos below, and
click here
for the full gallery of images of these great new sets and figures.
Posted by charlie on February 15th 2013, 07:50 AM
Leave Comment

Share
---
Toy Fair - The Updates Begin
Ok - admittedly I'm later than I've ever been with updating the Preserve, which usually at least occurs partially during Toy Fair itself. This year I was trying to post some content to Tumblr, Twitter and YouTube which can be done straight from my mobile device. Alas the poor source code of the Preserve is a little long in the tooth and not, shall we say, mobile enabled.
However, now that the show is wrapped, and we had a great time, I am able to sort through the pile of business cards, press booklets, photos and video, and start getting the content wrangled. We met a lot of really wonderful people this year, and I will showcase their products in an effort to bring more recognition to their hard work!
While I do intend to focus on smaller companies this year, as I have been tending towards for some time now, I do still try to cover the bases with the larger guys, and now and then they even manage to surprise me. Hasbro did just that, with their new Bopit Tetris game, that was hidden away in the boardgame area, detacted as usual from the rest of their galleries. I sure am glad I saw it on the way out, however, because it stands as one of my pics for 'toy of the show' and I think you'll be hearing a lot more about this around the holidays. Here's the demo video I shot, which you can enjoy while I get some more content organized for release.
Posted by charlie on February 13th 2013, 08:33 PM
Leave Comment

Share
---
Toy Fair Updates
Hey folks - sorry for the lack of updates! Rest assured I am gathering cool content and posting a few things to YouTube and twitter and tumblr - full galleries just as soon as I have a chance!
Posted by charlie on February 12th 2013, 08:53 AM
Leave Comment

Share
---
Toy Fair 2013 - Countdown
Well folks, it's very nearly that time again! Time for the fun trip to NYC to spend the better part of a week meeting with the biggest (and smallest!) names in the toy industry, hanging out with some great pals, and enjoying tasty food and drink around Manhattan. I'll do my best to post updates to give you the flavor of my trip.
We leave on Friday, early in the morning, hopefully beating the massive blizzard Nemo (!) that is descending upon the East coast - it should be interesting!

Posted by charlie on February 6th 2013, 08:50 PM
Leave Comment

Share
---
eBay Watch - XPanders PT Boat
I'm always delighted to see a rare XPander pop up on eBay, and more delighted still when the seller has taken the time to really snap some well lit, carefully posed images. Check out this one, and do consider bidding - it's only $0.99 so far! I am happy to note, however, that there are 2 bids hiding in that low price, so at least there is a little interest in this Preserve favorite line!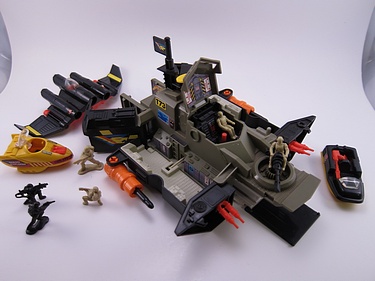 Posted by charlie on February 5th 2013, 06:36 PM
Leave Comment

Share
---
eBay Watch - Mego 2-XL Robot 8 Track Player
Here's a lovely little gem from 1978, the Mego "2-XL" 8 Track tape player, which looks like a delightfully awesome robot. I really wish that I had been old enough to get into this branch of consumer electronics, especially when they looked like this and were made by the legendary Mego folks. I was 2, just about, when this was on the market, so I guess that was a little early to pick up some Judas Priest on the 8 track deck. Ah well, I could always make up for lost time and add this little pal to the collection, or you could instead!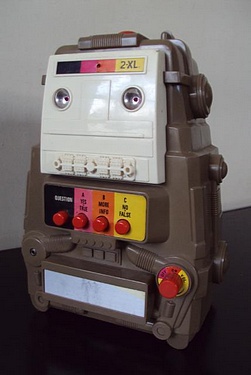 Posted by charlie on February 2nd 2013, 03:56 PM
Leave Comment

Share
---