Journal Archives from April 2021
1980 Selchow & Righter Toy Fair Catalog
In 1980, not only did Selchow & Righter, who you may recognize as the company behind both Scrabble and Parcheesi, introduce their famous logo, but they also
unleashed
a whole host of retro-tastic electronic games to compliment their more traditional offerings.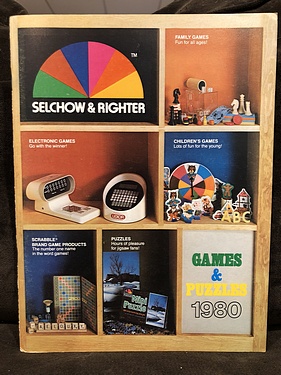 Behold the Scrabble Sensor! The "first space-age word game"!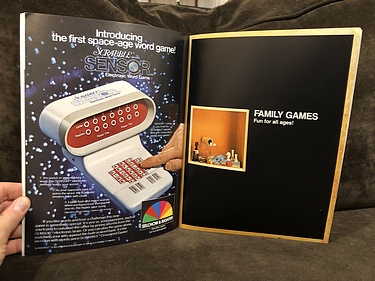 And do be sure to check out their comments on the beautiful new (for 1980) logo!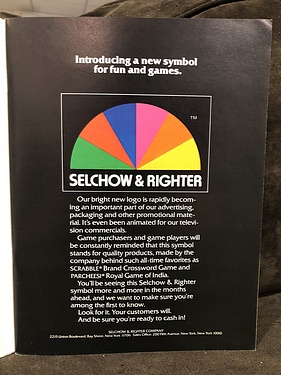 Posted by charlie on April 23rd 2021, 09:05 PM
Leave Comment

Share
---
Toy Fair Catalog - Hello Kitty 1983
I know there are a lot of Hello Kitty fans out there, and hopefully some of them find their way to this cool 1983 catalog! Released under the Child Guidance company, it heralds a new line of products for this famous character for the first time. While history will tell us that Hello Kitty first came to the USA in 1976, this seems to be pretty early still in the introduction of this cat to these shores, so will probably be of interest to a fan or collector!
Posted by charlie on April 18th 2021, 05:46 PM
Leave Comment

Share
---
1984 Arrow Industries Toy Fair Catalog
Arrow Industries, what have they done that I might think is particularly cool? Well, since it was 1984, the greatest year, you can bet that even the
most obscure catalog
will have something super cool.
And you of course would be right! If you had this gumball machine, you were living your best life in 1984. And if you have it in 2021, then it will make pandemic lockdown just that much more bearable!
Also, check out the delightful teaser page for the upcoming Gremlins gumball dispenser. Can you imagine how fantastic it would have been to attend the 1985 Toy Fair!?
"We promise, you won't be disappointed!"
Since we live in the future, we don't have to wait until Toy Fair 1984, we are actually
able to buy
a mint on card Stripe gumball dispenser from Arrow Industries, complete with vintage gumballs, for $27! Will wonders never cease!
Posted by charlie on April 13th 2021, 07:14 PM
Leave Comment

Share
---
1986 Galt Toys Catalog
I was sold on this 1986 Galt Toys catalog based on the beautiful cover design alone. These guys really had 1986 figured out! To then realize that this catalog is a 150th anniversary issue was really fascinating.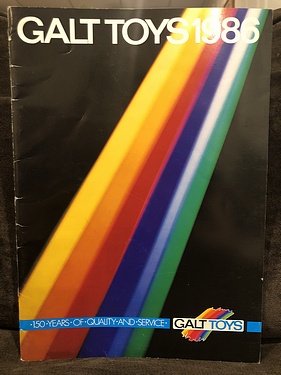 Remarkably, the parent company to Galt Toys, which was Galt Educational, was started in 1836 in Manchester, UK. Rarely do we see a toy company with quite such a distant pedigree! This original company sold classroom equipment, and it wasn't until the much more recent 1961 that Galt Toys was formed as a new division within the company. Then, they were able to bring us a whole array of fun crafting products, to the benefit of preschools everywhere!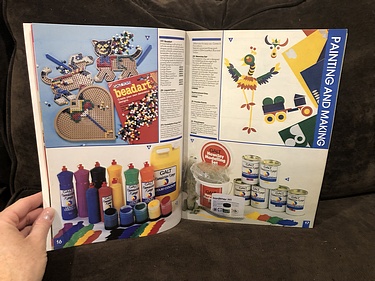 Posted by charlie on April 5th 2021, 10:03 PM
Leave Comment

Share
---
2002 Irwin Toy Catalog
A little research into the
history of Irwin Toy Limited
shows that this catalog from 2002 was an interesting moment in the final period of this long running company. Having been founded in 1926, they fell on hard times in 2001 and were purchased. So, this "it's all new!" slogan was at least an effort by the new owners to make a go of it, hopefully. As so often happens, however, they were then liquidated in 2003, and assets sold off, including their original Toronto factory. Interestingly, it was converted into condos called the "Toy Factory Lofts" which
remain in high demand
to this day!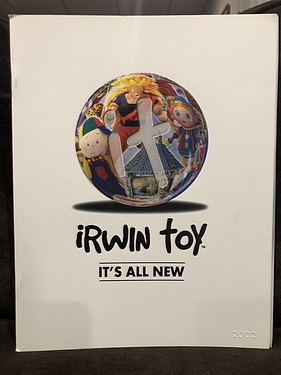 While the company may have been on hard times, their product assortment that year is sure to delight and amaze any Dragon Ball Z fans out there! See the
full listing
for another page of awesomeness!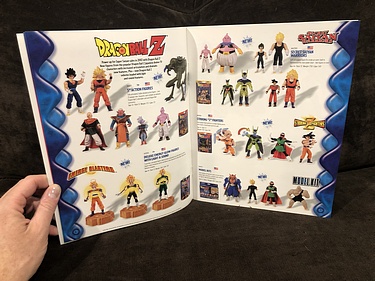 Oh, and let's not overlook that they had an incredible line of Thunderbirds toys as well. Check out that
Tracy Island playset
!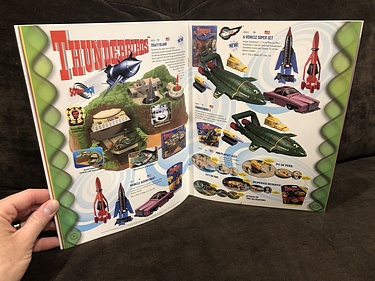 Well, this is why we do this work here at the Preserve. Because there are interesting stories to tell, and these toy lines that many people worked hard to produce every year deserve to be remembered.
Posted by charlie on April 2nd 2021, 10:15 PM
Leave Comment

Share
---
1987 Tomy Toy Fair Catalog
Here is a real gem, absolutely packed with cool products! No foolin'!
I can almost guarantee that if you were of a certain age in the '80s you had one of these little stand-alone driving games. These things are iconic. And, on the opposing page, their R.A.T.S. line which looks fantastic, and which I actually didn't have!
And how about this for fantastic - Omnibot and his brethern!
But wait, there is also an incredible section of Zoids! Check out those figures.
I had one of those kid-size ATVs, but check out Armstrong there! Holy moley!
This really is an exceptional set of products from Tomy, making 1987 a memorable year for all of us. Subsequent catalogs of theirs, even the following year, seemed to change tone significantly, so thankfully we can all review and cherish this one!
Posted by charlie on April 1st 2021, 08:27 AM
Leave Comment

Share
---