Journal Archives from July 2013
1990 Nasta Dealer Catalog - Prototype Reactors!
Exciting News! I have managed to get my hands on a copy of the 1990 Nasta dealer catalog.
Why is this exciting?
Well, because it contains two Reactors vehicles that were to be released in the second year of the line! So far as I know, the "Mega Series" never hit store shelves, but how great would it be to find those prototypes some day, huh??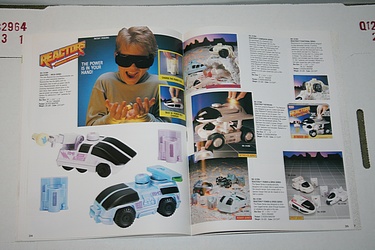 Click through the image above to see all the pages in this book, complete with lots of stuff we had all but forgotten about! And you can click below for a mega blowup of the Mega Series.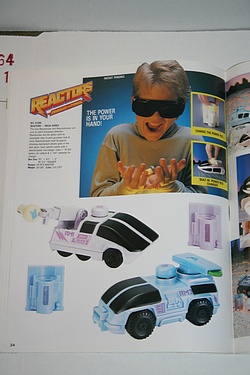 Posted by charlie on July 30th 2013, 09:30 PM
Comments(1)
Leave Comment

Share
---
eBay Watch - Twinkies Bake Set
Word on the street is that someone has purchased the assets and recipes which formerly belonged to Hostess, and is due to flood the stores with their traditional products any day now (if it hasn't already happened!) Well, why wait?! With this handy vintage bake set, you can create Twinkies in the privacy of your own home. Even comes with an "icing injector" - good times and good health!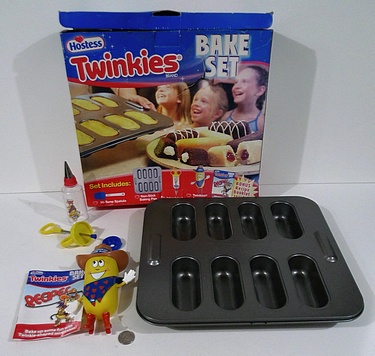 In fact,
this article
in USA Today from July 12th seems to indicate that they were already on Wal-Mart shelves over a week ago. Well thank goodness. They also allude to a fascinating practice by which the Twinkies are delivered frozen, so the retailer can 'set their own expiration date' - great plan!
Posted by charlie on July 22nd 2013, 07:34 PM
Leave Comment

Share
---
eBay Watch - Voltron - Panosh Place Loose Figure Set
Here's a thing you don't see every day - a
loose set
of the 1984 Voltron Panosh Place figures! I've never seen them loose all together - the Preserve has some carded examples, but apparently my dad thought that the Witch Haggar was a little too scary to buy me that figure! It's super tempting to pick up this set, but at the very least, let's see what they all sell for. Guesses?
Posted by charlie on July 15th 2013, 08:50 PM
Leave Comment

Share
---
Press Release - Warriors of Slauria
Press Release -
Our pal Bah'Glenn has sent an update about his new Warriors of Slauria line, which you should remember is about to debut at the Long Island Toy Show! Click through for his press release about the new line!
Read More
Posted by charlie on July 11th 2013, 07:56 PM
Leave Comment

Share
---
Bah'glenn Creations - Grah'nitt Tribe Ston'emm Warrior
Friend of the Preserve Bah'glenn has been very busy over in
his workshop
, and is preparing to launch a number of new figures in his Ston'emm line, along with some great artwork and packaging to go along with them! The first new release will be available at the
Long Island Toy Show
, which takes place next weekend, July 13th.
Check out the sneak peek of their next figure, which is an homage to The Inhumanoids! I can't wait to read the bio for "Grah'nitt Tribe Ston'emm Warrior", since it is that careful attention to detail which really makes these figures stand out above the rest, and appeal to those of us with an '80s sensibility. Be sure to follow all the action on his
new site
, and pick up the figures when they are released!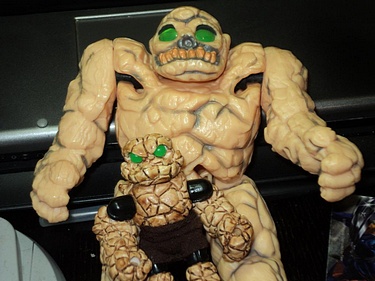 Posted by charlie on July 8th 2013, 07:54 PM
Leave Comment

Share
---
Snarf Knock-Off Mini Figure
Even though the auction has ended - with zero bids on a starting price of $6 - I feel compelled to post a picture of the most terrifying Snarf figure that I imagine any of us has ever seen. This gem comes most likely from the knock-off farms of Mexico, and seems to have taken the already questionable character of Snarf to new lows in their interpretation! Hola!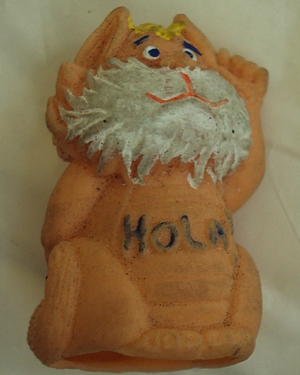 With any luck, the seller may give it another shot with this figure, but chances are that we have all missed our golden opportunity to own what is without a doubt one of the most rare, and bizarre, Thundercats items out there.
Posted by charlie on July 5th 2013, 08:26 AM
Leave Comment

Share
---
The Mordles! Our Toyline!
Things around the Preserve have been sort of quiet lately, but rest assured we have been busy! Working with
DoctorKent
, who has a long history in the toy community, we have secured the full, actual rights to several old Ideal properties. Actually owning the rights to the Robo Force line is tremendously exciting, since I remember playing with Maxx Steele back in the early days and marveling at the unique design of that robot compared to other figures on the market. We also picked up the Rocks and Bugs and Things line, and have just released our very first figures - remakes of the cult favorite Mordles!
Two sets of our little dudes have just gone on sale at our sister site,
ToyFinity
, and you should definitely check them out for vintage fun. We are releasing additional colorways over the coming months, along with surprises that have yet to be revealed! For those of you familiar with the
Glyos line
, I'm very proud to point out that our storyline is crossing over with his figures, and we have even released our
first comic
, drawn by James Groman of Madballs fame!
So - lots of great stuff to check out. Keep it tuned here, and to Toyfinity, for more updates that will start showing up with greater and greater frequency!
Posted by charlie on July 1st 2013, 04:30 PM
Comments(2)
Leave Comment

Share
---