Lazer Tag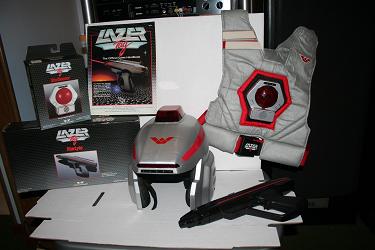 A large percentage of the products in the awesome Lazer Tag line.
Worlds of Wonder created this brand in 1986, and the world would never be the same! Well, at least some awesome groundbreaking toys, an amusing cartoon, and some kickin' warehouse-style competition organizations would rise from this idea and become the hottest thing for a few strong years.

A recent expedition to the Preserve back storage unearthed this stupendous lot of Lazer Tag gear, and boxes to boot! I was astonished when I rudely flipped the 'on' switch of the helmet and it sprang into cacophonous life, both scaring the bejesus out of me and slamming home 21 year old memories like a brick to the subconscious. You really never forget that plastic headgear.
---