Battle Beasts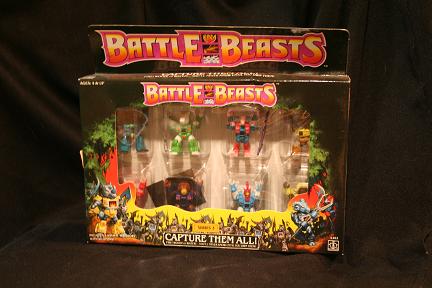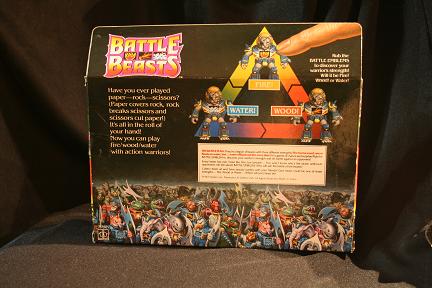 &copy Hasbro, Inc. 1987. #5302
Original purchase: Toys R Us, Cheltenham PA, $8.99.
Battle Beasts, a little known fact, actually tie into the Transformers universe. I believe they were called Beast Formers in the japanese line, and showed up in the comic and cartoon in a few selected instances. I've always enjoyed this series, and have a fairly complete set at least up through the 2nd series. I also have most of the playsets and vehicles, and as those turn up in the searching of the Preserve archives they will show up here. Using the same 'rubsign' technology that the 2nd season Transformers started to employ, the 3 elements style was always fun to play with, though I have to imagine that by now most of the rubsigns have worn out - I'll be conducting tests soon.

Interestingly, the slogan across the front of the box is 'Capture them all!', making one wonder if this was an early precursor to the Pokemon series (egad).
Battle Chariots