GoBots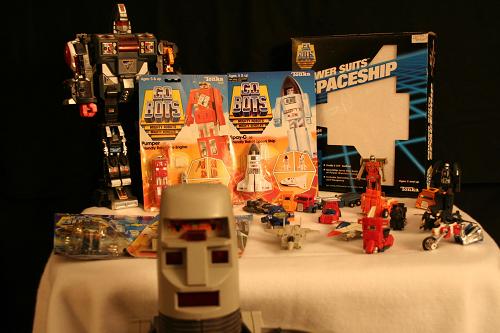 Challenge of the GoBots!
Ah, the Go Bots. Seen by many people as the bastard second cousin of the Transformers, but in my mind a series with depth, creativity, history and one which is far undervalued.

The very first transforming toys I ever received were the Go Bots Spay-C and Pumper. I still remember the formation of what would become a life-long love of the transforming robot, as I puzzled over what these excellent carded figures were that my Dad had just handed to me. I opened them, and suddenly started to undersatnd what I saw before me. While their transformations were simple compared to what was to come, I can still feel the click happening in my head as I realized that one could have a transforming toy, and that it was awesome. In tribute to those original figures, I've made sure to purchase carded versions of those two figures for the Preserve Archives - they are pictured above.

Also notice the Go Bot power suit (the renegade version) and the head of the large playset. There were, I feel, an excellent number of variation within the Go Bot line, and many of the figures were solidly designed, and built, featuing good quality parts and even a fair amount of metal.
GoBot Figures (1984)
---