Journal Archives from December 2012
G.I. Joe - Pursuit of Cobra - Cycle Armour
Here's the other half of the hard to find pair of
Alpha vehicles
from wave 3 of the
Pursuit of Cobra
line. I managed to scare this one up at a discount, closeout store, and maybe you did too! This helps fill in a gap in the checklist, which is always a fulfilling thing.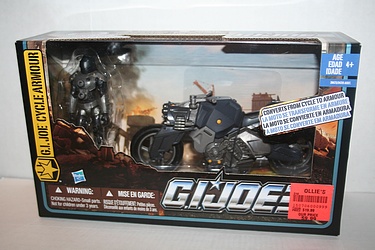 Well, we are quickly approaching the New Year, where we all should set our sights on important goals and projects for the next 12 months to come. I'll try to boost up the vintage gaming coverage here at the Preserve, but more than anything I'll keep making my way through the huge vintage toy catalog collection I amassed several months ago. Much interesting data is locked in those pages, and I hope to liberate it here for posterity at a more rapid pace in 2013!
Posted by charlie on December 28th 2012, 06:34 PM
Leave Comment

Share
---
Merry Christmas!
Merry Christmas to Preserve readers far and wide!
The playmobil advent calendar this year was really a great surprise, resulting in a huge pile of accessories with great play value, even if a few of the days were a tad light along the way. I'm excited by the selection, and plan to check it out next year! Here's an overview diorama of the full set up - I'm sure you can find your favorite part in there someplace. The cannon also fires the projectile across the room! Haven't seen that sort of thing since 1982.
I hope everyone has had a relaxing day, regardless of what you celebrate, and that you are keeping warm and staying happy. Best to you and yours in the year to come!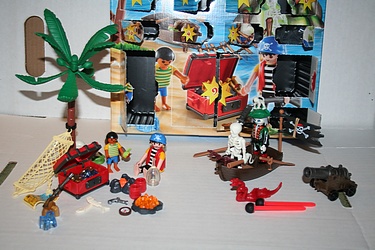 Posted by charlie on December 25th 2012, 12:21 PM
Leave Comment

Share
---
Press Release - Power Lords Return!

Press Release -
One of our very favorite properties of the '80s is being resurrected by some of our very favorite toy experts of the modern day! The Four Horsemen have picked up the Power Lords license, and will be releasing the characters with their modern, amazing treatment. Click through for their full press release about this new venture.
Read More
Posted by charlie on December 21st 2012, 08:44 AM
Leave Comment

Share
---
eBay Watch - Yamaha SHS-10 Keytar
You know what would make me actually take the time to learn the keyboard? Yeah, a Yamaha keytar. Awesome. Looks like I'm not alone in this desire, especially around the most conspicuous consumption time of the year, pushing the price up to $137 already with 2 days left in bidding.
I hope everyone is having a great December, and a fun time of celebrations with family, friends, and even with coworkers! Keep an eye on the progressing Playmobil advent calendar above, and enjoy each day, as they go by so fast!
Posted by charlie on December 13th 2012, 08:31 PM
Leave Comment

Share
---
Toy Catalog - 1995 Cap Toys
Here is another little known toy company catalog for your viewing pleasure - the 1995 Cap Toys dealer book! I was scratching my head as to what I would find inside this one, and after getting past the somewhat creepy "Bundle of Babies" spread that starts things off, I realized that these guys had the Stretch Armstrong license in the '90s. Turns out that their version was filled with small beads instead of the more hazardous gelled corn syrup of the 1976 original (if wikipedia is to be believed)! They did contribute a particularly clever character to the line in the form of Fetch Armstrong - furthering the trend of adding super pets to existing lines.
What turned out to be more awesome and little known though may be the Intergalactic Vac Pac - a great way to extend their stretching, squishy tech!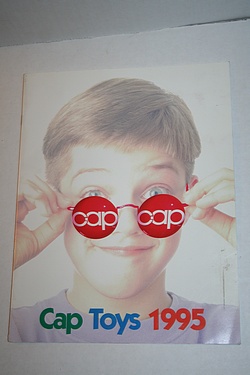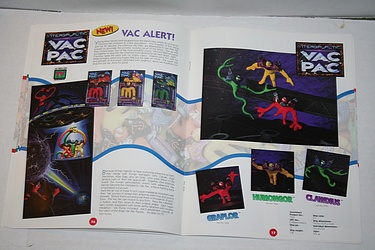 Posted by charlie on December 9th 2012, 06:17 PM
Leave Comment

Share
---
eBay Watch - 1985 Williams Alley Cats Shuffle Bowl
Live near Rexford, NY? Have a massive amount of empty space in your livingroom and a strong back? Well, then you still have time to pick up a classy, massive shuffle-bowl game from 1985! This Alley Cats machine from Williams sounds like it's in fairly decent condition, needing just a little switch maintenance, and a little display work. But - with 6 displays to choose from you can be sufficiently up and running for a truly awesome holiday party!
Posted by charlie on December 7th 2012, 06:04 AM
Comments(4)
Leave Comment

Share
---
Playmobil Advent Calendar - Day 6 Dingy!
Oh wow - the surprise for day 6 is a pirate dingy with working oarlocks. Nice work Playmobil!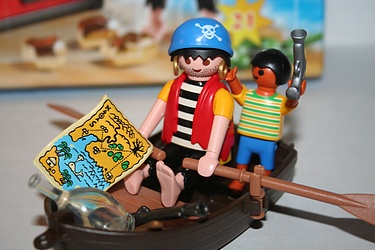 Posted by charlie on December 6th 2012, 04:47 PM
Leave Comment

Share
---
Playmobil Advent Calendar - 2012
Whoa, it's December 1st already! That means it's time to start out this year's Advent Calendar! I know that we have a tradition around here of doing the Lego calendar every year, but I wanted to mix things up a little bit this time around and try the Playmobil version. They can still win me back next year with a Monster Fighters theme - keep it in mind!
So this year, I was lucky enough to track down the Playmobil Pirate calendar at a small toy store in Concord Massachusetts - a great place to pick up such a fine piece. Check out the calendar above as I reveal a new piece every day, and click through the image below for a few more angles of the day 1 surprise - our first scurvy pirate!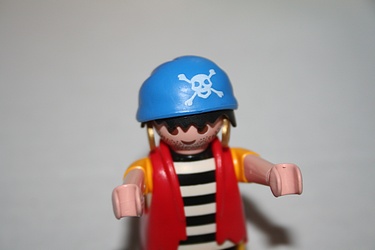 Posted by charlie on December 1st 2012, 07:44 PM
Comments(2)
Leave Comment

Share
---