Journal Archives from October 2012
Happy Halloween
Happy Halloween everyone!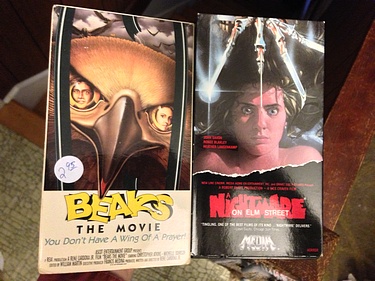 Today I donated these two VHS tapes to an amazing local food truck, which plays horror films on a small black & white TV during their late night operations, and all day today! I can imagine no better home for them to have found.
Posted by charlie on October 31st 2012, 05:51 PM
Leave Comment

Share
---
eBay Watch - Vectrex Collection
This is definitely outside of my normal 'low to middling' price range which I prefer, but I do enjoy this picture of a pile of classic (and some new) Vetrex gear. It even comes with the original styrofoam (swooon!) and homebrew game titles and light pen! Then all you would need is the delightful and terrifying 3D Goggle set, and maybe a spare controller, and you would be the talk of the block in 1982.
Posted by charlie on October 30th 2012, 07:50 PM
Leave Comment

Share
---
eBay Watch - 1933 Milton Bradley Catalog
The Exhumed Films marathon over the weekend was a truly fantastic time, and the white-knuckle drive back through hurricane Sandy added a fittingly wild end to the story. At least, since I made it back safely! I'll post the rundown of the 15 (15!) movies that they showed in what turned into a 25 hour marathon, but for tonight let's look at a toy catalog.
In particular, here is a catalog from 1933 showcasing the current Milton Bradley products of the time! What I like even more is that it is "The New Deal in Games". The
New Deal
of course being the economic programs by FDR to pull us out of the Great Depression in 1933-1936 - how historical! I'll probably try to win this one, but if you win it instead at least be awesome and send some pics!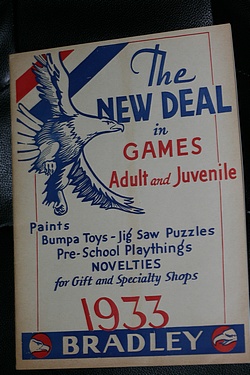 Posted by charlie on October 29th 2012, 08:30 PM
Leave Comment

Share
---
Exhumed Films - 24 Hour Horror-Thon
How many times do you have to do something for it to become a tradition?
I'm going with 3 - and since this is my third year in a row at the challenging yet awesome 24-Hour Halloween Horror-Thon in Philadelphia, I'm calling it a tradition! I'm headed there tomorrow to visit the singular DoctorKent and discuss world domination plans. Also to visit several toy shops, toy shows, and other bounty of the Garden State.
Be sure to follow the
Twitter Feed
(also conveniently over there on the right) and my
Facebook page
for updates beginning around noon on Saturday - you see, they never announce the movies ahead of time, so it's sort of a delightful surprise every 2 hours, which I will share with you! The really gifted Preservers can play along at home!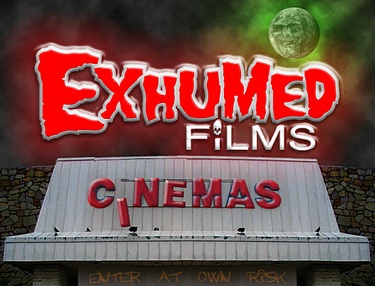 Posted by charlie on October 25th 2012, 08:51 PM
Leave Comment

Share
---
eBay Watch - Japanese Trypticon Box
"Greetings wonderful people of the America and worldwide if you are watching this auction."
So begins the seller's statement associated with this beautiful package. You get no Trypticon, but you do get this wonderful Scramble City era box as well as the styrofoam! The shipping is $50 to the US and the seller tries a little too hard to say he won't rip you off, so buyer beware, but the pic was too pretty to avoid posting!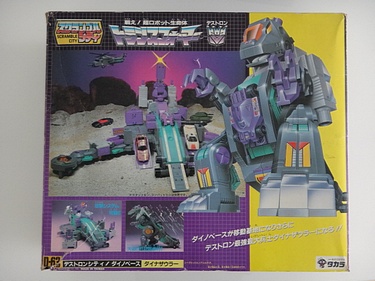 Posted by charlie on October 24th 2012, 08:21 PM
Comments(1)
Leave Comment

Share
---
eBay Watch - Inspector Gadget Lot
My ongoing search for a Gadget Mobile has turned up this
massive lot
of Tiger Toys Inspector Gadget figures from 1992. You don't often see them all together like this, and they are all apparently open but complete, so you really get the best of both worlds! The high bid is a hilarious $1.25 currently, and ends in a day, so best of luck!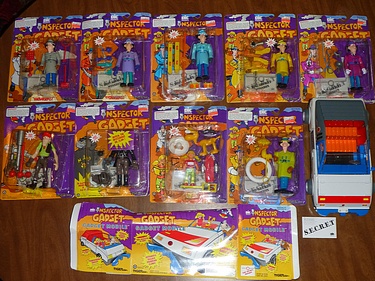 Posted by charlie on October 23rd 2012, 09:15 PM
Comments(2)
Leave Comment

Share
---
eBay Watch - Williams "Smart Set" Pinball (1969)
A massive array of titles were produced by the several large pinball manufacturers in the 60s and 70s, and here is one now! This is
Smart Set
, released on June 12th, 1969 says the astonishingly rich
ipdb reference site
. I like this machine because it's close to me geographically, moderately priced (though sort of on the high side) and a great example of a Williams 4-player tropical theme game with classic Christian Marche artwork. Better yet, it even works! Yes, buying a pinball machine is a big material commitment given the difficulty of moving it and the space it takes in the home to set up, but with winter coming it's worth a little focus on indoor recreation! Not to mention all the skills you'll have to develop to keep it running.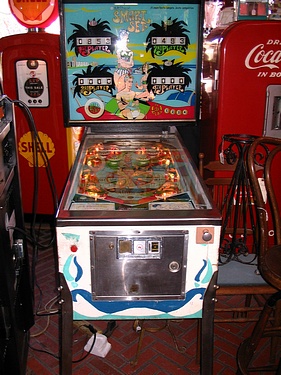 This same seller has also posted a delightful video game themed Heathcliff lunchbox - I simply had to feature it as well!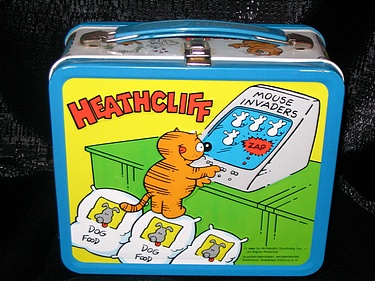 Posted by charlie on October 22nd 2012, 09:12 PM
Leave Comment

Share
---
Littlest Pet Shop / Blythe Cartoon on HUB
At Toy Fair back in February, I tried my best to shoot little videos of all the different products I saw and include those with my coverage to make it a bit more rich. I'm proud that some of the vids have done well, with my
Lego Ninjago
effort even cresting 100,000 views!
The interesting thing about a popular video these days is the collection of user comments that it gathers, and perhaps the most active and interesting of my set is the one which focuses on the new products in the
Littlest Pet Shop
line. Little did I know the depth and fervor of opinion out there, and how apparently 100% of the vocal fanbase hates what Hasbro is doing to the look of the line, like poison!
It was funny to me, as a result, to see the following video promo for an upcoming animated LPS show on Hasbro's HUB network, with Blythe as the human foil! My friend Ion (himself a huge Blythe fan, as are we at the Preserve) who posted this to his Facebook feed did so more as a cautionary tale than a happy announcement, so I do the same for you, faithful reader! Oh, the youtube anger can be felt from here!
I think Blythe's reaction...
in their own clip
... will probably sum it up.
Posted by charlie on October 21st 2012, 07:29 PM
Leave Comment

Share
---
Press Release - Outer Space Men Sale This Saturday Night
Press Release -
The Four Horsemen have been doing a spectacular job on their Outer Space Men line, and now you have a chance to pick up some rare figures for a great price! Click through to learn more about the sale this Saturday night, and see if you can make one of these limited sets your own.
Read More
Posted by charlie on October 19th 2012, 10:54 AM
Leave Comment

Share
---
eBay Watch - Yet Another Man-O-War!
I don't know exactly when the massive Man-O-War vehicle from the Air Raiders line became common, but this is yet another example available on eBay, which will end tomorrow. Earlier this week an (admittedly beautiful) example of this ship in un-assembled condition ended deservedly over $300. Looks like this one may be on target to close for considerably less, with the damage to the box art and that dastardly foam ball nowhere in sight! Well, have a look and see if it might be worth your time. I'm of a mind to suggest picking these up while they are thick on the ground, because this isn't likely to last long!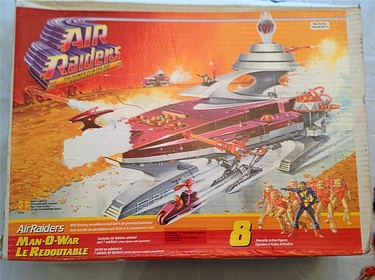 Posted by charlie on October 18th 2012, 09:17 PM
Leave Comment

Share
---
Power Lords Return?
Well, it seems like my
post
about the Power Lords playset, Volcan Rock, was timely indeed! A pointer over at
itsalltrue.net
led me to discover a mysterious teaser page indicating the return of a cherished '80s property, before the end of this year! Now, time will tell if this is for real or not, but it certainly does look legit so far. Watch that space!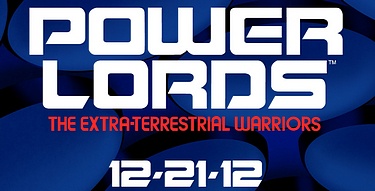 Posted by charlie on October 16th 2012, 10:51 PM
Leave Comment

Share
---
eBay Watch - Sega 32x Collection
I tend to watch the Spider-Man 32x cart prices pretty constantly, but here's a good one today! Not only do we get that rare title, but also the rest of the collection, in complete condition. Yeah - doesn't come up often, for sure. Now - as with most all-for-one sets, you might be able to put it together for a little less given the rest of the titles aren't in the same rare air as Spidey, but when you add in shipping blah blah money something. Dude has some sort of reserve, but let's see what happens!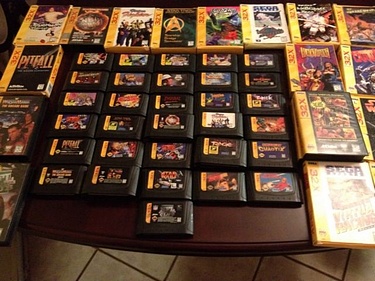 Posted by charlie on October 15th 2012, 02:04 AM
Leave Comment

Share
---
eBay Watch - Power Lords Volcan Rock
Ahh, the mysterious Power Lords line, and yet another classic, massive 1980s playset, the likes of which we simply never see these days! This one is starting at $99.99 and has one bid - I'll have to defer to the wise DoctorKent for an average price on this one, or we can all find out together in several days.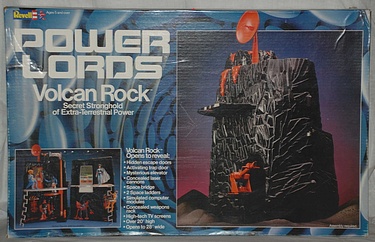 Posted by charlie on October 11th 2012, 08:01 PM
Comments(2)
Leave Comment

Share
---
eBay Watch - Fortune Teller Spirit Ball
Hey, it's October! That means I should at least be making an effort towards scary posts. Well - I found this thing to be sufficiently terrifying when it popped up in my arcade search just a few days back. You really have to check it out, and be sure to read the description.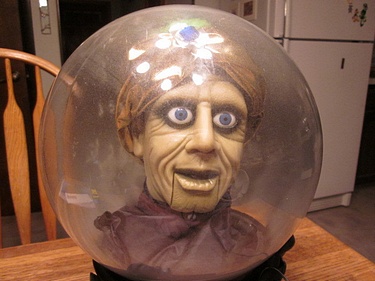 Oh, and this
Eye of the Sparrow
site now exists.
Posted by charlie on October 10th 2012, 08:47 PM
Leave Comment

Share
---
Election 2012 - The First Debate - Eye of the Sparrow
I'll hope that this is the only politically-oriented thing I post this fall, but it really is worth a look. Non-partisan!
Posted by charlie on October 9th 2012, 07:10 PM
Leave Comment

Share
---
eBay Watch - Action Stairs
There's an awful lot of fun to be had on these action stairs! I found it a good time, looking through the delightfully random assortment of figures, including an appearance by Maxx Steele! Play the game and see if you can ID everything - I'm sure most regular Preserve readers will be in the high 80% range at least!
Posted by charlie on October 8th 2012, 08:44 PM
Comments(2)
Leave Comment

Share
---
Advertising - Litter Genie
Happy Friday.
Posted by charlie on October 5th 2012, 07:43 PM
Leave Comment

Share
---
eBay Watch - 1978 Die Cast Imperial Cruiser in Sears Box
While I've somewhat distanced myself from the ongoing line in recent years, Star Wars was certainly what started it all for myself and countless other toy fans, both serious and casual. I also was a devotee of the Sears catalog, as was my dad, so the plain brown ubiquitous packaging of their early-amazon-esque product catalog always elicits vague feelings of excitement and anticipation.
Therefore, imagine my delight at finding this auction, for a Die Cast Imperial Cruiser, still in the original Sears packaging, complete with invoice paper and ghetto white twine! It's all just a perfect package, and I'll hope against hope that whatever Sansweetish person ends up with it keeps it exactly as is, on a pedestal in the middle of their collection grotto, under a gentle spotlight, with some barely audible yacht rock playing in the background.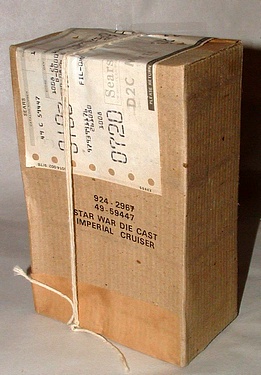 Posted by charlie on October 3rd 2012, 10:42 PM
Comments(4)
Leave Comment

Share
---