Journal Archives from July 2012
eBay Watch - Gaming Sweater!
Christmas is coming, sooner than we may all believe, and a tradition that I must suddenly be old enough to embrace is that of the ugly Christmas sweater! I found one for you all to enjoy, and to wear to your company holiday parties - get it while it's hot!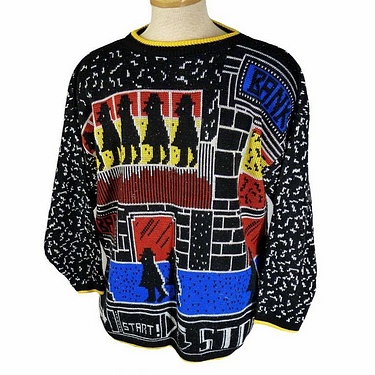 Posted by charlie on July 31st 2012, 02:36 AM
Leave Comment

Share
---
eBay Watch - Maisie by Gottlieb, 1947
Isn't it amazing that only two years after the end of World War II, Gottlieb was turning out beautiful entertainment devices, like Maisie here. You will notice, with the more in-depth photo coverage at
IPDB
, that this machine was pre-flipper so was quite literally just pins and a ball. There is an animated backglass, however, and accomplishing various goals on the playfield causes Maisie to climb the ladder, and then take the dive! Check out
this beautiful machine
that you can buy today, and with a little restoration you would have a beautiful 65 year old piece of history!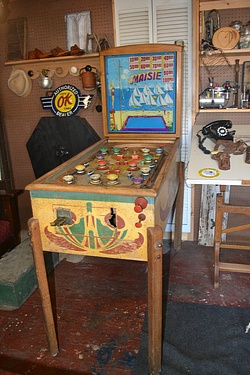 Posted by charlie on July 30th 2012, 02:44 AM
Leave Comment

Share
---
eBay Watch - Telematch Game System
Here's an odd one for us all today - the Telematch gaming system, which is a re-branded Channel F, though I forget what country it called home. I'll take a guess and say the UK! Our friend Gnome could sort out this puzzle, but I was just too delighted by the beautiful designs and Fairchild lineage not to mention it today. Be sure to check out
the sale
today, and note that the seller has a
whole second lot
available as well!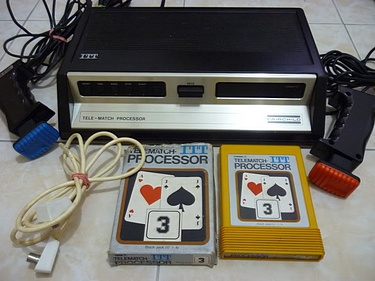 Posted by charlie on July 27th 2012, 08:08 PM
Leave Comment

Share
---
eBay Watch - Stern 'Catacomb' Pinball (1981)
There are so very many pinball machines, that even though I am a bit more than a casual fan I am constantly surprised by titles that I've never seen before. This 'Catacomb' machine, by Stern from October 1981, is certainly such a machine! I'm a total sucker for bagatelles, and for backglass effects, and this device combines them both! Really another beautiful work of art in a field that is chock full of them. Click through to
the auction
for some additional pics of the beautiful playfield on this one, and the (deservedly) high starting price. No bids so far, though, so maybe we'll see it again at a slight discount!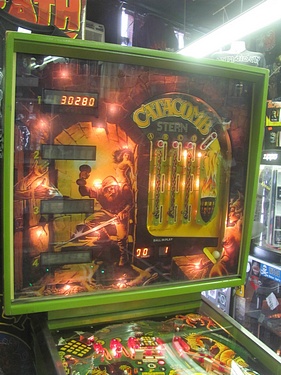 Learn more about this machine at the
ipdb
and see a high-res version of the above image
here
.
Posted by charlie on July 24th 2012, 07:26 PM
Leave Comment

Share
---
1991 Parker Brothers Catalog
Hey there patient Preserve fans! What used to be a strict adherence to daily updates has, admittedly, slipped a little in recent months, but I do steadfastly refuse to slack off completely! It seems that my secret-side-project-startup-thingie is eating up my time like the
Fat Boys at a Sbarro in 1985
!
Well, rest your weary browsing hearts, and have a look at the crazy stuff that Parker Brothers had on offer in 1991!
Interestingly, 1991 is credited as the year that Hasbro bought up the Parker Brothers brands when they gobbled up Tonka. It seems that this catalog kept that reality sort of quiet, but in the background this was the year that Hasbro's brands grew exponentially into what we know today. Makes the cover tagline of "Winning is our Game" seem a little sad in retrospect!
Posted by charlie on July 23rd 2012, 08:37 PM
Leave Comment

Share
---
1983 Parker Brothers 100th Anniversary Catalog
Time again for a voyage of discovery, this time with an historically significant catalog from Parker Brothers! 1983 was their 100th anniversary, if you can believe that. Founded in 1883 by George S. Parker, who was responsible for most of the direction and creativity of the company over his long life until 1952. The company remained family owned until 1968 when the consolidation and buying slowly started happening in the toy and game industry. First purchased by General Mills, they would then pass through the hands of Kenner, Tonka and then finally Hasbro - providing Big-H with many of their current bellweather brands.
As always, there's plenty to enjoy between these covers. Yes I'll have a Krull boardgame please!
Or how about some Return of the Jedi merchandise, so close to the movie release that we get the excellent title of "Battle at Sarlacc's Pit". Plus, I have that Sidewinder game and it's awesome.
There's plenty of other intriguing, and more obscure, items in the catalog which I encourage you to explore, but I simply must front-page this spread of Atari titles - some real winners there!
Posted by charlie on July 19th 2012, 05:50 PM
Comments(4)
Leave Comment

Share
---
eBay Watch - 1956 Bryans Pilwin Automatic Coin Machine
When you're in the market for nightmare fuel, you generally need look no further than clown-related art from the 1900s. In fact, here's one now! This is a Bryans Variable Payout Machine from 1956 - an era with which I am woefully unfamiliar. A bit of research leads me to understand that the Bryans company, in the UK I believe, created a number of these admittedly awesome carnival-ready games of skill and chance and whatever you were allowed to call them before the federal government got involved.
The
main site
that appears to have info on these pieces of history seems to be having issues as I type this, but maybe it'll be sorted out later. Either way, this is a really beautiful piece, and the seller seems to know what it's worth! At least we can all enjoy it from a distance, and someone with 4-figures to burn can hang this in their own home! Be sure to check out the auction for some more close up pics, and even a pic of the mechanisms - it looks nearly brand new!
Posted by charlie on July 17th 2012, 07:28 PM
Leave Comment

Share
---
eBay Watch - Air Raiders Man-O-War
I know that the auction is over already, and it's super lame of me to point you to it once it is no longer available, but the Man-O-War ship from the Air Raiders line is so rare that I just can't resist.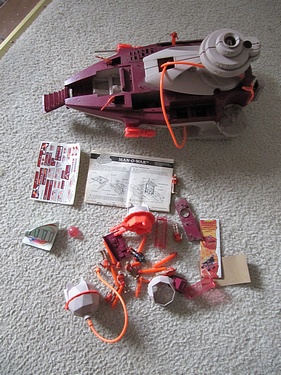 I'm fortunate enough to have my
original ship
, with the original box, but I think I've seen three copies of it on eBay in the last 10 years. This one was missing the little foam ball (true of virtually all examples of this ship 10 minutes after being opened) but did have an apparently robust set of documentation and an unused sticker sheet! A great score for someone - maybe it was even you, gentle reader!
Posted by charlie on July 16th 2012, 08:01 PM
Comments(2)
Leave Comment

Share
---
eBay Watch: Big Jim - Sky Commander
I have a few standing searches with eBay, as I'm sure most of us do. One of them is for Sky Commanders, since that mid-eighties line holds a special place in the heart of the Preserve. A funny thing about eBay searches is that you typically rope in items that you never knew existed, but which satisfy your search criteria. Every few weeks, my Sky Commanders search brings back a massive playset from the old Big Jim line - the Big Jim Sky Commander! In all the years of getting these search results, however, I can't remember ever seeing one that came with the original box - which is of course glorious. So - click through to see this very reasonably priced auction, and consider adding it to your extended Sky Commanders collection!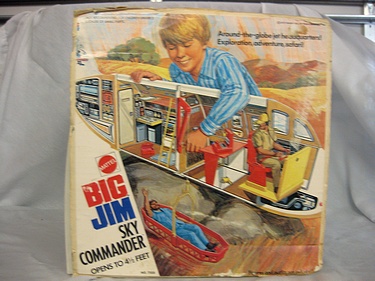 Posted by charlie on July 12th 2012, 07:19 PM
Leave Comment

Share
---
1981 Tonka Toy Catalog
One of the many endearing aspects of the Tonka product line is their inclusion of branded, everyday sorts of vehicles. Their whole product range consists mostly of realistically styled construction and recreational vehicles. It worked for me then, and it works for me now.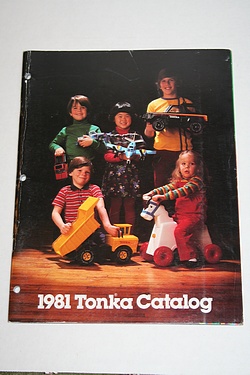 One of the particularly delightful branded sets is that of "Bell System" telephone trucks. In fact, they seem to be the most prevalent of any of the branded sets - which is fine with me because they rock!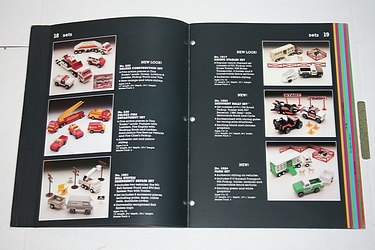 Check out all the pieces you get with that Emergency Repair set! That's clearly the best set on the page. There are no active listings for this set on eBay, but
here is a completed one
, in box and everything!
Also - this appears to be the best picture in the catalog, without a doubt. Allowing myself to play a bit of "where are they now" - the CTO of a successful internet startup in San Jose!
...mighty
Posted by charlie on July 11th 2012, 07:33 PM
Leave Comment

Share
---
Lego Art - 10 Great Examples
Want to see some great Lego art? Sure you do, and
artinfo.com
has just the ticket for you.
Enjoy the amazing art, and then consider how many Monster Fighter and LOTR sets you would have to buy to make something like that. I guess at least at the Lego store, you can still buy random blocks!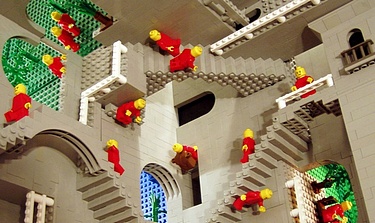 Posted by charlie on July 10th 2012, 07:34 PM
Leave Comment

Share
---
Toy Catalog - 1986-1987 Buddy L
If there's one thing we seem to have a lot of around here, it's
toy catalogs
! Thanks to some absurd auctions on the eBay recently, I'm simply inundated with the things - so at least we'll get some good historical reference out of the deal, once I slog my way through.
What I'm trying to say is, let's kick off the week with the Buddy L catalog from 1986-1987.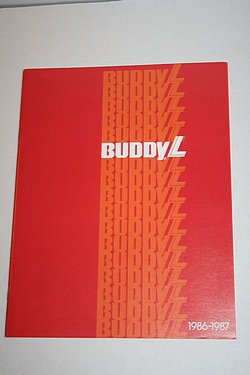 Not all that interesting, you think? Well, let me direct your attention to pages 8 and 9, which feature a simply huge pile of transforming robots, and an RC Thundertank for good measure!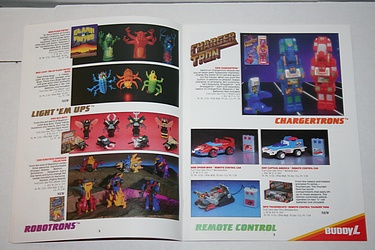 As always, this catalog presents a treasure trove of sights to enjoy, so do check it out.
Posted by charlie on July 9th 2012, 08:43 PM
Leave Comment

Share
---
1979 Hasbro Toy Fair Dealer Catalog
What was Hasbro up to, before some exec had the company-changing decision to import Transformers, and before they began gobbling up companies that make all our familiar brands? Well this fantastic and fascinating catalog from 1979 gives us some insight. You know all those lines around the edge of their Toy Fair showroom, that everyone seems to ignore but I delight in photographing? Well, that's pretty much all they had going in the 70s, and having read this booklet I have a whole new appreciation for their long-running Weebles line! I'll certainly give it extra special attention - provided it is still represented - at the show next year.
Snoopy Sno-Cone machine!
Whoa - Kre*O Battleship precursors!!
Balance of Power game - I feel like my site just became PG with this one picture!
Posted by charlie on July 3rd 2012, 10:26 PM
Comments(2)
Leave Comment

Share
---
Transformers Prime - Voyager Class Megatron - Euro Style
Our pal Kaars in distant lands has sent along some fantastic new photos of the Euro package Voyager Megatron figure from the ongoing Prime line! Click the image below for the full gallery and enjoy the subtlety that is the Eurozone. The
Royal with Cheese
Transformers equivalent.
Trained as a gladiator, Megatron learned the art of survival a long time ago.
Posted by charlie on July 2nd 2012, 08:21 PM
Comments(2)
Leave Comment

Share
---