Journal Archives from November 2012
eBay Watch - Turtle Blimp
It's 1988. The TMNT franchise is going strong. How else can you explain this wonderful blimp! At 30" long, it's a pretty substantial vehicle - and another great '80s artifact that just wouldn't be done today. And the secret surprise of this auction? It comes with the original box! Good job, seller dude!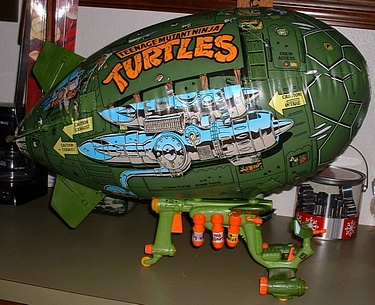 Posted by charlie on November 29th 2012, 10:47 PM
Leave Comment

Share
---
eBay Watch - Bill and Ted and Phone Booth
It always makes my day when an auction pops up featuring not only complete, vibrant examples of both Bill and Ted, but the harder to find phone booth accessory as well. It just seems fitting, and is becoming a pairing that is in some amount of demand these days! Well, this seller even does us one better, and throws in the tux-wearing double pack as a big cherry on top. The toy sales on eBay have really been spiking now that we're a month away from Christmas, and it'll be fun to see how this one does, from such humble-y priced beginnings!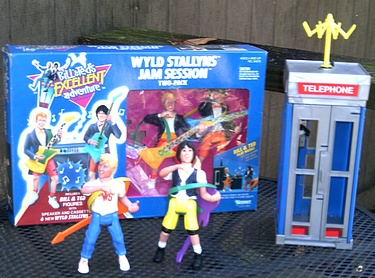 Posted by charlie on November 28th 2012, 08:13 PM
Comments(2)
Leave Comment

Share
---
Bill Nye and Ed Begley Jr. Demo LED Lights
Bill Nye and Ed Begley Jr. teach me a new way to be green with the fancy new LED lights! Glad that Nye is popping up all over these days, he's having a great career resurgence!
Posted by charlie on November 27th 2012, 08:03 PM
Leave Comment

Share
---
eBay Watch - Atari XE Game System
Behold the Atari XE game system, still working, and complete with the original box! Tell me that isn't a gorgeous light gun - that is how it is done, folks.
This system was released in 1987 and was fully compatible with the existing 8-bit Atari computer software library. Unfortunately, like so many systems, this one failed out of the gate, and they would try again with the Jaguar in 1993. What a great chance to pick up a clean, original owner example of this forgotten system, either for yourself or for that special someone this holiday!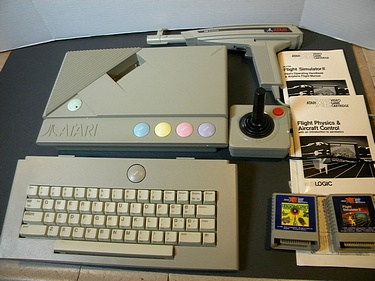 Posted by charlie on November 26th 2012, 08:30 PM
Comments(3)
Leave Comment

Share
---
Press Release - 2012 Galactic Holiday Outer Space Men
Press Release -
The 2012 Galactic Holiday Outer Space Men are coming! Orbitron, Gemini and the massive Cyclops in their Galactic Holiday colors just in time for this festive season! Very few of these exclusive figures are being produced and they're ONLY available at Store Horsemen! Click through to learn more about the figures and see a larger, prototype shot!
Read More
Posted by charlie on November 25th 2012, 10:53 PM
Leave Comment

Share
---
Happy Thanksgiving - 2012
A very happy Thanksgiving to readers of the Preserve. And, for readers who may be outside the US and not celebrating today by eating and drinking heavily, feel free to start doing so for fun - I mean, who needs the excuse of a holiday! If you need inspiration, here's my favorite John Madden image.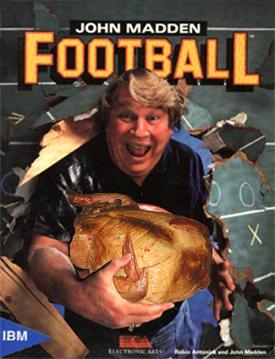 Posted by charlie on November 22nd 2012, 09:15 PM
Leave Comment

Share
---
eBay Watch - VictorMaxx Stuntmaster
Released around 1991, this was the first really viable, affordable, commercially available home VR system one could buy. I remember when these came out, and it's great that they were even targeted for use specifically with the Sega Genesis and the Super Nintendo. Having never used one, I can't really comment on their quality first hand, but the
wiki entry
would lead me to believe that, while suffering from low res due to the state of consumer electronics, it worked pretty well for what it was trying to accomplish.
Now, granted, the auction I'm highlighting is way too high, even though it's a sealed example, and I was delighted to see that loose and boxed examples of this headset are going for quite the reasonable prices on the eBay (in the neighborhood of $40-$60 for a boxed one!) - so it may be time for me to pick one up. Only had to wait 21 years...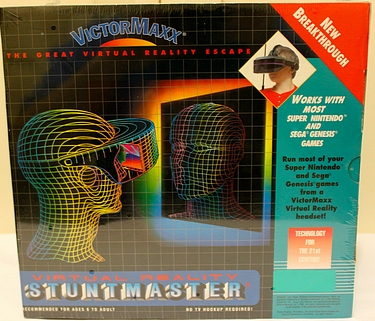 Posted by charlie on November 21st 2012, 10:22 PM
Leave Comment

Share
---
eBay Watch - Milton Bradley Catalog - $0.10!
I sort of forgot to bid on that last ancient Milton Bradley catalog that popped up on eBay recently. Here is where the disembodied voice of DoctorKent chastises me to use a sniping service, at the very least to remember to do such things!
Well, here is another classy looking MB listing, this one apparently from "the '40s", which is about as precise as the seller is able to be for us. Well, I'm digging the cover, and certainly am intrigued by listings for games such as "Fibber McGee" for $0.50. How can I say no?!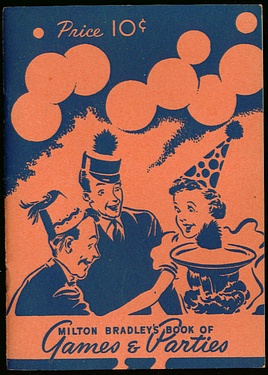 Posted by charlie on November 20th 2012, 10:39 PM
Comments(2)
Leave Comment

Share
---
eBay Watch - Go Bots Sleeping Bag
It is only my somewhat irrational fear of what this sleeping bag may have experienced over the last 30 years which stays my hand from placing the first resounding bid. So help me, I want to decorate the guest room with Voltron sheets and be able to bust out this gem on our next camping trip. Some may claim that it's a little less space age than some brand new thinsulate nonsense, to which I reply...does your sleeping gear include robots?
Posted by charlie on November 19th 2012, 10:07 PM
Comments(2)
Leave Comment

Share
---
eBay Watch - STARCOM Shadow Upriser
There are so many more vehicles in the STARCOM line than I ever expected, at least thinking back to when I was a kid. Thankfully the magic of the Internet and of course my new fascination with dealer catalogs has helped to pull back the curtain on the overseas releases that made this line both wonderful and a challenge to collect. In fact, I've not personally tracked down any of the more difficult items, though DoctorKent wasted no time assembling a world class collection when the spirit moved earlier this year.
Know then, that this is the Shadow Upriser, and even comes with the (admittedly beat-up) original box and paperwork. The price is a tad high - though about right for the completeness of the set - and will be coming from the UK, but has no bids as yet. Heck, I think I'm talking myself into it!
Posted by charlie on November 18th 2012, 06:36 PM
Leave Comment

Share
---
Movie - Stunt Rock
Posted by charlie on November 16th 2012, 10:56 PM
Leave Comment

Share
---
Star Wars Snowflakes
The holidays are indeed in full swing, and it's hard to believe that Thanksgiving is almost upon us! Granted, this happens to be a year where it lands on the very earliest day possible, but that, plus the wedding from last weekend, plus a number of very busy projects are making the time fly by!
So in an effort to make sure I don't miss the season entirely, I'll try to post themerific things, and here are some Star Wars Snowflakes! I enjoy the Lando one, pictured here, but click on the image to see a whole boatload more - I'll certainly try making a few of them for the tree this year!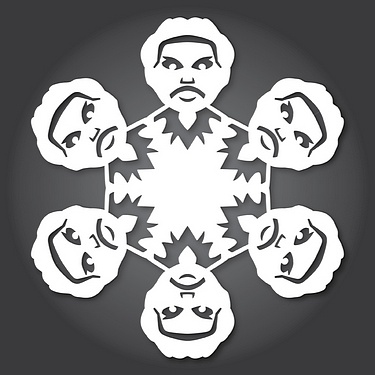 Posted by charlie on November 15th 2012, 08:27 PM
Leave Comment

Share
---
eBay Watch - Voltron Robeast Stamper
1984 brings us yet another delightful collectible, and one from HG Toys - master of the popular licence - a Voltron Robeast stamper!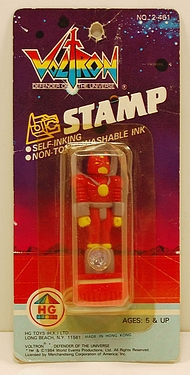 Yes, admittedly the picture above is connected to an auction which has ended, but the image was just such fun that I had to make it the feature. I actually ran across this product via this
currently running auction
where you can pick up a loose stamper, ready to use! Add this one to your Voltron collection, demon robot beast fans!
Posted by charlie on November 12th 2012, 08:55 PM
Leave Comment

Share
---
eBay Watch - 1960 Williams Pinball 'Jungle'
Oh my, here's a nice one. This is a 1960 Williams pinball machine titled
Jungle
- a rare machine that I've never seen in person. I'm totally smitten with the new cabinet design that Williams was trying here, with a wild extended front shelf for your drinks, complete with a cigarette holder! This machine was ready to party, and the playfield looks like it can walk the walk. Someone has already jumped on the opening bid of $200 with 9 full days remaining and I suspect that this title will fetch a pretty decent price. Watch it with me, won't you?
Posted by charlie on November 9th 2012, 10:02 PM
Leave Comment

Share
---
G.I. Joe - Pursuit of Cobra - H.I.S.S. Attack Scout
As we've seen for the past several years, Hasbro continues to find commercial release for the tail end of their lines through discount outlets. This time, finally, the store carrying these items actually exists in my town - though only opened a few months ago! I was able to pick up the 3rd and final wave of Alpha vehicles from the
Pursuit of Cobra
line at Ollie's Bargain Outlet - what exciting finds! Click the image below for some more angles on the H.I.S.S. and I'll get the Cycle posted soon.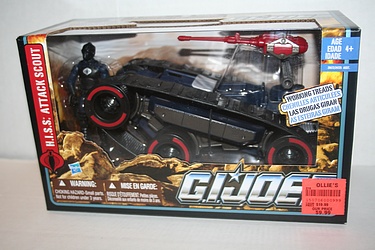 Posted by charlie on November 7th 2012, 08:04 PM
Comments(4)
Leave Comment

Share
---
Time To Vote
That's right folks - for those of you in the U.S. get on out there and exercise your right to vote. Do something grownup, then we can get back to the discussion of toys and video games!
Posted by charlie on November 6th 2012, 06:32 AM
Leave Comment

Share
---
Picture Pages Promo VHS
I'm a huge fan of the Bill Cosby Picture Pages episodes from the late '70s and '80s, so was intrigued by this little oddity that popped up a few days ago. I fear, though, that it may be the versions of the episodes with the vastly sub-standard theme music, slowed down to about half speed and sounding like yacht rock. Well - still a fascinating artifact, and tempting to pick up!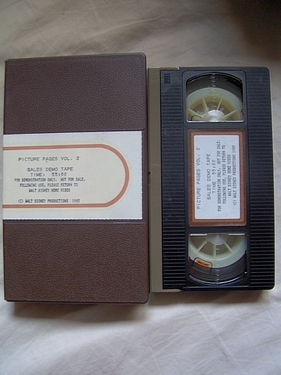 Posted by charlie on November 5th 2012, 09:43 AM
Leave Comment

Share
---
Toy Catalog - 1992 Revell
While I admit that this 1992 Revell catalog is a little far removed from any action figure content, I maintain that it's still cool for a number of reasons:
Space Program.
Russians.
Stealth Bomber.
There you have it.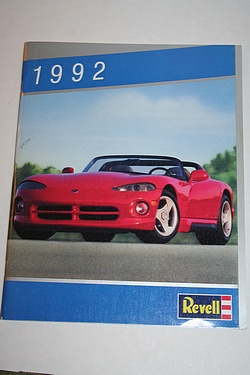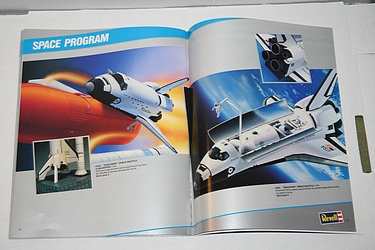 Posted by charlie on November 2nd 2012, 02:50 AM
Leave Comment

Share
---
eBay Watch - Panosh Place Voltron Set
The price may seem a tad high, but this great lot of Panosh Place Voltron lions come along with the Castle of Lions as well as the original castle box! That, and they are pictured in such a delightful way. If you have been looking to start this collection, now may be the time!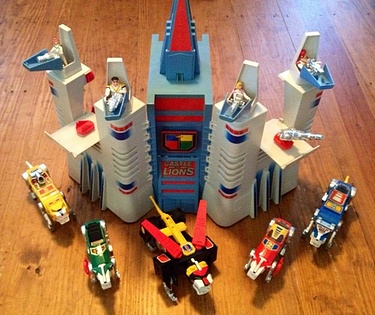 Posted by charlie on November 1st 2012, 04:26 PM
Leave Comment

Share
---