Journal Archives from October 2011
G.I. Joe Q&A #6 - Questions Due Sunday!

Whoa, almost missed this one for sure! I'll be in the clutches of the 24-hour movie fest for the next day solid - on an Amtrak to Philly as I type this - so I'll be scrambling to get our last Q&A for 2011 submitted to the team at Hasbro. Therefore - if you have pressing questions about the brand, now is the time to send them over!
Remember that we can't ask things about production numbers or release schedules or "will this figure be made". We've had great luck in recent rounds with getting all 3 of our questions answers by making sure to ask things that are actually within the rules! I'll sort them out and submit them Sunday night.
Posted by charlie on October 29th 2011, 06:09 AM
Leave Comment

Share
---
Exhumed Films 24 Hour Horror Marathon...2011!
It is Halloween, and for horror fans in the tri-state area (or ex-pats thereof) that can mean only one thing - time for 24 hours of horror! A tradition that I began only last year continues with my second trip to this nearly impossible event. The movie lineup is always a mystery until they start unspooling before our eyes, so I will be "tweeting" the proceedings - keep an eye on @theGamePreserve for updates every 1.5 hours or so until all 14 movies have been revealed!
Posted by charlie on October 28th 2011, 10:24 PM
Leave Comment

Share
---
A Gamer's Guide To Clearing Firearm Stoppages
Preserve weapons expert and gaming enthusiast Wounded Ronin stopped by to tell us how much Farcry2 really sucks, and for more important reasons than sound, plot or graphics. It seems that they put a lot of effort into the animations and process for clearing your weapons in the event of a jam or malfunction, but they did it entirely wrong! There's a long, detailed and
important essay
about firearms safety for your reading edification - so click through and check it out!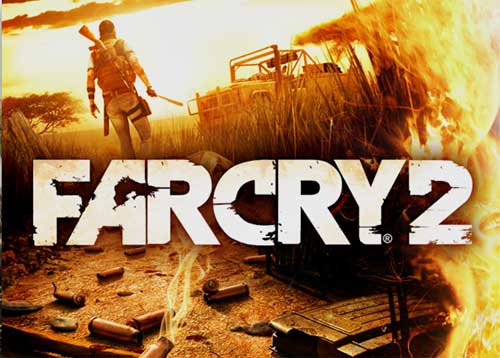 Posted by charlie on October 27th 2011, 07:37 PM
Leave Comment

Share
---
Press Release - Living Dead Dolls Holiday Cards

Press Release -
Our pals at
Mezco Toyz
have sent word that they are ringing in the holiday season with Living Dead Dolls cards! You can show your relatives how much you care by sending them one of these killer greetings to commemorate that most special time of year! Click through to read more about how to get your hands on a set of these new cards!
Read More
Posted by charlie on October 26th 2011, 08:06 PM
Leave Comment

Share
---
New York Comic Con - Star Wars Panel
A look at the Star Wars line up through April 2012. I was especially pleased that not only was the most excellent Mark Boudreaux, designer of many iconic pieces of SW plastic history since 1978, present in the center of the panel, but to his right was the lead packaging designer. It's rare that companies give much credit to the hard working men and women who put together the packages of these toys, that play such a critical part in their success! Plus, any readers of the Preserve know I'm sort of partial to packaging, so was delighted that he was included in nearly every aspect of the discussion of the upcoming line, and got to say how his team contributed. Click the image for my best-effort pictures of each slide of their presentation.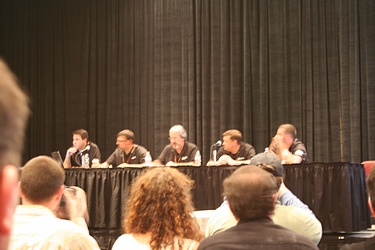 Posted by charlie on October 25th 2011, 06:51 PM
Leave Comment

Share
---
Magnavox Odyssey 2 - Baseball!
Frequently in our prime-time competitive sports, by the time the "big game" comes around, it's a disappointment and a blowout, with one team dominating another, leaving the commercials as the most viable entertainment. I've not really been keeping up with sports much in the past few years, but have made an effort to watch the games of the World Series this time around, and it's actually been a pretty exciting bit of baseball so far!
So it is with the game on in the background, I wanted to feature one of the very early sports sims to hit the shag-carpeted, wood paneled livingrooms of 1978 - Baseball! for the Magnavox Odyssey 2!
One of the early titles for the whole system, setting the trend that would continue for the next 30 years of always having some solid sports titles in the launch catalog, the same high quality of the games is evident here as with the others we have examined. I was, though, unable to find any mention of E. Averett on the package, so perhaps he was still toiling in silence, yet to get his stamp on every product that went out the door. We can still enjoy the bold colors, sharp instructions and engaging, confident summary text on the package, all of which you can see close up by clicking the image above!
Posted by charlie on October 24th 2011, 07:24 PM
Leave Comment

Share
---
G.I. Joe Q&A #5 (2011)

Hot off the presses! Our replies from Hasbro for the latest G.I. Joe Q&A have just arrived, so read and enjoy. All three of our questions were answered - thanks! Check them out below:
---
G.I. Joe Q&A #5 (2011)
Preserve:
Richard Woodhouse made a custom of Lifeline before our eyes at JoeCon several years ago, I believe it was 2007. What was the reason it took so long to finally get one in production? Curious as to how that came about.
Hasbro: It was difficult to fit Lifeline into the line since he is a Medic. Oftentimes a more aggressive character (such as a soldier) would be considered in his place. In Rise of Cobra, it did not make sense to make him. For 30th Anniversary, it made sense, since clearly there was a great demand for this iconic character.
Preserve:
We're loving the cloth outfits on the 12" figures which are part of the '30 for 30' line. Can you help us understand how the team who designs the outfits interfaces with the rest of the design process, and how much time and effort it probably adds to the development of a figure?
Hasbro: The very same designers that you know and love provide the designs for the soft-goods on the 12" figures. These are some very stylish dudes and they put in the time and effort to reseach each for accuracy.
Preserve:
Any chance we'll see more improvements in articulation in the upcoming movie line, like side to side ankle joints and/or head articulation that let's the head tip back and look up?
Hasbro: Interesting question. There is a small innovation in articulation found in Scarlett's ankle joint, which gives you some cool poses that are harder to do with other GI Joe figures. The truth is, articulation is expensive, and with rising production costs, it is hard to add any more articulation to the figures than what is already there.
---
Thanks to the team at Hasbro for their fantastic answers, and to
The Terror Drome
for sharing some questions with us!
Posted by charlie on October 21st 2011, 10:29 PM
Leave Comment

Share
---
New York Comic Con - Mattel!
I've finally finished getting all of my Mattel galleries posted and gathered up, so do feel free to check them out at your leisure. Just click on the image of their wonderful new Andre the Giant figure below to be whisked away to a land of 23" Voltrons, Vigo the scourge of Carpathia, and more MOTU figures than you can whack with a stick.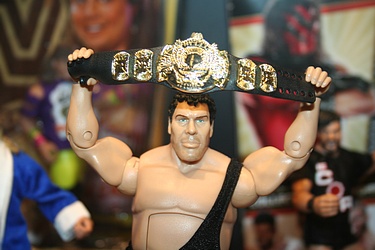 Anybody want a peanut?
Posted by charlie on October 20th 2011, 12:19 PM
Leave Comment

Share
---
New York Comic Con - Lomography
An indy camera store that we were actually familiar with surprised us by having a table at the show. Lomography was there with a fun, colorful booth and a number of their fantastic, FILM BASED cameras in stock and ready to sell. You should visit their site at
lomography.com
and click on the image below for our modest gallery of their great NYCC presence!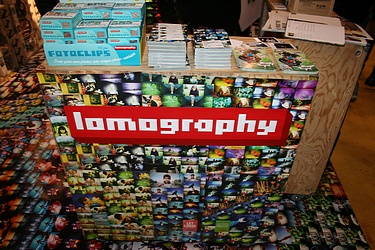 Posted by charlie on October 19th 2011, 08:06 PM
Leave Comment

Share
---
New York Comic Con - Transformers
Almost certainly the flagship brand for Hasbro for 25 years, Transformers had a massive presence at the show. And by massive, I mean they had a 40' tall Optimus Prime anchoring a corner of their booth, and making for 50% of the fan photos taken in that part of the showroom. What was surprising, from a coverage standpoint, is that hardly anything new was shown at all. They really front-loaded the Dark of the Moon line, so at this point there's not much we haven't seen that they will probably try to push to market - though I guess Toy Fair will prove that once and for all.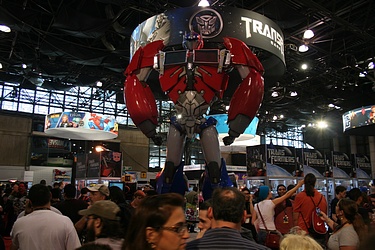 Otherwise, they did have a nice case with some Prime figures in it, and it was good to see these up close and personal. Of course, the main show exclusive from them was a Prime Arcee with pink deco, so you just have to dig that at least a little. Click the image below for a look at what they did bring to the show, and as always keep it tuned to the Preserve for our ongoing
DOTM checklist
- which is just about nearly almost up to date.
Posted by charlie on October 18th 2011, 07:53 PM
Leave Comment

Share
---
New York Comic Con - Jem and Marvel
Several additional Hasbro galleries have joined the NYCC coverage, and lucky you! Now you can see the Jem display that was stuck proudly right in the middle of the Hasbro booth! They even had
Jem
on hand to be sure none of the fans wandered from G.I. Joe to Marvel and didn't stop to see something truly outrageous! I was most impressed by the vintage collection that they had on display in the case, and you can check it out by clicking the image below.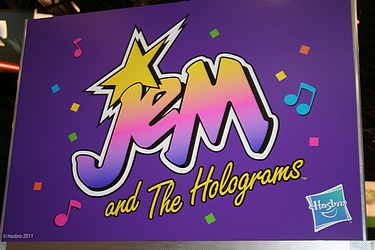 Also, there was a massive
Marvel
presence in the booth, and it really brought home all at once what a push Hasbro has made in that regard. They have been building up to the Avengers, and seeing their massive displays for Iron Man, Thor, Marvel Universe, Captain America (oh, and Spider-Man) was quite satisfying. I was impressed by the care that someone put into assembling those displays - frankly it was better than we often see from the Hasbro booth designers. So - good job, someone!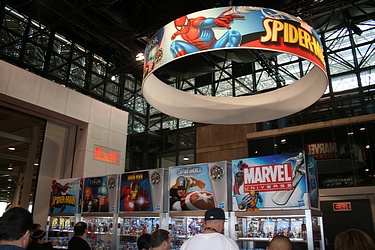 Posted by charlie on October 17th 2011, 08:00 PM
Leave Comment

Share
---
New York Comic Con - G.I. Joe
My standard show-delay appears to be in good health and full effect, as the New York Comic Con is well over and I'm still trickling content into the Preserve. But! There is at least one juicy gallery upon which you may feast, and it is of the new
G.I. Joe products
that managed to carve some space out of the massive Hasbro boothopolis. Click the image to check out the new Renegades figures, and the two new
bigbadtoystore.com
exclusive 7-packs - a bunch of great looking figures!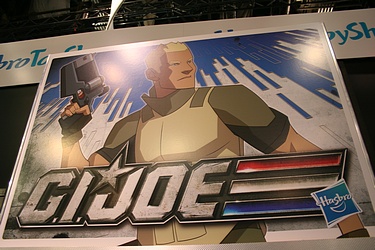 Posted by charlie on October 16th 2011, 11:15 PM
Leave Comment

Share
---
New York Comic Con - Walking Saturday Show Floor
And now, simply because such things intrigue me, here is a 6 minute walk of the Saturday morning show floor at the NYCC 2011. I like to think that there is so much detail and information packed into a crowd walk like this, that it stands as an interesting historical record of an event, and one that is easy to make as well! So check it out, and see what crazy costumes and big flashy pavilions drift by in the frenzied action!
Posted by charlie on October 15th 2011, 10:17 PM
Leave Comment

Share
---
New York Comic Con 2011 - Mattel Booth
A spin through the Mattel booth, and a look at all of their great lines! It's the first time I've seen their beautiful 23" Voltron in person, and I'm so so glad that I subscribed to the program.
Posted by charlie on October 15th 2011, 07:36 AM
Leave Comment

Share
---
New York Comic Con - Walking Show Floor
Here's a short video of walking the show floor on Friday morning. I figure it's fun to see if you're not here at the event, and likely will even be fun for me to look back on a few years from now. It's all about historical Preservation after all!
Posted by charlie on October 15th 2011, 07:32 AM
Leave Comment

Share
---
New York Comic Con - Day 1
Day one of the show was action packed, and all I hoped it could be. I managed to snag great coverage of the Mattel and Hasbro booths, I caught up with a few smaller booths with which I was entirely unfamiliar. I shot some video and tried to keep the various content channels full, even though the show 3G network was overwhelmed by 11:30AM and I was basically unable to post any of it! Then met some great new people, went to a party in the Toy Tokyo Underground, and did a coma-inducing food-crawl with Glyos Matt. A near perfect day - no time to sleep it off, just a few hours of ZZz and time to start again!
Posted by charlie on October 14th 2011, 11:09 PM
Leave Comment

Share
---
New York Comic Con - Underway!
I'm a little late getting there, missing the Hasbro party last night and the cushy "press hours" today where you can snap a few pics without jockying for position with 100,000 people, but at last I am on the way! Watch the Preserve Twitter feed over there to the right or directly on twitter for images from the show floor starting tomorrow. In the meantime, enjoy the great coverage of folks who put in the effort to get there on time! Now if only I mange to get into tomorrow's "Locke & Key" screening.....
Posted by charlie on October 13th 2011, 12:44 PM
Leave Comment

Share
---
2011 Lego City Advent Calendar - At Target!
Over on
Twitter
I've made no bones about the fact that I think Christmas is starting even sooner than ever at retail this year, and that it's just getting crazy. I mean - we used to say that starting before Thanksgiving was a stretch, and now nearly every store is having some serious product identity crisis, with skeletons and witches competing with animatronic illuminated deer for shelf space. Makes me feel like I'm taking crazy pills when I wander around!
Well, I had to eat a few of my words today when I randomly discovered the Lego City Advent Calendar for 2011 in the Target Lego section! As long time readers of the Preserve know, that's one of our favorite yearly traditions around here, and I almost always forget to pick up a calendar until they are nearly all sold out. Additionally, I often managed to find one at my local Borders store - the only retailer I knew of who carried it - and that's no longer an option. Discovering that Target had these sets (only 2 left!) in stock really made my day, and melted a bit of the Grinch that I'd been channeling. Granted, I still think we could let Halloween have it's due, but I'm so excited to have the Advent Calendar here at the Preserve, I'm willing to overlook a lot of things!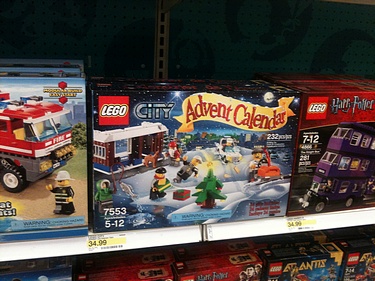 Posted by charlie on October 12th 2011, 05:46 PM
Leave Comment

Share
---
Press Release - The Undead Festival

Press Release -
It is that wonderful, demonic, spooky time of year again, and across the land fitting events are slated to help you properly celebrate. If you happen to be near the tri-state area (specifically, Asbury Park, New Jersey) the weekend of October 21st-23rd then you can get your zombie on at the
Undead Festival
! Click through for more info on this family friendly event.
Read More
Posted by charlie on October 11th 2011, 06:56 AM
Leave Comment

Share
---
Magnavox Odyssey 2 - Pick Axe Pete!
Let's finish out the week the way we should finish out more weeks around here - and that's with some good old fashioned gaming coverage! Today we're taking a look at one of the harder to find titles for the
Magnavox Odyssey 2
system, which came along in 1982 near to the end of the line for that system.
Pick Axe Pete!
bears a software copyright by the very busy Mr. E. Averett, a programming powerhouse the likes of which our modern digital age is founded upon. Click through the image below to see the delightful, colorful and I feel terribly gorgeous packaging and instructions for this 29 year old gem!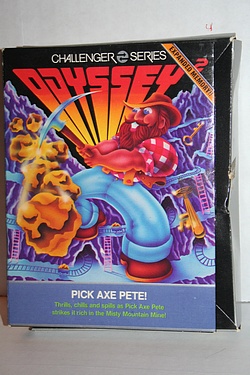 Posted by charlie on October 7th 2011, 05:22 PM
Comments(2)
Leave Comment

Share
---
Transformers Coupons - $5 From Walmart
Not being 100% conversant with the business and sales practices that Hasbro and big box retailers use to move product, I can't be totally sure what this means, but this week both Target and Walmart are running pretty substantial coupon discounts on the Dark of the Moon Transformers movie line. Interestingly they are running identical promotions, where you can get $5 off of a purchase of $5.99 or more. My initial reaction is that the line has stopped selling, and this is the effort to kick it into motion again. For both stores this cleverly comes just shy of netting you a basically free Legion class figure (as they are less than $5.99), where they hope you'll have to upgrade to something else and walk away with a mini-Flak for free and be glad about it. The Target one can be printed from
here
and I actually stumbled into the Walmart one today, totally unaware of its existence.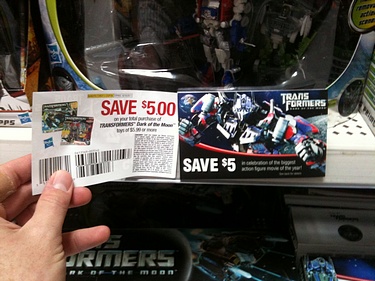 According to the Twitter, these aren't showing up in every store, at least not yet. It's rare that I see something that's not already commonplace everywhere else around the country! Given that these short-lived mighty coupons have an expiration date of 10/16, they had better start turning up elsewhere or it'll be moot in short order.
I was happy that, shortly after making my discovery and snapping my sneaky photo, a kid showed up desperately trying to convince his Dad to get him Deluxe Roadbuster. The Dad was not too keen on the $9.88 price, so I couldn't help but kindly point him towards the coupon - after his double-take at what a good deal it represents, he thanked me and junior got his toy. That's how the hustle flows, Hasbro.
Posted by charlie on October 6th 2011, 06:43 PM
Comments(2)
Leave Comment

Share
---
Steve Jobs, 1955 - 2011
I began my computing life using Apple products, and have watched with excitement and amazement as the once-underdog Steve Jobs came roaring back with products seemingly ripped from the far future. The sudden transition from beige towers and clunky CRT monitors into a veritable Star Trek world that he ushered in was hard to believe, but there it was, right in front of us. So much of our on-line life and culture is informed by the work that he and his company has done for the past 10 years, let alone the past 25. I learned about his passing the moment it was announced, via twitter, and on an iPhone - that seems like something he would have liked. Rest in peace Steve Jobs - thanks for changing the world.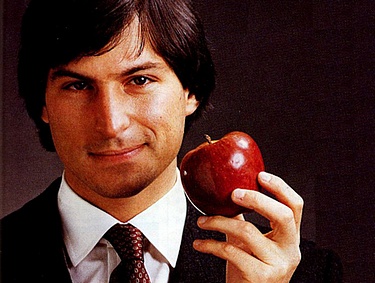 Posted by charlie on October 5th 2011, 05:13 PM
Leave Comment

Share
---
eBay Watch - Dr. Claw by Tiger Toys
In 1992 Tiger Toys released a quite wonderful line of Inspector Gadget figures, which I've been meaning to add to the Preserve for quite some time. Several years ago while in Toronto, I had the chance to stop by the Sunday Flea Market right in the midst of downtown, and to my delight one fellow had brought out the vintage toys. In particular, I scored a carded CANADIAN Dr. Claw, as well as a carded Penny figure.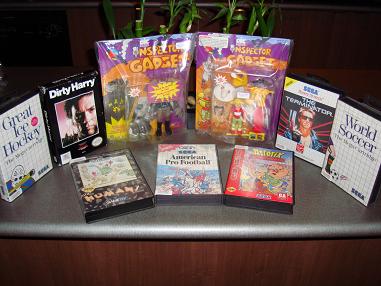 The Claw figure was packaged in such a genius way so as to obscure the admittedly upsetting face that they made for him, and it was probably a great sales tactic. There was no looking things up in 5 seconds on the Internet that day, I can tell you. Certainly in watching the show, we all wondered what terror was always right off camera, and what this arch enemy of our android detective buddy really looked like. I don't know the details of how Tiger was able to finally create the definitive visage for Claw, but I'm glad they did! Here's a close-up of the Canadian card.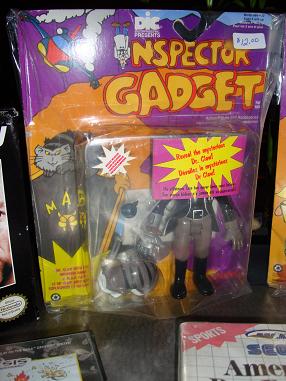 This all leads me up to today's eBay watch, and a picture of the uncovered Dr. Claw! I guess I still feel like it should be a semi-secret, for anyone who hasn't seen it yet, so I wanted to at least move it down here below the 'fold' as it were. Claw even comes with Gadget and M.A.D. Cat, so it's a great deal!
Mouse-over the placeholder image below to see the Tiger Toys face of Dr. Claw! (I suspect most of my readers already have, but it's fun anyway!)

Posted by charlie on October 4th 2011, 06:33 PM
Comments(2)
Leave Comment

Share
---
eBay Watch - Mound of Madballs
Do you need a huge pile of vintage Madballs? Of course you do! We all do! Well, you're in luck then because there are still 14 hours and change left to bid on this colorful and horrible
box of madness
. If you have the means, throw your disfigured hat in the ring and see about scoring an overnight Madball collection!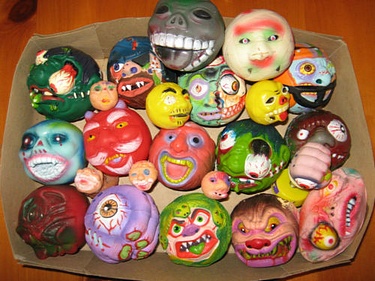 Posted by charlie on October 3rd 2011, 06:49 PM
Comments(3)
Leave Comment

Share
---