Journal Archives from July 2009
Diamond Select Toys Acquire Battle Beast Line
In case you've missed it, I wanted to be sure to spend a few minutes pointing out another piece of excellent news from the recently wrapped San Diego Comic Con. Diamond Select Toys, maker of the very popular and increasingly well funded and creative Minimates, has just gotten hold of the brand rights to the
Battle Beasts
line from the '80s! For collectors who grew up in that period, these little guys are almost universally loved, and the idea that we might be seeing a whole new line, with the flexibility that brand ownership will bring, is very exciting indeed!
Check here
for further information about this exciting new development!
Posted by charlie on July 31st 2009, 08:37 PM
Leave Comment

Share
---
Transformers - Revenge of the Fallen: Ravage
In celebration of Michael Bay's curious and unsettling ability to have made Transformers 2 the 9th highest grossing movie of all time, and still going, I wanted to feature another Revenge of the Fallen figure today. Taking his name and personality from the archives of the original G1 1984 characters, Ravage has joined the ranks of the newly redesigned live action movie figures. Now, I'm a purist so I will never be truly happy unless Ravage is a cassette tape (a what?) but I suppose they did a pretty cool job with the update. Click the image below for his full bio, specs and more packaging shots!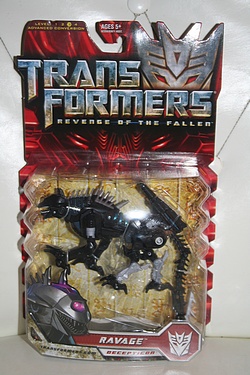 Posted by charlie on July 30th 2009, 08:31 PM
Comments(2)
Leave Comment

Share
---
Lego Advent Calendar, 2006 Style
As you know, we missed getting our own San Diego coverage this year and you've no doubt seen the amazing pictures all over the web of the Iron Man 2, Tron 2, MotUC and GI Joe events. Well, I bet that no where else this week will you see a pictorial of the 2006 Lego Advent calendar - just in time for Christmas in July! Click the image below for more pictures of this set, and get ready in a few more months to see what Lego has in store for us in their 2009 offering! (Or, you can cheat by looking at our 2009 Toy Fair Lego coverage of course).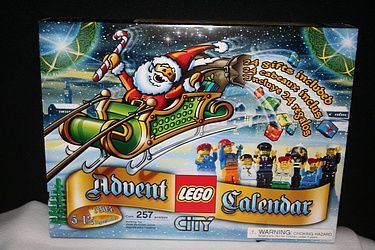 Posted by charlie on July 29th 2009, 08:18 PM
Leave Comment

Share
---
Little Anakin Skywalker - 10 Years Later
The Uncle
has uncovered an amazing clip of Jake Lloyd, 10 years after he played little Anakin Skywalker in the 1999 effort
The Phantom Menace
. I make little effort around here to disguise my dislike of the recent Star Wars films, and the disservice I felt that Future Lucas did to Past Lucas in those works. Watch this interview, and see exactly what it was like to grow up bearing the mantle of having been the muppet-baby-esque star character in the first of the disastrous new pictures. If you think you had it hard watching them, just imagine how Jake had it! He seems like an ok guy - if you're out there Jake, we don't blame you - you were 9 for Cybertron's sake! You were just doing a job, and Lucas is, of course, to blame!
Posted by charlie on July 28th 2009, 08:15 PM
Leave Comment

Share
---
Hasbro SDCC Exclusives - Available Now!
If you were unable to make it to the San Diego Comic Con this year, but don't want to miss out on the excellent Hasbro exclusives, then get on over to hasbrotoyshop.com immediately! They have:
The fantastic Destro 2-pack keeps going in and out of stock, though the inventory trick currently indicates a supply of 3,802 pieces. Somehow I don't think that's right, but either way it's a great set, so be sure not to miss out!
Posted by charlie on July 27th 2009, 06:58 AM
Comments(1)
Leave Comment

Share
---
SDCC 2009 - Mattel Wins!
In 2008 when the Uncle and I went to the New York and San Diego comic cons, I noticed something of a tortoise and hare scenario with Mattel and Hasbro. Being the two remaining action figure giants, having gobbled up the other viable competition through the '80s and early '90s, for a while it seemed that Hasbro was comfortably in the lead with their strong brands and dominant marketing. What I saw last year, though, was that Mattel was trying hard. They were doing the right things, listening to the fans, making quality product and really trying to build some brands from nothing or resurrect their most promising lines from the past.
I think that this year's San Diego Comic Con may have proven that I was correct, and Mattel had an amazing showing! Certainly they owe so much to the 4Horsemen; it was a brilliant move on someone's part to put these sculpting geniuses behind most of the current and near-future Mattel product. What has been announced at Comic Con includes continued waves of DC Universe Classics figures, and the rest of the Ghostbusters (as discussed before) along with a mini-Atherton which is amazing. Maybe even more fantastic, which we all predicted due to the runaway success of the Masters of the Universe Classics line, was the expansion and even higher collector-oriented awesomeness that we can all look forward to, including some really special and rare figures. Perhaps the coolest news of the show is that, when you
purchase a subscription
to the line for 2010, the bonus figure is a remake of the highly prized
Wonderbread He Man
, complete with loaf of bread accessory! This is the sort of thing that proves, beyond a shadow of a doubt, that they understand their audience, are working hard to bring us things we'll like and are succeeding in their goals.
Click here
to see the cooltoyreview.com gallery of the Mattel booth!
We look forward to adding these great new Mattel products to our modern-day archives, and bringing you up to date checklists and images of their ongoing good work!
Posted by charlie on July 26th 2009, 08:24 PM
Leave Comment

Share
---
SDCC 2009 - Mattel Ghostbusters Venkman
It has been a long wait, but Mattel has finally been able to reveal the early prototype for their Venkman figure! We have to imagine that Bill Murray delayed this figure by withholding his likeness rights, but we haven't heard that first hand.
Click here
to see the fantastic gallery of Ghostbusters and the first looks of the new Venkman, Winston and mini-Atherton, courtesy of toynewsi.com!
Posted by charlie on July 25th 2009, 02:09 PM
Leave Comment

Share
---
SDCC 2009 - Ongoing
The San Diego Comic Con carries forth in grand fashion, and it seems that G.I. Joe is one of the real stars of the show! Ok, it may be just because we're so in love with the franchise that we keep seeing it everywhere we look, but I do think there is also a lot of specific coverage to be had. Be sure to see
full image gallery
of Hasbro's G.I. Joe panel, over at cooltoyreview.com!
Posted by charlie on July 24th 2009, 08:55 AM
Leave Comment

Share
---
SDCC 2009 - First Full Day
News and results are pouring in all over the Internet from the San Diego Comic Con. Sounds like preview night was even more packed than last year, which is funny since there was a time when it was actually less insane and a good chance to pick up some exclusives and see some booths. Now it's just as bad as the rest of the days, foot-traffic wise!
Some of the best things we've seen so far include:
Thanks to cooltoyreview.com for all of the great coverage! Be sure to watch 'em close for more great shots from the showroom floor.
Posted by charlie on July 23rd 2009, 11:22 AM
Leave Comment

Share
---
San Diego Comic Con 2009 Begins
Today marks the start of the 2009 San Diego Comic Con! Due to a lack of proper planning and initiative, I won't be there on the floor this year, but rest assured that a number of fantastic sites around the Net will be keeping us all in the loop. Since we read the good work of the
cooltoyreview.com
folks daily, and since it looks like they will be doing a fantastic job of covering the event, I wanted to make sure to point you to
their coverage
in particular. Watch them close for updates, starting today!
Posted by charlie on July 22nd 2009, 08:30 AM
Leave Comment

Share
---
Barbie 50th Anniversary - 1986 Barbie and the Rockers
This year Mattel celebrates the 50th anniversary of their marquee brand, Barbie. Back at Toy Fair we were able to snap some shots of their
impressive Barbie room
, which really launched the celebration in grand style.
Maybe I'm put in mind of this figure as a result of the great Baroness we posted yesterday - in many ways Barbie and the Rockers also epitomized the 80s! The tribute figure from this era is, in fact, the 1986 Rockin' Barbie, and it's glorious in the color scheme, fashion and box art. Click the image for a larger look, and we'll hopefully get a gallery up of the rest of the images soon!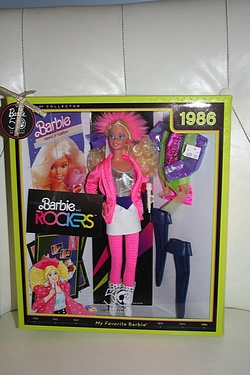 Posted by charlie on July 21st 2009, 08:59 PM
Leave Comment

Share
---
San Diego Exclusive - Baroness!
Huge thanks are due to our G.I. Joe press contact at Hasbro for sending out one of their spectacular 12" Baroness figures, which will be one of the crown jewels of their exclusives roster at next week's San Diego Comic Con. We won't be able to attend the show this year, but this was on the of the things we were most bummed to miss - now here it is in the archives for us all to enjoy! They've done a really fantastic job on this figure, both with the figure itself and the amazing 'propaganda' poster that it is packed with. Even the case itself is a work of art. Anyone who is attending the show should be certain to brave the hours in line at the Hasbro booth, this figure is worth it. Click the image below for some more close-up shots.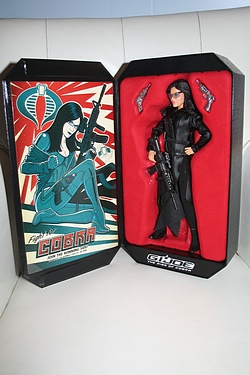 Posted by charlie on July 20th 2009, 02:07 AM
Leave Comment

Share
---
G.I. Joe Modern Era - Snake Eyes and Hard Master Comic Pack
Wrapping up our archives of the G.I. Joe Modern Era Comic 2-packs is the excellent Snake Eyes and Hard Master set. A brand new comic adventure by Larry Hama himself joins these two excellent figures to create a set well worth the $10 it demanded when it was available in stores. Click the image below for a few pics and the summary of the comic, in which Snake Eyes is trained to be the ultimate ninja that we know and love!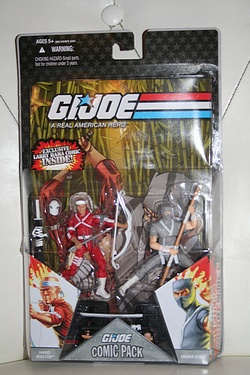 Posted by charlie on July 19th 2009, 02:53 AM
Leave Comment

Share
---
Transformers Real Gear from March 2008 - Farsight T-20
Digging even further back than the
Cobra Eel
that went up a few days back, all of the buzz around the new Transformers movie caused a look back at
our archives for the 2007 film
, revealing an omission! I know that's not a real surprise around here, but I am definitely a fan of the Real Gear line, in particular the very rare final wave of figures that barely made it to store shelves. We finish up our archive of this 16 item sub-line with Farsight T-20 from the elusive sixth wave! Click the image below for more pics, and another great bio from a line that was just packed with them.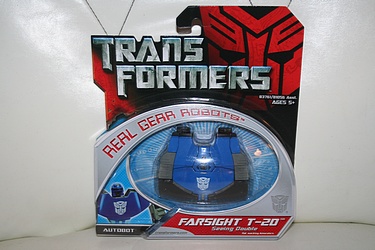 Posted by charlie on July 18th 2009, 12:14 PM
Leave Comment

Share
---
G.I. Joe Q&A Round 3, 2009
Time again for the answers from the G.I. Joe brand team at Hasbro! We asked some technical types of questions this round, but rest assured that there will be plenty of great product news announced next week at the San Diego Comic Con!
---
G.I. Joe Q&A #3 (2009)
Preserve:
The new case assortments for the Rise of Cobra figures have two separate Collections, each with their own waves. This is making it a little tricky to generate a clear checklist - can you help to explain the release plan for figures and the released case assortments?
Hasbro: The reason that we have 2 collections is to give Hasbro more flexibility to get figures onto shelf. The allows double the amount of new figures to make it to market. Hasbro will be distributing a checklist at ComicCon this year..
Preserve:
Why have the Rise of Cobra figures been available in foreign markets (such as Canada) so much sooner than the US market?
Hasbro: Every market sets their own "release date" usually within a week or two of eachother. Canada and Austalia felt they wanted to launch product earlier than the US.
Preserve:
We heard at Toy Fair that General Hawk was only going to be available with the Pit playset. Now he's showing up on the single carded release list - is it only the special 'Attack on the Pit' Hawk that is the pack-in while other versions will be more readily available?
Hasbro: After the feedback we received at ToyFair from the fans, we decided to use Hawk more widely than just the PIT playset. He will be available both in the PIT and single carded.
---
Thanks to the G.I. Joe team for their answers to our questions!
Posted by charlie on July 17th 2009, 08:18 PM
Leave Comment

Share
---
SDCC 2009 - Hasbro Show Exclusives

Press Release -
Suddenly, we are being inundated with fantastic previews from the impending San Diego Comic Con. Unfortunately we won't be making it there in person this time around, but the companies we watch are making sure to keep us well informed! Hasbro has sent us a set of images covering all of their show exclusives across a number of their brands. Click the link for the full images, and be sure to pick them up if you're lucky enough to attend the show this year - enjoy that 3 hour line!
Read More
Posted by charlie on July 16th 2009, 06:31 AM
Leave Comment

Share
---
Masters of the Universe Classics - Man-at-Arms Sold Out!
Today's MotUC figure broke the previous record, and has sold out in only 41 minutes! Congrats to the team at Mattel behind this relaunch of the He-Man line - we can all be excited about the support that Mattel will continue to give to this line in light of its runaway success! eBay Prices for Hordak seemed to be somewhat moderated, so I wasn't sure if Man-at-Arms would see the same crazy demand as the figure from last month, but instead the sales were even more brisk than ever before. It will be very exciting to see what they have to announce at the impending San Diego Comic Con, and what they have in store for 2010!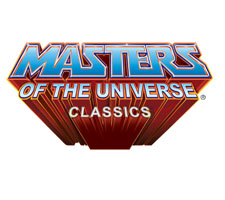 Posted by charlie on July 15th 2009, 01:08 PM
Leave Comment

Share
---
Masters of the Universe Classics - Man-at-Arms Today!
Can you believe it Preserve fans - it's already been another month! At least the monthly Masters of the Universe Classics releases over at
mattycollector.com
serve as a good time piece as the days slip by. Today at noon, get ready for Man-at-Arms! Coming with both clean-shaven and awesome-'stache head versions, along with the excellent number of accessories that you would expect from the Heroic Master of Weapons, this is another figure not to be missed! Click the logo below to be whisked away to the mattycollector site, and good luck with the noon-time site overload!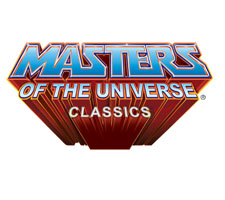 Posted by charlie on July 15th 2009, 06:44 AM
Leave Comment

Share
---
G.I. Joe Modern Era - Cobra Eel
With all of the brand new
Rise of Cobra
figures on the shelves today in advance of the upcoming live action movie, I was looking fondly over the
Modern Era collection
from 2008 and realized that the Cobra Eel figure was never added to the Preserve! Well, now he has been, and the single carded figure listing is at long last complete! We have a ways to go on the rest of the parts of that line, though rest assured they're all laying around here in boxes someplace. For now, click the image below to read the full bio on one of the most popular and hardest to find figures from the entire Modern Era set!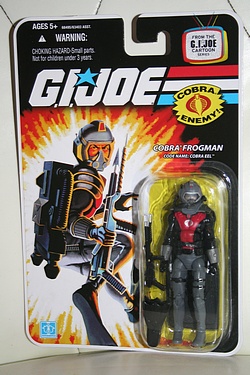 Posted by charlie on July 14th 2009, 08:51 AM
Leave Comment

Share
---
Harold Ramis on the Ghostbusters 3 Movie
Big thanks to
millionaireplayboy.com
for this link over to
makingof.com
of a 7 minute video interview with Egon himself!
Click here
to watch a simply delightful clip of a content, bearded and delicately aged Ramis talking with good humor about the status of the potential new film as well as his take on some of the latest box office 'gems'!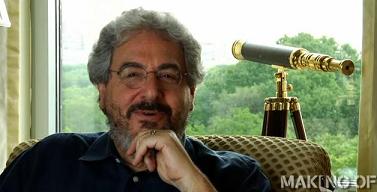 Posted by charlie on July 13th 2009, 12:42 PM
Leave Comment

Share
---
Transformers Animated - Waspinator
Originally introduced in the Transformers Beast Wars show, the Predacon Waspinator is the fall guy and comedic relief of many an episode. He found renewed life in the Transformers Animated series as a former comrade of Bumblebee who goes berserk and turns Decepticon. Always good to see an old popular character reintroduced in the current line, still with that edge of madness all the fans love, he was a great addition to the series. Click the image below for more packaged shots and his full bio and abilites!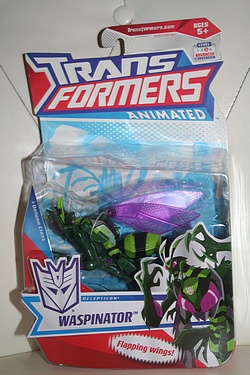 Posted by charlie on July 12th 2009, 07:27 PM
Leave Comment

Share
---
Hasbro Charity G.I. Joe Movie Premiere

Press Release:
Hasbro has told us that they will host a special pre-screening of the upcoming live action G.I. Joe movie on August 3rd. Click the link for more information!
Read More
Posted by charlie on July 11th 2009, 07:24 PM
Leave Comment

Share
---
Lego Brickmaster July / August - Star Wars AT-TE
The latest Star Wars brickmaster set has arrived! This set helps to alleviate some of the confusion that we were having about product numbers as of the last set, as this one is 20009 as opposed to 20011 from the May/June set. This month we get a nice Star Wars AT-TE walker which is a very cool piece! Click on the image below for more shots of the set and for info on the product codes!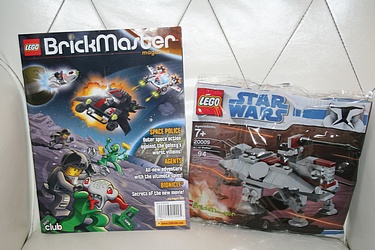 Also I simply have to make sure that everyone sees the fantastic ad on the back side of the catalog for the second round of Lego Indiana Jones Toys!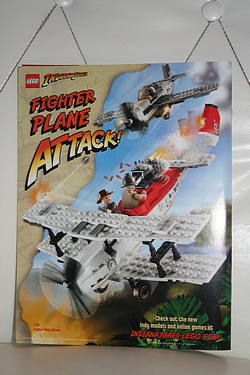 Dr. Henry Jones is even blasting the tail off of the plane, which is an actual action feature in the set
as demonstrated
to us by their Master Builder at Toy Fair!
Posted by charlie on July 10th 2009, 10:02 PM
Leave Comment

Share
---
Transformers RotF - Skywarp and Ramjet WalMart Exclusives
During a stop at a Buffalo NY WalMart on the way back from the way-North lands, I discovered the two latest WalMart exclusives on their own endcap! Now in stores are two of the classic seeker jets, Skywarp and Ramjet in fantastic robot-mode packaging with lenticular holograms! Repaints of Starscream from the 2007/2009 movie toy lines, it's always great when Hasbro goes that extra mile to work on delivering the full set of classic jets. Grab these exclusives while they last, and you'll be that much closer to a full, modern day set!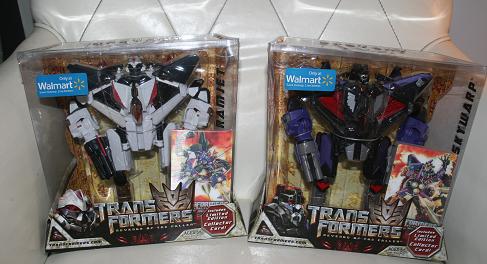 Posted by charlie on July 9th 2009, 08:50 PM
Comments(2)
Leave Comment

Share
---
Transformers Q&A Due Monday, July 13th
Ok Preserve Transformers fans, this is a reminder that the next Transformers Q&A with the Hasbro brand team is due this next Monday! Please have your submissions in by Sunday night so we have a chance to sort them out and submit the top three to the good guys at Hasbro. Reply to this post or send an email to
feedback@parrygamepreserve.com
with your questions about the new toy line, and what may be coming in the future!
Posted by charlie on July 8th 2009, 07:11 PM
Comments(1)
Leave Comment

Share
---
Masters of the Universe Classics - Mer-Man
Remember April? Well, it was a busy time to be sure, but it also marked the addition of Mer-Man to the Mattel Masters of the Universe Classics collection! We're finally catching up and featuring this great figure as the latest addition to our archives. Click the image below for the full bio of Squidish Rex, and see how this henchman fits into the cannon of Eternia!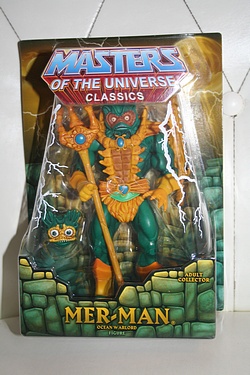 Posted by charlie on July 7th 2009, 07:54 PM
Leave Comment

Share
---
Dr. Claw's Face Revealed
Preserve fans who carefully read yesterday's post may have been infuriated by the tantalizing mention of Dr. Claw's real face but with no pictures! Well, as most long time readers can probably guess I am highly unlikely to open my newly acquired Canadian carded Claw figure from the DIC toy line. Can you believe that it wasn't opened for all these years! I can't possibly break that streak - but I do plan to keep an eye peeled on eBay for a loose copy to do it justice! In the meantime, check out
this fantastic writeup
over on progressiveboink.com. Click the image of the box below to reveal the true face of Dr. Claw!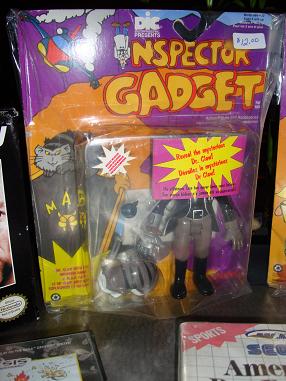 Posted by charlie on July 6th 2009, 09:03 PM
Comments(2)
Leave Comment

Share
---
Toronto Toy Haul
Walking around the streets of Toronto today proved to be extraordinarily fruitful for the archives of the Preserve! The day began at a large indoor/outdoor antique market, which just the day before had been the site of a farmer's market that brought tears to my eyes with the huge amount of fresh asparagus and whole pigs available for immediate purchase. While most sellers specialized in products that we don't know much about, one dude had a fantastic set of items 'from his daughters closet' including a number of '80s G.I. Joe vehicles, Micro Machines playsets, Action Man figures, carded Spice Girls and two Inspector Gadget figures, including the amazing Dr. Claw! What is so great about this figure is that they revealed his face - oh my God! Yeah, and to have it on a dual-lang Canadian/US card for $12 (canadian!)? Holy Crap.
Later on in the day I stumbled upon a small gaming store that was just astonishing in the variety of vintage they stocked. They must have had every system I've ever heard of represented with both boxed and loose deck and games, and the prices were not half bad. If you ever find yourself in Toronto, be sure to check out
A&C Games
on Spadina Ave. - they rock!
For now content yourselves with a closeup of the sealed Dr. Claw figure:
...and Dirty Harry NES game!
And, well, when in Toronto, it's best to not forget to pick up a Cuban Montecristo #2 - Ahnold would approve!
Posted by charlie on July 5th 2009, 08:32 PM
Leave Comment

Share
---
Happy 4th of July - G.I. Joe RoC Checklist Updated
Happy 4th of July Preserve fans. In celebration of this US holiday, it seems right to spend a little more time focusing on the G.I. Joe line, in particular the Rise of Cobra figures that are just now hitting stores. Thanks to some excellent new listings by
entertainmentearth.com
, we've been able to add a little more structure and formalization to
our figure checklist
.
What is somewhat confusing, however, is that they have their case assortments broken into 'Collection 1' and 'Collection 2' arrangements, and then within those groups are the standard 'wave' designations. We've followed suit with their system for now, as it likely mirrors Hasbro's release numbering, but what a confusing ordeal that is already shaping up to be! We'll try to keep sorting out the complexities of the checklist going forward so it is as useful as possible for everyone.
Posted by charlie on July 4th 2009, 10:32 PM
Leave Comment

Share
---
G.I. Joe Rise of Cobra - Canadian Haul!
Today I am in Canada. The interesting thing about Canada, at least these days in particular, is that the G.I. Joe Rise of Cobra figures have already been released en masse! I couldn't resist stopping at the first Toys R Us that fortuitously presented itself, and was greeted with 2 free-standing islands of the brand new G.I Joe movie toys along with an entire corner of Transformers figures. Overall really, it was the nicest, cleanest, best stocked Toys R Us that I have ever seen - and even stocked
UberStix
- go Canada!
Of course, seeing the Rise of Cobra figures in person was more than I could stand, and some of them (Baroness, Destro, Zartan, Shipwreck, Storm Shadow) had to come back to the hotel with me, and of course the photo is below!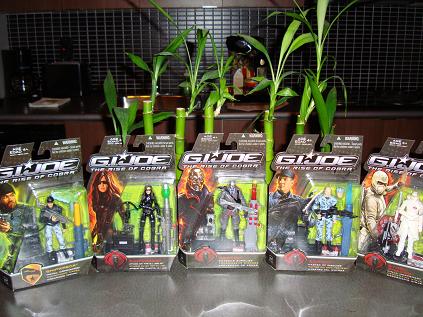 How exciting to have Destro in the collection - not to mention that everything that was purchased today comes on the tri-lang cards! This is of course a dangerous opportunity to have a collection of US as well as tri-lang cards, but fortunately I was able to resist buying all of the single-carded figures or any of the vehicles due to the huge prices! I was glad that I found the Combat Heroes Cobra Commander from the movie, aka.
Rob Bricken's Bain
!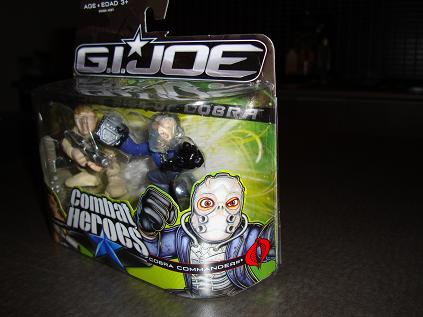 There was also a 12" Cobra Commander that also looked outrageous, but I didn't go for it. The Alpha class vehicles also rang in at $24.99 (Canadian!) but it seems that the US prices may be better in a few days. Speaking of which, our Hasbro contacts have just sent us an email today indicating that the new G.I. Joe figures will in fact be available in the US for mass release this very coming July 6th - this Monday! Get ready to check your local store for this new line on Monday. Here's a round-up pic of the rest of our haul along with the Canadian Toys R Us bag!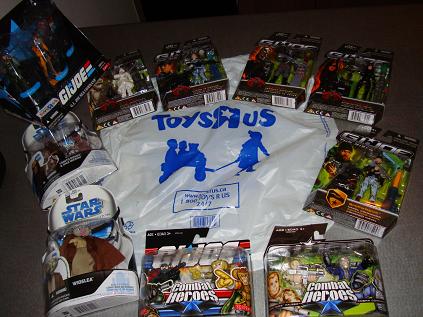 Posted by charlie on July 3rd 2009, 02:14 AM
Leave Comment

Share
---
Masters of the Universe Classics - Faker
Continuing our theme of the fantastic Mattel Masters of the Universe Classics line, today we feature Faker! Released way back at the New York Comic Con before you were able to score it from mattycollector.com, Faker is another popular character from the He-Man cannon to find form at the hands of the 4Horsemen in 2009. Created by Skeletor to resemble He-Man and generate chaos and confusion, he ended up with blue skin revealing him for the hoax he was, and showing that Skeletor is in general a lousy magician! Click the image below for the full bio, and some more packaged pictures of this excellent member of the 2009 MOTUC line!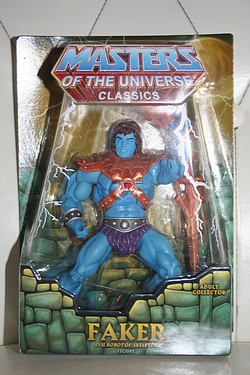 Posted by charlie on July 2nd 2009, 12:35 AM
Leave Comment

Share
---
New Q&A Rounds for Transformers and G.I. Joe
Ok folks, it's already been two months since our last Q&A sessions, and it is that time again! This coming Monday, July 6th our three questions to the G.I. Joe brand team are due by noon. The next Transformers Q&A questions are due on July 13th at 3pm. Please post a comment to this update, or email us directly at
feedback@parrygamepreserve.com
and we'll select our favorites for the Hasbro teams!
Posted by charlie on July 1st 2009, 08:48 PM
Leave Comment

Share
---