Journal Archives from October 2010
Exhumed Films - 24 Hour Horror-Thon Part IV
It's just about time for Halloween, and friend of the Preserve, Doctorkent will be hosting my voyaging self and attending quite the excellent movie event! In Philadelphia, a small group called
Exhumed Films
runs a yearly horror movie fest wherein they show a mystery list of 24-hours worth of movies from noon on Saturday until noon on Sunday - perfect! I will be tweeting (gasp...!) updates about which films they show, because that seems like a fun thing to do. Keep an eye on the
Preserve Twitter Feed
for those updates, and I'll see you from the road!
Posted by charlie on October 29th 2010, 01:01 AM
Comments(2)
Leave Comment

Share
---
Press Release - Mezco Toys and Scott Pilgrim

Press Release:
Mezco Toyz
has just revealed their new 6" Scott Pilgrim figure set for preorder. A gift to comic nerds everywhere, Scott Pilgrim was the movie to beat this summer, though sadly the box office didn't get the memo. Click through for larger shots of their great new figure set!
Read More
Posted by charlie on October 28th 2010, 06:53 AM
Leave Comment

Share
---
Transformers - Hunt for the Decepticons: Hailstorm
The current Transformers product is a little confusing. On the one hand, we have the
Generations
line, which has picked up where 'Classics' left off, and is known as Classics 3.0 in some circles. They are going to be (so far) all 'deluxe' scale figures, and are exploring the full and rich universe in some pretty exciting depth. This line is a fan favorite to be sure. Know them by their deep red cards.
On another hand, we have the sort of anemic yellow/orange cards which denote the
Hunt for rhe Decepticons
line, which is the successor to the movie line - where the bots still sport that ever-irritating Bay look. However, it's not as simple as that, because while this line does give you movie Ravage, movie Ironhide, movie Prime and you can be sure it gives you movie Bumblebee, it's also offering up some new figures with great design. Taking a cue from Hasbro themselves at Toy Fair back in February, I had taken to grouping the current parallel lines under the umbrella of
More than Meets the Eye, 2010
.
News from Hasbro and research by fans tells us that the new product line, probably hitting stores right after the holidays, will be called 'Reveal the Shield', and I'm sure I'm not the only one who is excited about the return of the 1980s rubsign! It sounds as if it will combine the Generations and Hunt lines into one, hopefully awesome, offering that will simplify our checklists and enrich our collections. Of course, the "movie 3" product will by necessity be showing up shortly thereafter, so we can only hope to get some cool figures from this necessarily short line before it is shelved for the demands of licensing and marketing deals.
Well, all of that is a long lead-in to today's figure, of Hailstorm! I really dig this figure, and think that the colors and styling can't be beat. Then you add in 8 firing missiles and I'm smitten. Click the image below for the bio of this clumsy, high powered Decepticon from the soon-to-be-merged Hunt for the Decepticons line!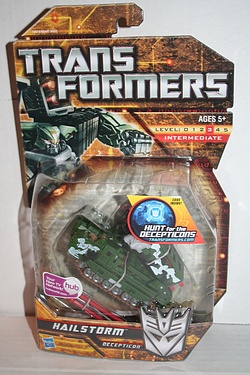 Posted by charlie on October 27th 2010, 01:49 AM
Comments(1)
Leave Comment

Share
---
Batman - The Brave and the Bold: Scuba Batman
In spite of Toy Guru's protestations to the contrary, I think it's pretty clear to everyone who is paying any attention that the
Batman: Brave and the Bold
line is on the way out. Granted, he always couched his language in the safety of 'if retailers support the line' which certainly seems to be diminishing. Target still has a few pegs and a little shelf space consistently dedicated to the products, but with so very little new items in the pipeline it's unclear what they will even put on that shelf space a month from now! That said, and knowing my enjoyment of the 'last wave' of things, let's take a look at another absurd Batman repaint - Scuba Batman!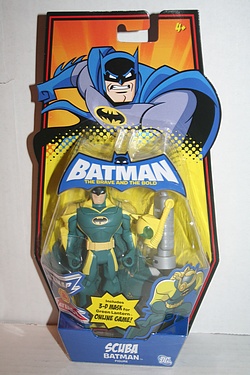 Note the "Includes 3-D Mask for Green Lantern online game!" sticker that is plastered on the front of the bubble. It seemed that all the other Batman figures had this as well, so they're making a last minute marketing push using these guys as a vehicle - given the sales figures, it's probably not a great marketing angle! I found this figure in Plymouth Meeting, PA last weekend, which of course has a much better selection than my small town, though maybe I'll catch a glimpse of those stickers eventually as well. Be sure to click the image above for more shots of this bright, colorful, almost-worth-buying-a-fifteenth-Batman figure!
Posted by charlie on October 26th 2010, 07:35 AM
Leave Comment

Share
---
Back to the Future - The Game - The Marty
I have been a huge
Back to the Future
fan since it was first released in theaters in 1985. That 116 minute thrill ride established life-long passions of both the intricacies of time travel theory and the
DeLorean DMC-12
that are alive and well in me to this day! Well, there's been a lot of Back to the Future stuff in the news the past few weeks, as it's an anniversary year and they are really making it count. Rob Bricken at toplessrobot.com dug up
a video
from the recent Scream awards of Christopher Lloyd and Michael J. Fox appearing on stage together which is just fantastic - Fox is really hanging in there, and battling his illness like the champion that he is.
Then today, Adam over at
16bit.com
found another video about the upcoming BttF game, and the voice casting for the Marty character. It's a pretty cool video, worth a watch, and seeing Lloyd gesticulate wildly while voicing Doc 25 years later pushed me over the edge of debating how much coverage to give to the resurgence of popularity in this movie. Answer? A lot of (ongoing) coverage now!
And in case you haven't been checking out other toy sites last week, Mattel has picked up the full license to make BttF figures and merchandise. Given that the
Hoverboard
from part 2 was boldly stamped with Mattel...well, let's just say we're all very impatient now!
(No - sadly I doubt they are making a hoverboard....)
Posted by charlie on October 25th 2010, 06:13 AM
Leave Comment

Share
---
Androidz - Sky Bot & Altitude
As I was putting together the
Androidz checklist
, I did my best to divide up the figure 2-packs along the team lines that seemed to be the most likely. Drawing inspiration from either the
Androidz-planet.com
website or obvious faction colors I was able to determine that the line likely consisted of four teams of three packs each.
Well, seems I was wrong about the Sky Bot & Altitude set, which brings the Strategic Defense line up to four sets, and the Melting Point team down to two, completely spoiling the even symmetry of the line! Well, my OCD will just have to deal, as I'm still delighted to be able to feature this 2-Pack, which I see as another solid entry in this fun line of figures. Click the image below for more images of the set, and their individual stats from the pack of the package!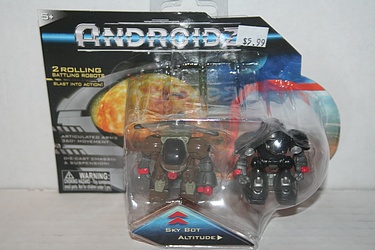 Posted by charlie on October 23rd 2010, 09:41 PM
Leave Comment

Share
---
G.I. Joe Q&A #4 (2010)

The Hasbro G.I. Joe team has returned some fantastic answers to our fourth round of questions for 2010 - we were even fortunate enough to have all three questions answered! The team gave us some great insight and detail this time around, which is much appreciated. Check them out below:
---
G.I. Joe Q&A #3 (2010)
Preserve:
The new Pursuit of Cobra Snake Eyes with Tornado Kick figure is really fantastic! Could the designer or team that worked on this figure comment on the process of developing, and getting approval for, this great throwback action feature, in a climate that has been avoiding that sort of dynamic figure addition?
Hasbro: We are glad you like it! This figure was a challenge - we knew that the articulation could not be sacrificed and the torso needed to look the same in proportion with the other figures. So, by staying true to the promise of a great articulated figure, we were able to offer a fun kicking feature into this item. That being said, mechanisms at this scale are tough to execute, so the types of attacks the figure can do are mostly limited to kicking or spinning.
Preserve:
The camo blades on the new POC Jungle Viper are cool, complex and work very well! How challenging was it for the team to create a figure with such an intricate design, and manage to hit it out of the park while still working within the dictates of a mass produced figure?
Hasbro: This figure was complex at every stage, from concept, to sculpting, to final painted model. Early in the process, the team saw the need to create a unique new Marksman trooper for the Cobra Ranks, and explored creative ways to make the "ghillie suit" function as a 3 3/4" figure, but also carry an eeire plausibility that makes the character seem real and at the same time - scary! We're glad you like it!
Preserve:
Can you tell us anything more about the tribal mask that comes with the POC Recondo figure, and what design inspirations are behind it?
Hasbro: The designer for this item wanted to put some small accessories that tell the story of a character who is more than just a G.I. Joe specialist. He is a world adventurer and maybe even a little bit of a paleontologist/archeologist. The mask itself was inspired by the tribal art and masks of ancient Borneo.
---
Thanks to the team at Hasbro for their highly detailed answers!
Posted by charlie on October 22nd 2010, 08:14 PM
Leave Comment

Share
---
Army Gear - Bravery Ribbon / Rocket Launcher
I've been pretty focused on the new Tron Legacy line for the past several days, so I wanted to step back and focus on the true Preserve passion, the vintage! In particular, I have the honor of adding something else new to the collecting dialog with another unearthed
Army Gear
combat medal. Here we have the Bravery Ribbon / Rocket Launcher, one out of eight hard to find wearable military accessories that let kids (well, not many kids apparently) take their toys on the go in 1988!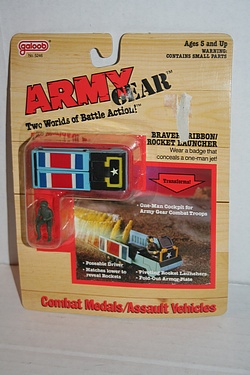 It's a shame that the small articulated army figures didn't end up being painted to match the prototype that is featured in the packaging photo. As it is they are very much from the green army men school - not a bad thing - but that sample image is definitely a step up. The style of these ribbons I find to be bold and exciting, and will continuing scouring the lands to complete this collection!
Posted by charlie on October 22nd 2010, 02:47 AM
Comments(2)
Leave Comment

Share
---
Tron Legacy - Quorra
A lot of movie toy lines that come out hit the market with a splash, and just as quickly vanish, probably with a good amount of planned product going up in smoke. Spin Master is brimming with optimism and good intentions with their fantastic new
Tron Legacy
line, and they have plastered 'wave 1!' on a number of these early figures, tantalizingly indicating the reality of a wave more-than-one. Given the sausage fest that is their basic and deluxe figure line up so far (as is so often the case in action figure lines), let's hope that their dreams of additional figure releases come true, or we'll be missing one of the best characters of the movie - Quorra. No, I haven't seen some sort of fancy early screener, it just seems that she's going to be great for a number of reasons.
Want to learn more? Well, check out
an interview
she gave about her involvement in the film - sounds like the sort of person you could, well, talk with about Tron! So far there are only two figures of her character, and they are both in the extra-small Target Exclusive sets. At least that shows that the folks at Spin Master haven't forgotten about her or totally decided that a girl figure will 'never sell' - so there is hope. Making the best of things, let's check out the Rinzler + Quorra set - and be sure to pick up your own copy so that the sales figures of this line justify some additional waves!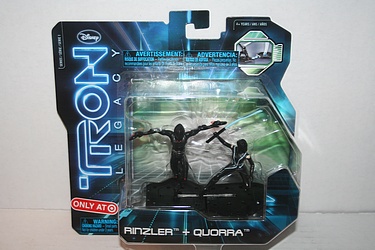 Posted by charlie on October 21st 2010, 12:25 AM
Leave Comment

Share
---
Press Release - Mezco Toyz Zombie Ninjas

Press Release:
Mezco Toyz has just sent us some images of their new Zombie Ninja figure which joins their Mez-Itz line just in time for everyone's favorite spooky holiday. Click the link to learn more about the only way you could make a ninja more deadly!
Read More
Posted by charlie on October 20th 2010, 07:24 AM
Leave Comment

Share
---
Tron Legacy - Clu's Light Cycle, Diecast
Spinmaster has really launched an all-out assault on the Target toy aisles this week with their
Tron Legacy
line, taking a page from Hasbro's book with the variety of different scaled offerings from which we have to choose. I'm always a sucker for diecast, as should be any self-respecting toy enthusiast, so their affordable and stylish line of 7 vehicles in diecast wave 1 is a great bargain at $3.99 a piece, and a great set of collectibles.
Today let's take a look at Clu's Light Cycle, high-speed vehicle of the ruler and villain of the Tron system. Watch the Preserve for more entries in this diecast line, or get yourself down to Target now to pick up your favorites!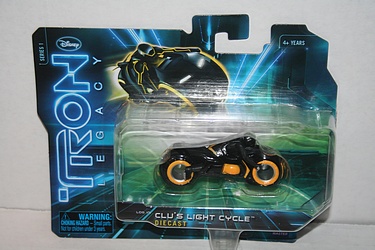 Posted by charlie on October 19th 2010, 07:31 AM
Leave Comment

Share
---
Androidz - Power Drill Zone Playset
When I first noticed that toysrus.com had the
entire Androidz line
in stock and ready to ship, including a classic carrying case, I did some quick math and saw the pricetag for picking up the full set was a little steep. Well, as usual I wasn't paying enough attention, and what I initially saw as $29.99 'large playsets' are actually the $19.99 'small playsets' with the team vehicle and two bonus robots packed into a
TRU exclusive box
.
Now, of course I think that's awesome, and it's a good value too with at least a few extra robots for free, but at least it means those large sets are not unique pieces. While I am disappointed to learn that there isn't the huge variety of items that I initially thought, it does make the line a little more manageable and thoughts of picking it up a little more reasonable. Remember that the playsets are packed with features, and each even provides a 'garage' for the team vehicle! By way of example, here is the Power Drill Zone for the Engineering Division team!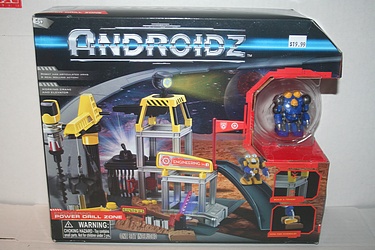 This 'small' version of the set includes one robot (Angle Grinder) as well as a working crane and elevator, robot escape ramp, working freight elevator and all sorts of other stuff. I continue to dig this line, and am looking forward to setting up this set and seeing how well the robotic wheeled warriors interact with the various components. This line is likely to entirely evaporate as soon as stocks sell through, so if you think they are cool don't waste any time - do your holiday shopping early!
Oh, and if there is any lingering confusion as to why I'm so crazy about this line, just look at how well the colors of the Power Drill Zone fit in with the rest of the Preserve front page!
Posted by charlie on October 18th 2010, 07:16 AM
Leave Comment

Share
---
Tron Legacy - Deluxe Black Guard
After carefully pondering the likelihood of not adding some more items from the new Spin Master Tron Legacy line to the Preserve archives, I realized that it was next to impossible and headed back to Target to see what was what. The
Checklist
has been further augmented, but is by no means complete with images, though the list of items should be nearly spot-on. Right now, though, let's check out the deluxe Black Guard figure!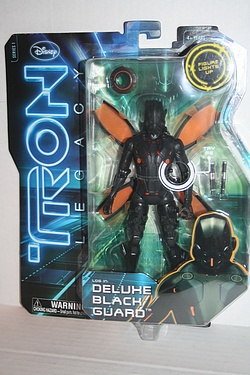 These guys are Clu's special elite fighting force, and of course will be the outlet for the Troop Builder collectors who get into the Tron line. Unfortunately since they are supposed to be drones with no distinct personality (or actor) this is the only 6" scale figure that doesn't feature the interesting face-projection-on helmet feature. Instead you get a rather lack-luster (by comparison - though less likely to get old after the second or third use) set of amber lights scattered around the torso of the figure when the action button is pressed. That said, I liked the styling of this figure the best so it did join the archives. Also, the wing design lends it that ever so slight Venture Bros. villain feel which I found to be comical and impossible to resist.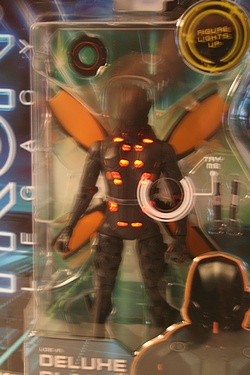 Posted by charlie on October 17th 2010, 10:42 AM
Leave Comment

Share
---
Tron Legacy - by Spin Master
Everyone has been excitedly watching the product reveals from the upcoming toyline by Spin Master in support of this December's nerdbait movie Tron Legacy. I'm definitely excited for the movie and have liked what I saw of the toys so far, but as is typical with me, I never truly understand something or even focus on it until it's right in front of me, in hand, and photographed. Well, today Target delivered.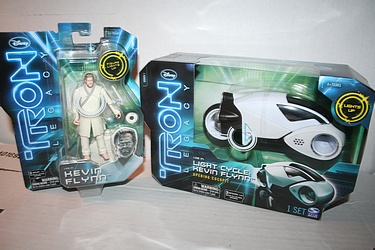 Yes, that is a figure of the main man himself, the Dude, the Bridges, Kevin Flynn, and it was already the last one in the store. I especially like how his figure is 100% different from others in the lineup, and I have to imagine will be a favorite with collectors and movie fans alike. I also managed to pick up his white Light Cycle, and it was a tough choice to stop there as Target was loaded with what appeared to be the complete line! I'm working up a
checklist
for this line, though am surprised to find a general lack of items available on eBay or Amazon.com yet, and the
spinmaster.com/tron
site, which is
strongly advertised on the actual product
just simply doesn't exist. Maybe my Target broke the street date? I'll have to do a little more research on that, but either way I hope Spin Master gets their act together, or we're not likely to see a series 2.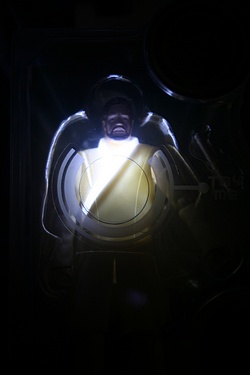 All of the figures and vehicles in the line appear to have a gimmick of some sort, be it the blindingly bright light-up feature, or the crazy face-projection thing of the 12" figure, of the wall-climbing airhogs tech of the high-end light cycles - such things can sometimes seem cheesey or unnecessary, but something about this line and their bold self-assurance and conviction in their implementation is winning me over so far.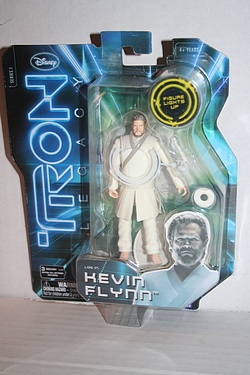 So click on the image of Kevin Flynn's basic figure above. There you can check out more angles of the packaging, and see the little cross-sell image on the back of the card for the other 5 figures in the set. Keep an eye out for these great new figures at a store near you!
Posted by charlie on October 15th 2010, 01:14 AM
Leave Comment

Share
---
G.I. Joe - The Pursuit of Cobra: Zartan
Who has stepped it up? Hasbro has stepped it up. I'm not sure what it is in particular, but the
Pursuit of Cobra
line is really resonating with the Joe community, and this excellent Zartan figure should serve as another reason why. Even as recently as a few years ago, you can find examples of quality of design and construction that this figure surpasses by leaps and bounds - as with all things in life it's nice when you can see concretely that things are improving over time! Couple that with their revelation that the
Rise of Cobra
figures were just too darn expensive, and the PoC line continues to be a real winner. Click the image below for more shots of the master of disguise himself! No, no
not
Dana Carvey
.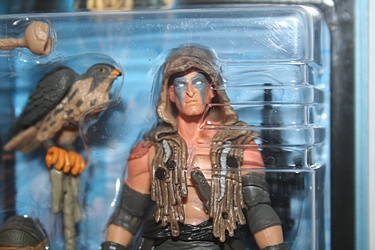 Posted by charlie on October 14th 2010, 07:56 AM
Leave Comment

Share
---
G.I. Joe - The Pursuit of Cobra - Tornado Kick Snake Eyes
All regular readers to the Preserve have probably caught on by now that I'm not always as quick as I'd like to be getting galleries posted. There are sadly only so many hours in the day, and so very many cool products scattered around the archives here, that making those two resources come together isn't always as expedient as I might hope. As such, I've had wave 2 of the fantastic new
Pursuit of Cobra
figures sitting here patiently for at least a month, maybe even two months by now, and am finally chewing my way through that backlog.
However slow the detailed figure posts may be, I'm doing my best to keep both the current
Transformers
and
G.I. Joe
checklists useful and up to date for everyone - so be sure to use them for all of your referencing needs! Now that we're all primed and ready, let's take a look at Tornado Kick Snake Eyes.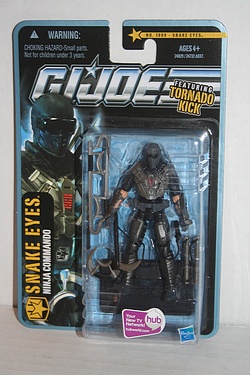 From reading the bio it seems that he is in the Jungle Assault sub-group, but the back of his card sees the standard 'battle' text and diorama picture replaced with a fabulous vintage-feel instruction card on how to properly use his rocking action feature! I think that Hasbro has done an excellent service to fans, knowing full well that this line appeals to both young and old alike. It also may be more penance for the Rise of Cobra line that missed the mark in several ways. Additionally, while I always will complain about the deluge of Snake Eyes figures that any Joe line brings forth, I can't deny the greatness of a Tornado Kick feature. Who could?!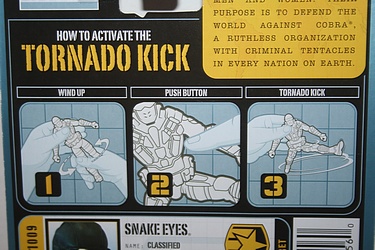 Posted by charlie on October 13th 2010, 07:49 AM
Leave Comment

Share
---
Michael Bay Shoots Best Scene of Transformers 3
In the shadow of our nation's capitol, the very best scene yet to come out of the in-progress third installment of the live action Transformers films has just stumbled and fallen onto the Internet.
Like The Beef's
hand injury
during the filming of #2, which they painstakingly worked into the "script" (which apparently meant that several scenes featured him with some unexplained bandage on his hand) I think it would be excellent if they work this wreck into the movie somehow, but I doubt it. Also - note the utter lack of concern for the drivers involved. I was unable to even see the occupant of the Camaro emerge before the grounds crew hastily covered it up. Game delay on account of pain!
(Thanks to
filmdrunk
for the tip -
he transformed into a wreck!
)
Posted by charlie on October 12th 2010, 07:32 AM
Leave Comment

Share
---
Sega Master System - Aztec Adventure
In somber recognition of our annual holiday celebrating the life and works of Columbus, I felt it was appropriate to feature the Sega Master System game, Aztec Adventure!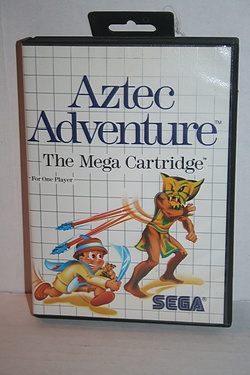 You are El Niño, in the land of the ancient Aztecs, where money talks and enemies can be bought! You have to navigate through 10 rounds of mazes and puzzles to reach Aztec Paradise, where the tokens of wealth and happiness await.
Posted by charlie on October 11th 2010, 10:23 AM
Leave Comment

Share
---
Hasbro's HUB Network, and Arctic Destro
In celebration of both the onset of winter with what appears to be an inch of frost outside on my garden this morning, as well as the launch of Hasbro's brand new HUB network at 10am today, here is the
G.I. Joe Pursuit of Cobra
Arctic Destro figure!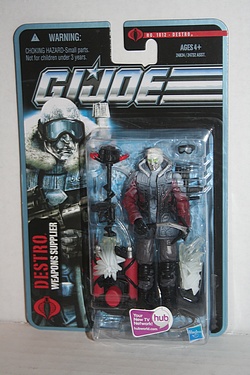 I admit to not having read up on the background of the HUB network very much, but it certainly is breaking new ground in terms of direct corporate marketing. Sure, since the 1980s when children's programming was 'de-regulataed', companies have basically used the cartoons we all fondly remember as sales tools for their cool products. Now, though, Hasbro has their very own channel, effectively cutting out the middle man and any sort of discussions outside the company that would stand between their show ideas and their target audience. The starting lineup of shows looks to be a little thin, with both Transformers and G.I. Joe being delayed until December, and the 2004 Garfield movie being shown at least twice today....but let's try to focus on the positive.
I've taken great pains to say that while I have my issues with the recent live action Transformers movies by revolutionary craftsman Michael Bay, that the tremendous financial success they brought would allow Hasbro to do great things. Well, it seems that they have been more creative than anyone ever would have guessed, and I have to imagine that this network is a direct result of having several 100 million extra in the bank.
So to celebrate, and to wish Hasbro the best with their new venture, check out one of the new Hasbro products that is on shelves now, Arctic Destro from the Pursuit of Cobra line!
Posted by charlie on October 10th 2010, 06:29 AM
Leave Comment

Share
---
Sega Master System - Rocky
Continuing to dig through the substantial yet highly under-represented
Sega Master System
collection here at the Preserve, let's check out a classic sports and movie tie-in title, Rocky!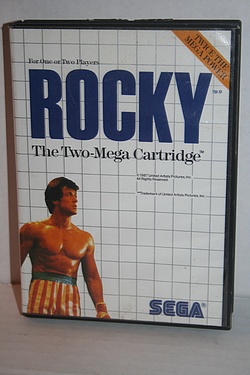 Being that I am from Philly originally, I've always had a soft-spot for this franchise. In school when I was little our home-town-pride-full coach (Mr. B!) would pull out a dilapidated-looking (even then) record player and blast the "Rocky's Workout" theme to which we all had to do a carefully choreographed routine. It was sort of difficult and terrifying at the time, given that I was a fat, lazy little dude, but with the benefit of hindsight it was actually 100% awesome. Thanks Mr. B!
Also, thanks to the wonder of the Internet, you yourself can follow the ongoing adventures of Sly and his power of positive thought over on his quite active
twitter account
. Then, don't forget to check out even more info at
StalloneZone.com
!
Posted by charlie on October 9th 2010, 08:59 AM
Leave Comment

Share
---
Sega Master System - Golden Axe Warrior
Of all the
Sega Master System
titles in the U.S. cartridge library, a handfull of them are considered pretty rare: Power Strike, Sonic, and the super high priced Buster Douglas Knock-Out Boxing come to mind. Today we're featuring another one of the rarer titles, Golden Axe Warrior! This title is a spin-off from the well known Golden Axe series, where the hero fights through 10 dungeons and eventually fights the fearsome Death Adder - who really gets around!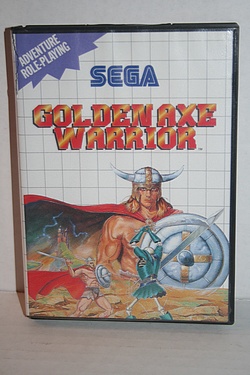 When the game came out, it drew a fair amount of unfavorable press about being a Zelda clone, but honestly it's got some cool unique elements to it, and in the fullness of time has come into its own as a strong and worth while title. Be sure to check out the instruction manual pictures, in particular the pages near the end. The sketches of the enemy monsters are quite interesting, and it feels like they published the concept art right out of the design studio - definitely a step above some of the work that you see in some of the Sega manuals.
Posted by charlie on October 8th 2010, 08:55 AM
Leave Comment

Share
---
Daily Show - Wyatt Cenac, Beverly Hills Cop Quote
So I was watching the Daily Show last night, as I do, and was blown away when Wyatt Cenac launched into the Axel Foley
Small Time Reporter
routine from
Beverly Hills Cop
(from 1984 - the greatest year!). I really hope I'm not the only person in the audience who got it - because it was brilliant. Go to minute 3:55 of the clip below - I simply couldn't resist posting it.
Also, I guess if you want to learn more about the mortgage crisis you can watch the whole thing!
Posted by charlie on October 8th 2010, 06:41 AM
Leave Comment

Share
---
Hot Toys, Stallone and Dolph
Hot Toys
, the company that clearly has met the devil at the crossroads and traded something very important in order to make photo realistic figures of some of the most iconic and recognizable characters ever, has some super cool things posted to their
facebook page
. In particular, they have images of Stallone going nuts over how great a job they did on the figures of himself and proceeding to excitedly show the figure, of himself, to Dolph. According to the equally excited writeup by Hot Toys themselves on that gallery page, Dolph wants one made in his likeness now. Well, so do we!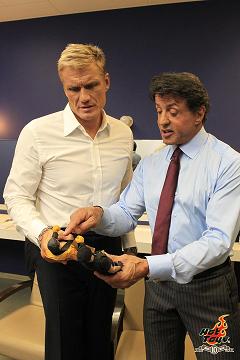 Posted by charlie on October 7th 2010, 07:45 PM
Leave Comment

Share
---
Androidz - Night Shield and Trigger Happy Review
There may be deeper and more noble aspects to life, but I think most of us would be hard pressed to come up with memories which rival those of Christmas Morning in the '80s for sheer happiness and wonder. Granted, I'm speaking largely for myself though I like to believe that readers of the Preserve know where I'm coming from. A game I always enjoyed playing was deducing exactly what was beneath the bright wrapping and bows based on size, weight and shaking sound, keeping unofficial score to determine just how careful attention I had been paying in the cavernous halls of the Cheltenham, PA Toys R Us over the past weeks and months. Catching the first glimpse of the equally colorful and perfectly designed package which hid under the garish paper gave that rush of discovery that was central to the experience. I've been accused of having a design sensibility that's about 25 years out of date, which I take to be high praise, and it's clear why and where I get that from my fondness of these memories - once that paper was removed, the full impact and glory of the box art and product design was revealed, and the style of that era is unmistakable!
All of that is a somewhat long way of explaining why I like the
Androidz
line so much. The logo and box art feel very classically inspired, the bio font is something right off of a Captain Power bio card, the figures all have names, functions, and stats, and the toys are just that - toys. They don't sing and dance. They don't blink and flash. They let the kid invent their own features, scenarios and battles. It's been a while since I've actually 'played' with a toy, rather than 'appreciated' a toy so I try to imagine 8 year old me and how quickly something like a voice chip in a $40 figure would get old. Pretty quickly I think. Leave out the chip, drop the price, and up the quality of construction if possible, and that seems like a winning return to basics. Also great? Highly distinctive packaging shapes. I'd defintely be able to deduce these guys on Christmas Morning - fun!
There are 12 different 2-packs of figures, making for a mighty large battlefield, with 6 members of each of the four teams. Let's check out
Night Shield and Trigger Happy
from Team Justice.
First off - 2 figures for $6? That's just good business, and makes for an instant game with a single purchase. The packaging makes me happy with its mix of bold color choices and the black canvas upon which they are used, entering solidly into 'space' and 'robot' land - visual cues which are all but hard coded in us by now. One thing to notice is that while the character names are indicated on the front, with small arrows pointing to each, the names (or the packing of the figures) appear to be switched. The reverse side of the package is where things continue to be cool, and where we also see the correct alignment of the characters with their names.
There we have the excellent and detailed back story of the whole line as well as names, stats and functions of each of the two robots in the pack. Oh, and an aspect I've been entirely neglecting to mention - the website URL. Yes, ToyQuest is not ignorant of the necessity of modern day toy production, and is fully embracing the convergence of a solid physical product and the intangible extended play of character-specific web interaction. The figures have small codes hidden on them that can be entered at the site to unlock further content, adding the 2010 angle to what I've been enjoying as a great vintageish product. I feel that the combo is well done and perhaps less forced than some other recent attempts, which require a strong link between the toy and the computer. Here it is treated as an extended bio - further information to enrich the toy figure, but not requiring a clumsy physical link between the two.
Let's open them up.
First thing's first - these guys do not have 25 points of articulation, or swappable heads, or spears and removable helmets - and they aren't supposed to. They have a well made, smooth rolling wheeled base that I found worked very well on a wooden table, and will no doubt work well on the playsets for this line that feature a number of cool ramps hearkening back to Hot Wheels and Micro Machines days of glory. I found that the arms move freely enough to allow for a number of different expressive poses for such a little dude, and frankly that was plenty of articulation for me.
Night Shield, pictured above, features an attached shield (of night) and a fantastically impressive looking shoulder mounted cannon. The sculpt details are very well done, giving believable 'robot' texture to the fairly small surfaces with which they had to work. The inclusion of the team logo on the arm is another nice touch, and it retains plenty of detail and clean lines in a fairly complex design. The paint apps are bright and almost entirely within the lines, adding fun splashes of color to an otherwise militant and business-like figure.
Trigger Happy is the team leader, and looks the part with his far smaller armament and apparent lack of defense. If a robot could look like a manager, this one does come close, especially when compared to Night Shield. The splashes of color on him are well done and well designed, and the color choice of yellow adds to the lack of aggression and power that is the intended effect. Pairing these two figures together was an excellent move, as you already have a combat 'unit' ready to do battle, complete with a hierarchy of command!
Lastly, let's be sure not to miss checking out the wheels - a feature that I think was a bold move, and is different from other options on the market.
Who among us doesn't like cars, and didn't have at least a few Matchbox / Hot Wheels in the collection growing up. I'm delighted by this convergence of robot and rolling-thing, and honestly think that the 'play pattern' is very sound - as much so as stomping a robot around on two legs. Practically speaking, it's also a more reasonable robot design than one which blindly mimics the human form, though you won't catch me faulting 40 years of brilliant Japanese toy design.
In closing - having gotten the chance to check these toys out first hand, thanks to the generosity of ToyQuest themselves, I can say that my high opinion of them has done nothing but further increase. I've tried to be as forthcoming as possible about my biases towards the classic design and the simplicity of the figure, and how this line just clicks well with my interests and disposition. I continue to recommend it, and am only disappointed that they may prove difficult for people to find who do not live near to a Toys R Us. In theory they are also available at WalMart, though I have yet to see a single one during my visits to those places. However, the entire line is currently available on
toysRus.com
, which is also running a free shipping deal for purchases over $100, so get that Christmas shopping done early, and pick up a pile of Androidz! If you have any of the same nostalgia that I described in this review, I really feel that you'll be glad you did.
Posted by charlie on October 7th 2010, 07:02 AM
Leave Comment

Share
---
Mattycollector.com November Sale Details
Probably coming as no surprise to anyone who has been paying attention - the sort of fanatical, crazy attention that must be paid to Mattel's online-only products if you have any hope of keeping up and actually exchanging your money for their goods - they have just posted their November sale details. By
clicking here
you will be whisked away to their 11/15 sale page, or as they are calling it "A Fantastic Fivesome Full of Firsts!".
Subscribers to the 2010 Club Eternia plan won't have to sweat over snagging a Grizzlor for themselves, but November also brings a re-released and re-decoed King Grayskull (so...kind of a 'first') as well as another Weapons Pak. And for those masochistic Ghostbusters fans out there, we also have Venkman with the 'first official proton stream and logo stand'. Gentlemen start your wallets, and get ready for November, which is thankfully still some time away!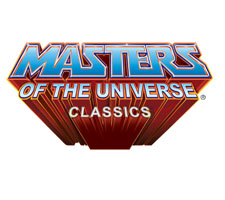 Posted by charlie on October 6th 2010, 08:16 AM
Comments(2)
Leave Comment

Share
---
Lego Minifig Madness
The Lego Minifigs have proven to be a surprise hit of 2010! I sort of expected it when they wouldn't even show us the first wave at Toy Fair, and thought that maybe they were taking a page out of Mattel's book of limited supply and scanty information to drive forum buzz and collector interest. Well, the first series of the figures is long gone - most people including myself never saw a single pack in stores. Series 2 is out now, and in much greater numbers so maybe they are already trying to capitalize on their successful line - and who can blame them. Toys R Us is pretty well stocked with this wave so far, though I have yet to get a single one!
Along those lines, Adam at
16bit.com
reported today that Toys R Us stores are running a fantastic promotion in league with Lego, offering a Minifig with each $20 purchase! Given the popularity of these figures, this is one promotion you need to go track down as soon as possible - check out his site for a few more details about this new and excellent promotion!
Posted by charlie on October 5th 2010, 08:41 PM
Leave Comment

Share
---
G.I. Joe - Rise of Cobra: Dragonhawk XH1 with Wild Bill
Where did today go, can someone tell me? Well, here we are very nearly at the end of it, so for lack of better preparedness, let's take a quick look at one of the many products in the backlog of stuff I've added to the archives but haven't front-paged. In other words, it's the Dragonhawk XH1 with Wild Bill from the
G.I. Joe - Rise of Cobra
line!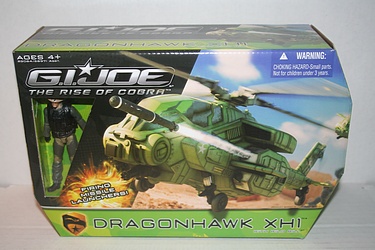 The last few weeks it seems that the 'discount stores' like Marshals, Ross and TJ Maxx are really becoming the top stop to make on any toy hunt, especially for Joe collectors - a member of the Hisstank.com forums just snagged a blue Wraith this week! All I have near me is a TJ which isn't getting any of the rare vehicles from the Modern Era or the online 7-packs, but I'm just as happy to add the Dragonhawk to the Preserve for a nice price. Be sure to hit up your local stores of such type to see what great deals you can turn up!
Posted by charlie on October 4th 2010, 08:23 PM
Leave Comment

Share
---
Androidz - by Toy Quest
For a couple of months now, I've been noticing the Androidz line during my rare visits to a Toys R Us store. At first the packaging caught my eye, as it looks like it was ripped from 1986 and transported directly to today's shelves, and that's always a good thing around here! Upon picking up the box, things get even better - there are 24 characters in the 'first wave' of figures, each with stats and rank. There are good guys and bad guys, and two sub-teams within each faction with their own unique team logos and themes. As if this wasn't all wonderfully '80s enough, the very first wave of products in this line features a vehicle for each team, as well as a medium-sized playset, and a large-sized playset, again for each team! Want more? Ok, there is a carrying case (!) and a Toys R Us Exclusive racetrack-type playset. Why racetrack? Well because each of the figures features a die-cast chassis and suspension, and they roll like the wind. Awesome, right!? Right!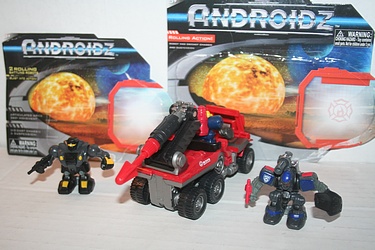 I wasn't at all aware of this product before I found it in the stores, and learned that they have been brought to us by Toy Quest. I wrote to them immediately to learn more about their great product, and they were kind enough to send me the vehicle and figures pictured here for review. I'm putting together galleries of each set and will feature them with addtional comments in the coming days. For now, though, know that the Androidz exist, they are a wonderful, inspired tribute to toys of a simpler (and better) time, and are well worth your time tracking down at your local Toys R Us for the holidays!
Posted by charlie on October 3rd 2010, 06:42 PM
Leave Comment

Share
---
Stephen J. Cannell, 1941-2010
It has just come to my attention that
Stephen J. Cannell
passed away on September 30th at 69 years of age. He is a name you probably know if you're here at the Preserve, since he was behind so very many things we all like: The A-Team, Hardcastle and McCormick, 21 Jump Street, The Greatest American Hero, and so much more. I guess there was a reason for my A-Team fixation this week - and I know we all appreciate the impossibly huge contribution that Cannell made to our entertainment lives while growing up.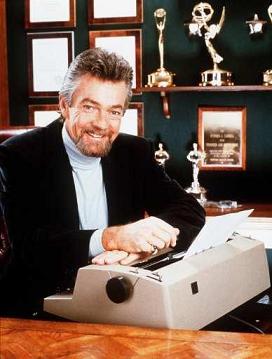 Posted by charlie on October 1st 2010, 11:11 AM
Leave Comment

Share
---
Galoob has licensed everything from A to T.
At the risk of boring anyone (insert pityed-fool comment about whoever might be bored) I realized that in the issue of Playthings Magazine from July, 1983 those marketing pros at Galoob already had placed a full page ad for their up-coming A Team line. This very issue featured the image of Mr. T inking the deal, so they literally didn't even let it dry first! This image is the very first page once you open the cover, and should remind us all why it's fun and important to remember such recent industry history.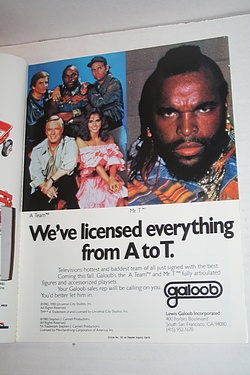 Televisions hottest and baddest team of all just signed with the best.
'Don't forget to circle No. 12 on Reader Inquiry Card'! Man, remember those cards? Those were the days. Now I can take a picture of a 3-D barcode with my iPhone in my issue of Road and Track and automatically watch a streamed video of a Porsche beating a Ferrari on a test track. Pretty wild, but somehow much less charming.
Posted by charlie on October 1st 2010, 08:01 AM
Leave Comment

Share
---