Journal Archives from May 2010
Transformers Animated - Arcee
At long last, I managed to track down two copies of the highly elusive Arcee figure which is available only as a Toys R Us exclusive. I'm convinced that the only reason I did eventually find her was that a helpful TRU employee went to the back to double check their inventory for me, and returned with a full case of the two
Tf Animated
exclusives - happy day! I was delighted to be able to open this figure - the first
legit
Arcee figure, I maintain, and clicking the image below will provide more packaged and open shots. I'm even mostly able to transform her, which these days seems to be quite the accomplishment! Hasbro usually outsmarts me, but I'm glad that this figure, which I've so hotly anticipated, is just as much fun as I hoped she would be!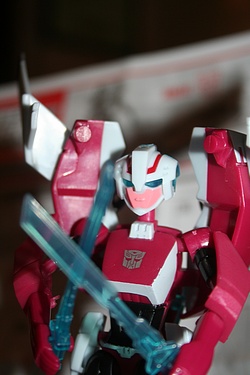 Posted by charlie on May 30th 2010, 06:52 PM
Leave Comment

Share
---
A-Team Figures by Jazwares - Murdock
Several months ago at the New York Toy Fair, a helpful booth attendant at one of my stops asked if I had seen the new A-Team prototype figures yet. "NO?!!" I excitedly replied, and I was directed to the Jazwares booth (who?) down in action figure alley. Sure enough, they had what were already looking like some excellent figures, and news that they were going to make a scale and paintjob accurate classic GMC van as well - with electronics! Catch was that I couldn't take any photos...bummer...and dude never contacted me after the show (but, in fairness I didn't follow up either).
Several weeks ago the press release finally hit, and pictures were available of their new product line supporting the movie - and I think they still look great! I didn't jump on board the release at the time, since every other site carried it, but today in Target I found the first wave of their 3" figures, and simply had to bring Howling Mad Murdock home!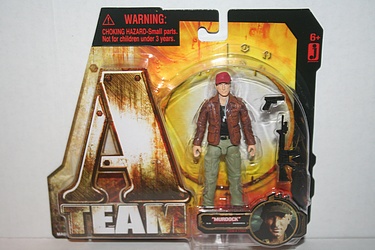 I really dig the job that they have done with the packaging, and I think that the figure is really well done. He comes with just the right amount of accessories (2 guns) that helps them maintain the perfectly reasonable price of $5.99 (vs. the GI Joe debacle of last year, as admitted by Hasbro). One complaint I have is the lack of a character-specific bio on the card backs, but we all know these guys pretty well as is. Click the image above for more shots of this great figure, and on the strength of this I might have to collect this
whole line
! As B.A. was fond of saying about Hannibal, and it seems more true now than ever,
He's got the Jazz!
Posted by charlie on May 29th 2010, 12:55 AM
Leave Comment

Share
---
Lego - Prince of Persia Mini Movie
Our friends at Lego have sent us a new 2 minute movie showing off LEGO Prince of Persia. Better yet, it is narrated by Jake Gyllenhaal himself! Check it out, as we sail into the weekend.
Posted by charlie on May 28th 2010, 10:44 AM
Leave Comment

Share
---
Madballs - Freaky Fullback
In 1986, American Greetings created a line of durable rubber balls with Garbagepail Kids appeal that we all loved - Madballs! Several series of the delightfully anthropomorphic disembodied heads were produced, along with a short lived cartoon which is all but a footnote in the history of the decade. Years later, 2007ish to be sort of exact, Basic Fun got the first wave of their classic line on shelves. This wave consisted of 5 characters from the classic line, as well as a brand new character - Repvile. I got to see these along with series 2, and the innovative 'sick' series at
Toy Fair
in 2008. However, it was only a few days ago at a Toys R Us that I remembered to find these in store, and they happened to be on crazy clearance! See, sadly the line seems to have been back-burnered as of series 3 so stores are blowing out what is left - good luck with your hunt.
I've posted 5 out of 6 figures from series 2 (Oculus Orbus seems to be the rare figure) and am featuring Freaky Fullback in particular below. Click the image for more shots of this gridiron grossout and be sure to check out the
full Madballs page
for the rest of series 2!
Posted by charlie on May 27th 2010, 06:45 PM
Leave Comment

Share
---
TurboGrafx-16: Legendary Axe II
I have made what is known as a 'deal' with myself. Namely that I will not add any more
TurboGrafx-16
titles to the Preserve archives until I've finished posting the ones that are already laying about! Seems a reasonable enough position, especially since I'm only a few away from that goal. That sort of deal would be a little tougher with the
Sega Master System
, where I've got about a 100 title backlog! As such, today let's take a look at Legendary
Sword
Axe II. How is the first one? Well, I don't know, but I'll get it as soon as all these current games are posted, darn it!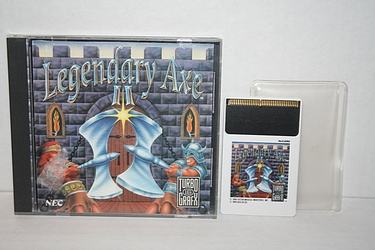 This game joined the Preserve by way of Steen, a man of mighty knowledge in both the gaming and toy worlds. You'll notice that name next to many of the titles currently in
the TG16 archives
.
Brought to us by Victor Musical Industries, Inc (awesome) this game has a fantastically thorough back story serving to bridge between the initial title and the sequel. You'll just have to click on the image to read all about it! Victor also brought us such popular titles as King of Casino and Veigues Tactical Gladiator, both of which are also now on the radar.
I was a little taken aback when the primary weapon of the game turns out to be a sword, but this is due, as you would expect, to the entire franchise being named as the result of a mistranslation. It turns out that a better English version of the Japanese title "Makyo Densetsu" would have been "Demon Legend", which is apparently better confronted with a sword than said Axe. Either way - a fun title, and another welcome addition to the archives!
Posted by charlie on May 26th 2010, 07:56 AM
Leave Comment

Share
---
Masters of the Universe Classics - Weapons Pack
Time once again to feature a set from
Mattel's
smash hit
Masters of the Universe Classics
line! But first, let me just mention that the
Walter Peck
figure has finally sold out on
Mattycollector.com
. You see, every time a new
Ghostbusters
figure is released, and then sits there patiently while all the He-Man and, well, really just He-Man, figures sell out in minutes, it doesn't give one much hope for the line. Granted Walter may have been made in lower numbers than previous GB efforts, due specifically to those lower sales, but at least he's done in just over a weeks time. Probably won't keep the line alive, but at least it's not totally embarrassing!
Ok, let's get on with it. Today we take a look at the fantastic Weapons Pack (Ultimate Battleground Assortment!) which was released as the bonus set for April. It stuck around for as little time as anything else branded with the stamp of this line - only 15 minutes! For the price of $12 you really get a great assortment of accessories, in '80s triumphant colors no less. I think they have claimed that a re-release is in the cards (don't quote me on that) so if you missed it the first time around you will hopefully have another shot later. Click the image for the full gallery of this great addition to their already smash-hit line!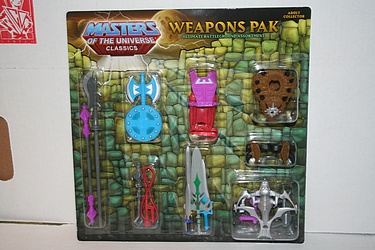 Oh, and can someone explain to me why Mattel keeps taking out full-page ads (more than one a month!) in Toy Fare magazine, advertising this line? Not only is it frustrating for people because the characters pictured are often all but unobtainable, selling out in mere minutes, but the advertising expense could be put towards figure development, extra accessories, or at least a beer fund for the Horsemen! Well, I guess TF is probably hurting for money like the rest of the print industry, so it's nice of Mattel to throw them the revenue. I'm just saying, is all.
Posted by charlie on May 25th 2010, 12:48 PM
Leave Comment

Share
---
TurboGrafx-16: Ninja Spirit
There is no time for grief. Go now! Follow in the path of the Ninja. Destroy your enemy and his evil followers while you unravel the mystery of your own birth. You are "Moonlight," the avenging Ninja Warrior!
And so began the title Ninja Spirit by Irem Corp. in 1990. Wikipedia
tells me
that it was the very first game to be awarded a perfect '10' by Electronic Gaming Monthly, but since relying solely on wikipedia for facts is like buying stock futures in
Colin Hank's
acting career, I did a little more digging. While the lack of easy results quickly deterred me from my search, I was able to unearth a
spirited forum discussion
from June 2009 over on nintendoworldreport.com where the point is debated hotly.
Less than 20 years after the fact, and it seems the might of our digital age cannot produce an answer for us (if only my back issues were organized...) so let's just say that this is another excellent addition to the
TG16 library
, which was sadly overshadowed by the Ninja Gaiden and Shinobi franchises. Click the image for more pics and the full story about this classic gamecard!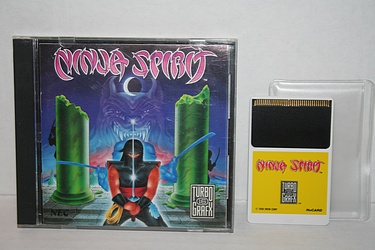 Posted by charlie on May 24th 2010, 07:19 AM
Leave Comment

Share
---
Reactors: Powereactor-RP1
My ongoing quest to complete the little known
Reactors
line made by Nasta in 1989 is a slow...slow process. However, it is made all the more fulfilling when I am reminded how the packaging for this line, and this Powereactor in particular, is an explosion of '80s design awesomeness!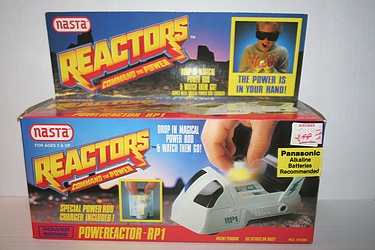 Here we have the RP1, and more than any of the other pieces in my (admittedly slim)
collection
, the colors on this one just pop. I did get this from the very secondary market of eBay, and it is sealed, so I did not slit the 21 year old (Reactors are old enough to drink!) tape for shots of the vehicle itself, so you'll have to use your imagination. Click the image above to learn more about this 'pearlescent green' powerfully rear-wheeled dozer from the Power Series of the Reactors line!
Posted by charlie on May 21st 2010, 11:14 AM
Leave Comment

Share
---
G.I. Joe Q&A #2 (2010)

The Hasbro G.I. Joe team has returned their answers to our second round of questions for 2010! Check them out below:
---
G.I. Joe Q&A #2 (2010)
Preserve:
We are big fans of the fingerprint image that is on the new Joe team bio cards. It would be really cool if the prints come from the design staff or other Hasbro team members - is that the case? If so, is there an internal competition over who gets to be a super-popular character?
Hasbro: Sorry, this information is classified.
Preserve:
Are any members of the original 1980s Joe team (design, art, etc) still at Hasbro? If so, have they played a part in any of the upcoming Pursuit of Cobra figures or vehicles?
Hasbro: Yes, some of the original team is still with Hasbo and they serve as a helpful resource to the current team.
Preserve:
With the cancelled 12" scale figures, we got lots of great cloth outfits and (understandably) more complex and larger accessories. Has much consideration been given to increasing the cloth-goods content of the 3 3/4" line? Price points are always a problem, but it would be a great distinguishing feature.
Hasbro: No answer.
---
Thanks to the team at Hasbro for their answers!
Posted by charlie on May 21st 2010, 11:13 AM
Leave Comment

Share
---
The Four Horsemen Discuss The Outer Space Men
This just in from the good
doctorkent
, an interview with all Four of the Horsemen is available over at
It's All True
. I'm very excited about this line and am very glad to be able to learn more about it from the guys themselves. Be sure to
check it out
!
Posted by charlie on May 20th 2010, 08:46 AM
Leave Comment

Share
---
Mattel - Xtractaurs...Huh?
At the
2009 Toy Fair
I was able to tour Mattel's booth and see all of the cool products that they were about to unleash on an unsuspecting public. One of the great lines was Xtractaurs, that combined sharply designed 5" scale dinosaurs with a computer game and 'DNA Extraction Gun' - that allowed you to take characteristics of your toy and add them to your online fighting dino. Fun idea, fun looking figures, and they lasted about 5 months.
Look, I know that every year almost all products rise and fall like the tides. All I can do here at the Preserve is try to save a few, and for whatever reason Xtractaurs has fallen into that bucket in it's 11th hour. TJ Maxx was goodly enough to get some of these and put them on clearance, which was all the excuse I needed! Of additional interest is that any and all information about them on line seems to be drying up fast, so I felt it was time to make a
checklist and gallery
! As such, go check out this line you might never have heard of, and see what you think!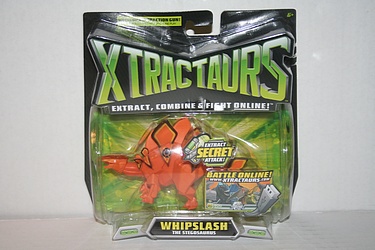 Posted by charlie on May 19th 2010, 12:02 AM
Leave Comment

Share
---
New Batman: The Brave and the Bold Figures
True to their word at the 2010 Toy Fair, Mattel has indeed snuck some additional
Batman: The Brave and the Bold
products onto the shelves that I'd never heard of. However, also true to their word, the two new figures are further (further...further) repaints of Batman himself, with vaguely new weaponry. They did threaten that 'retailer sentiment' was causing them to see the ongoing line as being composed 100% of Batman...which makes very little sense, but there you go. Seeing as the Crusher Cuffs and Bladewhip Batman have, I believe, squatters rights in the toy aisle of most stores by now, this doesn't seem a Brave or Bold idea, but whatever works.
I couldn't bring myself to buy these new figures, but it turns out that they are actually posted to the Toys R Us site, so go check out
Crossbow Batman
and
Battle Saw Batman
for yourselves!
Posted by charlie on May 18th 2010, 08:43 AM
Leave Comment

Share
---
Shocker Toys Summer Exclusives

Press Release -
Our friends at
Shocker Toys
have sent us some information on their upcoming Summer Exclusives. Click through to learn more about all of the excellent products they have in store, including The Blank, Blue Beetle, Hunter Rose and a handful of cool new branded Mallow figures!
Read More
Posted by charlie on May 17th 2010, 06:24 AM
Leave Comment

Share
---
Batman: The Brave and the Bold - Villain Snare Batman
Known amusingly on the shop.mattel.com site as
Bear Trap Batman
, this figure (sold on the shelf as Villain Snare Batman) does indeed come with what looks for all the world like a giant shiny bear trap. Maybe it has big rubber teeth, or something that allows all of the villains to constantly go to the Asylum safe and sound so that they can escape and continue to feed Wayne's crime fighting habit. In any case, this figure is as hard to find now days as most of the rest of this line, unless you know about that handy little Mattel site! If you still need one, be sure to
pick it up
(on sale!) before even their supply is exhausted. If you just want to check it out, then click the image below!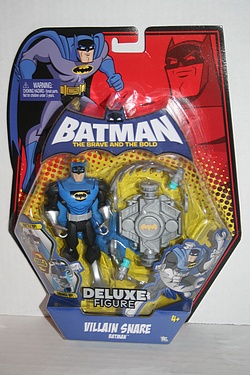 Posted by charlie on May 14th 2010, 08:09 AM
Leave Comment

Share
---
Transformers Animated - TRU Exclusive Ratchet
Hasbro was good to the fans in that they are trying to get the last few
Transformers Animated
products out to market, in one way or another. Months ago it was learned that Cybertron Mode Ratchet and (gasp!) Arcee would be making their way to
Toys R Us
as store exclusives. Well, they have been showing up on eBay for some time now, but not until last weekend had I seen a trace of them despite my semi-regular canvasing of any TRU store that I could find. Of course, Ratchet is selling a lot more slowly than fan favorite pinkbot Arcee, so often hangs as a grim reminder on the pegs that you
could
own an Arcee figure, but were just too late. I had just such an experience recently, finally seeing the ol' Medic himself, with of course no sign of the fembot. One exclusive is better than zero exclusives, so Ratchet has joined the Preserve archives, and is featured today! Click the image for more shots and his bio. Hopefully I'll be able to feature Arcee here soon, without resorting to the wild world of eBay.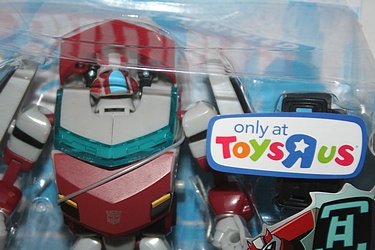 Posted by charlie on May 13th 2010, 08:00 AM
Leave Comment

Share
---
DC Universe Classics - Steppenwolf (Super Powers Version)
The Kenner
Super Powers
line remains to this day one of the most iconic and popular action figure lines of the last 25 years. Starting out in the greatest year, 1984, a number of colorful figures, vehicles and playsets delighted kids the country over! Well, the Four Horsemen and Mattel have, with the success of the
DC Universe Classics
, gotten the opportunity to live their childhood dreams and are zeroing in on recreating every member of the original Super Powers lineup! Here is yet another addition towards this goal - Steppenwolf! I had managed to find the
variant
initially, but here is the figure with the original design. Click the image to learn more about the Uncle of Darkseid!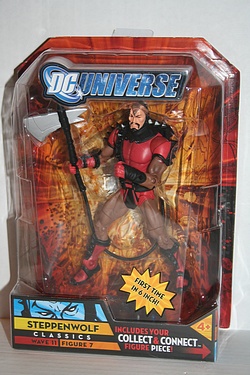 Posted by charlie on May 12th 2010, 07:16 PM
Leave Comment

Share
---
Masters of the Universe Classics - King Grayskull
It only took two years, but I finally dug my box of 2008 San Diego Comic Con Exclusives out of the basement, found my King Grayskull and have gotten rid of the last blank spot on the
MotUC Checklist
! Click the heroic image below for the gallery of this figure that kicked off Mattel's fan favorite line, that shows no sign of slowing!
Posted by charlie on May 11th 2010, 03:34 PM
Leave Comment

Share
---
Glyos and The Four Horsemen Present - The Outer Space Men!

The Horsemen are at it again, this time having gotten the full and complete approval to re-envision this classic line for our modern times. Better still, they will be working with Matt Doughty of Onell Design, using his amazing Glyos joint system to provide the figures with articulation and customizabiliy right out of 2010...the future! But don't take my word for it - the full press release is after the jump!
Read More
Posted by charlie on May 10th 2010, 07:09 PM
Leave Comment

Share
---
Masters of the Universe Classics - April Catch-Up
It was a catch-up day for the Preserve archives and it really brought home how many MotUC items issued forth from mattycollector.com in the month of April! Not only was a hotly anticipated
Evil-Lyn
the Club Eternia figure of the month, but we also all got to fight for the
Weapons Pack
(which sold out in 15 minutes). Then in addition it was time for the release of the fantastic
Wun-Dar
figure and
Map of Eternia
that were sent just to the club members. Well, it's all up to date now, so enjoy the completed and
updated checklist
!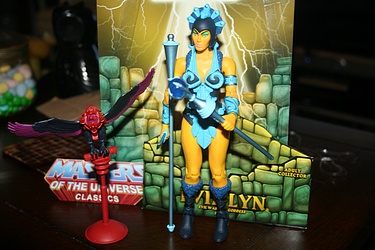 Posted by charlie on May 9th 2010, 08:09 PM
Leave Comment

Share
---
G.I. Joe Q&A Round 2 - Due Sunday Night

It's that time again! This coming Monday we have the opportunity to submit three questions to the Hasbro G.I. Joe team. Sorry for the short notice - but put your weekend thinking caps on and send the questions this way by Sunday night! I'll select the top three, and we'll see what sort of cool things we can learn about the future, or the past, of this favorite line!
Remember also this handy reference to un-fuzzy the sorts of things they are and are not likely to answer:
Topics open for discussion – Deco Decisions, Design Choices, Design Process/Development and Redeco/Retooling. Also, questions pertaining to past and current Lore/Storyline, Line Strategy and Marketing.
Topics that cannot be addressed - "When will X toy be made/redesigned/released?", Hypothetical, Sales/Cost Data, Product Idea Submissions, Potential Design/Redesign and Future Movie/Entertainment.
Posted by charlie on May 8th 2010, 07:47 AM
Leave Comment

Share
---
TurboGrafx-16: Neutopia
You are Jazeta, on a quest to rescue Princess Aurora from the clutches of the Evil Demon Dirth and to recover the 8 stolen Medallions! In a game that will be strikingly familiar to all fans of Nintendo's
The Legend of Zelda
, which Preserve readers will remember is my very most favoriteist thing, players will find great reward in the dungeon crawling, item seeking and insane password-scribbling (no memory on the TurboChips!) that Hudson Soft's Neutopia (1990) brings to the table. It's actually great fun, and one of the best non-shooter titles for this system! Neutopia 2, the Neutopia-ing (no not really) is actually pretty rare though I do hope to add it to the archives eventually, and to play it! (No emulators allowed...mostly)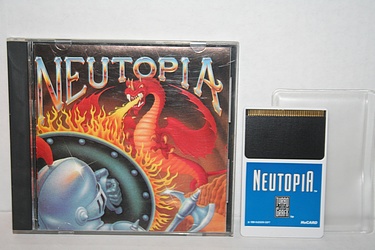 Posted by charlie on May 7th 2010, 08:38 PM
Leave Comment

Share
---
Sega Master System - Spy vs. Spy
Founded in 1952 by Harvey Kurtzman, MAD Magazine is a fantastically long running humor magazine that long ago perfected the art of political satire blended with low-brow comedy, far before the Internet beat that horse back into its constituent parts. One of the most popular features, and one that has been in the magazine since 1961, is the Spy vs. Spy strip.
Wikipedia tells me
that it was created by Cuban national Antonio Prohias as a commentary on Cold War era arms escalation! Well, I was always drawn to it more for the elaborate traps and schemes that the two spies relentlessly unleashed on each other. What better concept to fully realize on the
Sega Master System
! It's a somewhat rare title, and a Sega Card no less, so click the image to see more shots of this game and read the box text and instructions!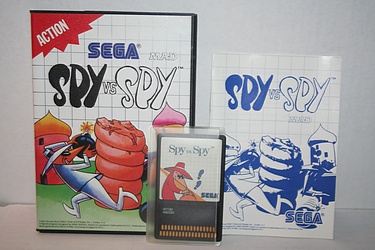 Posted by charlie on May 6th 2010, 08:40 PM
Leave Comment

Share
---
Come in...Ray.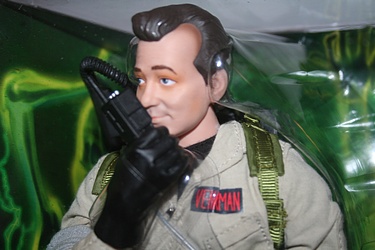 It's a shame that
Mattel's Ghostbusters
line hasn't done better for them, and all signs point to it winding down, but at least we should have all four of the guys in glorious 12" scale before it does. Click the image above for the gallery of 12" Venkman - I'm a friend of his he told me to meet him here.
Posted by charlie on May 5th 2010, 08:43 AM
Leave Comment

Share
---
May the 4th be with Lego
Our fine friends at Lego have sent us this fun Star Wars mini-movie in celebration of May the 4th (Be With You)! It is an amazing parade of a huge number of their excellent Star Wars sets, and is full of snappy editing and sound effects - check it out! You can bulls-eye some womp rats later.
Posted by charlie on May 4th 2010, 08:20 AM
Leave Comment

Share
---
Mezco Toy - Living Dead Dolls Series 19

Press Release:
Mezco Toyz has just sent us an image of their new Living Dead Dolls Series 19: Children of the Night! This variant set includes some very rare figures, in a line that already sells out quickly and is highly sought after. Click the link for their full press release!
Read More
Posted by charlie on May 3rd 2010, 05:22 PM
Leave Comment

Share
---
TurboGrafx-16: Turrican
For generations, mankind sought a return to Alterra. Finally, genetic science created a "saviour": Turrican, a mutant warrior, bio-engineered for the task of planetary reclamation.
What with a bomb attempt in Times Square, a major American city without drinkable tap water, and an oil slick threatening to destroy the entire Gulf coast, we could really use this dude now! Click the image for more details on this classic TG16 title.
Posted by charlie on May 2nd 2010, 10:46 PM
Leave Comment

Share
---