Journal Archives from March 2011
Hasbro's 2011 Transformers Hall of Fame Fans' Choice Voting
It's that time of year again! Time to induct another set of beloved characters into the Transformers Hall of Fame! Hasbro is again giving us the opportunity to determine one of the ballot slots, so send in your top 5 picks and I'll let Hasbro know our favorite! Here is their official word on the proceedings:
---
As we approach this year's TRANSFORMERS Hall of Fame induction ceremony in Pasadena, CA, at BotCon, Hasbro is inviting you and your readers to have a role in determining the Class of 2011!

Three beloved and storied TRANSFORMERS characters will be honored with admission as chosen by Hasbro's TRANSFORMERS Hall of Fame internal panel of judges. They are: IRONHIDE, RATCHET and SOUNDWAVE. But this year's class has room for one more robot, which will be selected by TRANSFORMERS' passionate fans.

Hasbro is looking for the top 5 TRANSFORMERS characters to feature in a final vote on Transformers.com beginning Wednesday, April 13, 2011. The winning robot will be announced at Hasbro's 2011 TRANSFORMERS Hall of Fame ceremony at BotCon in Pasadena, CA, on June 4, 2011.



---
Posted by charlie on March 31st 2011, 06:50 AM
Leave Comment

Share
---
Toy Fair 2011 - Unimax Video Tour
We stopped by the Unimax booth, which totally deserved to be in Action Figure Alley but was way up on the top floor by the yo-yos and stuffed animals (two other favorite products, mind) and we stumbled upon them and had a great chat! I've finally gotten our 10 minute video of their booth edited together and posted, and you may view it here!
Their new line of 3 3/4" Gamestar figures looks very strong. The figures come with a great number of very realistic accessories, and are well made so that they can stand up to actual play as well as display. You may also recognize their Forces of Valor and Bravo Team lines from Target shelves near the G.I. Joe pegs. Great to meet the people behind those figures and learn more about their company!
Posted by charlie on March 30th 2011, 06:28 AM
Leave Comment

Share
---
Tabletop Gaming Review - You've Been Sentenced!
Several weeks ago I was excited to follow the launch, mission (STS-133) and safe return of NASA space shuttle Discovery and crew. In the midst of my space excitement, I received an offer from
McNeill Designs
to review a tabletop game with which I was not familiar - You've Been Sentenced! In particular they had just released a new NASA themed expansion set for their language-oriented card competition. They were kind enough to send a set to the Preserve, and we've had a most excellent time becoming familiar with it!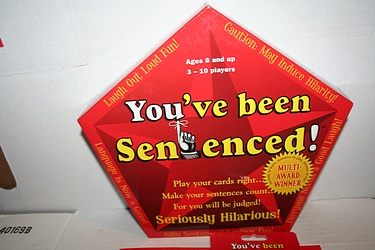 The game has you build the best sentence that you can out of a set of randomly drawn words and fragments, and if the other players agree that it's grammatically correct, or at least amusing, you score points towards victory! The addition of the NASA cards adds a great scientific bent to the proceedings, and makes me want to check out their other excellent expansion decks! I learned that I need to have started playing a game like this when I was a lot younger, or that I need more practice, but it was still a fast and fun game to play even for the occasionally linguistically deficient!
Click through
for our review of this fun set, and some more images, then go over and
buy your own set
today!
Posted by charlie on March 29th 2011, 02:03 AM
Leave Comment

Share
---
Toy Fair 2011 - Mezco Toyz Booth Tour
The one, the only, Mike Drake spent some time with us during Toy Fair to show off all of the great new products that Mezco Toys has in store for 2011. Be sure to check out their huge Lion-O figure - the biggest ever! Glad to see that they are giving Bandai a little competition for this line in the coming year, and hopefully they have a few more figures up their sleeves that we will hear about soon.
Posted by charlie on March 28th 2011, 08:04 AM
Leave Comment

Share
---
eBay Watch - Bill and Ted
I haven't done eBay Watches in a long time, and it's a feature that I think I should get back to! That, and I had a very long and tiring weekend struggling in the storage around these parts, so as the Hanta virus settles into my brain I find it challenging to come up with much original or engaging material it seems like a good bet for today.
As such, you may check out this
complete set of Bill and Ted figures
that has a few days left to go. Sadly there's no phone booth or 2-pack included with this set, but I guess the figures have finally started getting noticed and becoming 'collectible' because there's interest in the auction and it has to be getting close to the seller's reserve. It will be interesting to see! I am, as readers will know, a huge fan of
this line
, so look forward to seeing what the market at large thinks of it as well.
Ironically I just noticed that my gallery here also does not feature the phone booth or 2-pack, even though both are in the collection. For Shame! At least I now have a mission for the rest of this week.
Posted by charlie on March 28th 2011, 06:46 AM
Leave Comment

Share
---
Funspot - March 2011 Trip!
Earlier this month we made a pilgrimage to
Funspot
in New Hampshire - also known as the world's largest arcade - with
doctorkent
and
Glyos
Matt! As I've been trying to do more recently, I shot some video with which to commemorate the occasion and finally sat down last night to edit it all together. Well, it's no masterpiece - it's not even a bad episode of a Travel Channel show - but at least it should be fun watching for those of us who were on the trip. If you want to see some rare Speed Buggy, Robotron mastery or (badly played by yours truly) Space Zap then check out this slightly-long video!
Since even in a 16 minute video, populated with too many of the 'free music clips' from iMovie and a virtual fruit basket of over-used transition slides (the hallmark of a novice video editor!), I failed to really capture all the cool stuff from the trip, here's a short list:
Three man Gauntlet II was played - I really need to add one of those originals to the Preserve collection
doctorkent and I nearly had our arms fall off playing Lethal Enforcers - we must have been doing something wrong on that 15 minute boss fight!
We each got a gallon of tokens, which turned out to be a little ambitious
Sadly many of the machines were down - I wish I lived closer to volunteer - but I know they are working hard to keep it awesome
Beat TMNT at the 11th hour - literally - with both of us manning 2 turtles each to speed things up
Records were set in Robotron
Speed Buggy and Radical Radial are two fantastic, obscure games
When can we go back?!
Posted by charlie on March 25th 2011, 07:44 AM
Comments(5)
Leave Comment

Share
---
Press Release: Mezco Toyz Living Dead Dolls Plush

Press Release:
We got to see the brand new line of Living Dead Dolls plush figures when we visisted with
Mezco Toyz
during Toy Fair, and now there is an official release! These stuffed and stitched spooks are the perfect gift for the cuddly horror fan in your life. Click through to learn more about this first series!
Read More
Posted by charlie on March 24th 2011, 08:05 AM
Leave Comment

Share
---
Toy Fair 2011 - Bif Bang Pow Booth Tour
Our Way Too Late (tm) coverage of Toy Fair 2011 continues today with another long video, this time of the Big Bang Pow(!) booth! I really like what we saw from them this year, and their Twilight Zone line is simply breathtaking. We were even lucky enough to get a demo of their upcoming 1:1 scale Talky Tina doll, complete with perfect voice samples and one twitching eye that, while unintended, really completed the effect. Check out the video below to see the great walkthrough we were given of the new products, then pick your favorites and add them to your collection!
Posted by charlie on March 24th 2011, 06:12 AM
Leave Comment

Share
---
Transformers - Reveal the Shield: Perceptor
One of the most keenly anticipated figures from the Reveal the Shield sub-series of the
Hunt for the Decepticons
line is none other than Autobot Scientist, Peceptor!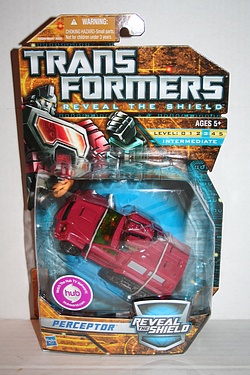 In keeping with the what-is-that effect that kids today probably have towards cassette decks and old-fashioned (?) microscopes, the alternate mode of this heroic warrior is a truck, tank, thing...but at least he looks a fair sight like Perceptor in robot mode! I am about a month late finally getting a hold of this figure, which seems to be the way distribution is working in my neck of the woods at the tail end of this line. Keep an eye out for this figure, as well as the other Reveal the Shield products, since there's a good bet they will end up being pretty scarce as Hasbro winds them down and starts up the 2011 Movie Product Onslaught!
Posted by charlie on March 23rd 2011, 07:57 AM
Leave Comment

Share
---
Toy Fair 2011 - Tonner
Time to continue our month-old video coverage of Toy Fair. Today we have a long and far ranging walkthrough of the Tonner booth! See the latest DC Stars, Alice in Wonderland, Harry Potter, Muppets and more!
Posted by charlie on March 22nd 2011, 06:44 AM
Leave Comment

Share
---
Toy Fair 2011 - Funko
Are you a Funkonaut? Can't get enough bobbleheads in your life? Well, then today you're in luck because we have a lengthy video walkthrough of the
Funko booth
at toy fair! Our stills gallery has been up for a few weeks, but now you can see all of their great new figures come to life on your very screen. Watch, and realize that you definitely need some POP figures!
Posted by charlie on March 21st 2011, 07:53 AM
Leave Comment

Share
---
Pee-wee Herman HBO Broadway Special
In honor of the premier of the Pee-wee Herman on Broadway HBO special that aired tonight at 10pm EST, let's all enjoy this amazing panel from the 1988 Matchbox dealer catalog!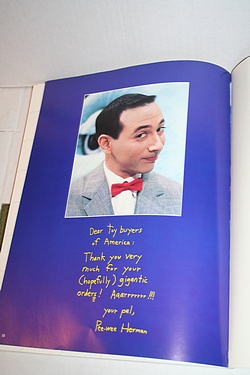 And remember, if you missed it tonight, I'm sure it'll replay a million times - each time a fantastic gift from the '80s to you, thanks to the creativity and energy of one amazing guy!
Posted by charlie on March 19th 2011, 08:52 PM
Leave Comment

Share
---
Toy Fair 2011 - Bandai Power Rangers Samurai
Ok, I'll admit it - when I used to latch-key my way home from high school in the early 90s, and when I had so much fantastic TV time to myself, I would fairly often watch the very early incarnations of the Power Rangers. And it was a great time. I guess it's sort of sad that I haven't kept up with the franchise since those early days, but I'll always have fond memories of Bulk, Skull, Rita Repulsa and the Pink Ranger.
Well, on our tour of the Bandai booth this year, I got up to speed with the Samurai line that is new for 2011, but there was one figure that really stood out for me - the first ever Rita Repulsa! That's right, Bandai has finally done it, and she'll be out this year! Here's the video we shot of their booth - no commentary, but for those of you who are Power Rangers savvy I'm sure it'll be interesting none the less. Keep an eye out for Rita - she's great!
Posted by charlie on March 18th 2011, 10:20 PM
Leave Comment

Share
---
Horns - a Novel by Joe Hill
I first learned about Joe Hill through his comic Locke & Key in 2008, which I believe was recommended to me by the clever owner of my local shop. I was hooked after the first issue, and have kept current with it ever since. He did not, however, start his writing gig in the comics world but rather has penned several very well regarded novels, one of which we're discussing today! Through the magic of twitter and his fun and frequent posts, I learned of a special 'signed bookplate' deal that he was running - wherein folks in the know could send a proof of purchase of the new TPB of Horns to the publisher, and be rewarded by a signed and doodled card from Mr. Hill himself! This is all a long way of saying that my card came in the mail today, and I couldn't be more excited.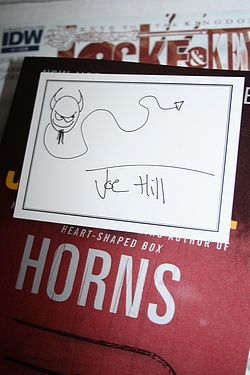 Twitter has been a-buzz the past several days as fans of Joe Hill posted their own most excellent bookplates, and I started to wonder if my small town post office had gone and lost the best piece of mail I was expecting so far this year. Well, as with most things all was resolved in the fullness of time! I also stayed up till the small hours this very morning finishing up Horns, so perhaps the plate was waiting patiently for me to make good on my reading commitment. Let me assure you, reading his book is not like work, but like a rocketing, thundering grown-up good time, interspersed with enough quiet moments and reflective slices to the bone of the human condition to stop me in my tracks more than once in those 400 pages.
News this week is that the title has been optioned to a movie, and that none other than The Beef will be playing the lead role. Joe Hill seems satisfied by the selection of Sam Witwicky, so I shall trust his good judgement on the matter. I found his writing to be so engaging, and his pacing so engrossing that I may find it hard to see the story told in a different format, though all that simply ads to my suggestion that anyone in favor of a good time, though a far cry from a junkfood pulp novel, should get this book immediately. You should also follow
@joe_hill
on twitter - he's a good dude.
Posted by charlie on March 17th 2011, 06:31 PM
Leave Comment

Share
---
Toy Fair 2011 - Bandai Skreemsters
I have a delightful fascination with powered 1:24-ish scale toy cars. This was probably always the case, but was honestly only re-discovered in myself when I found a
Reactors
box buried in the archives some number of years ago, and then set about tracking down the surprisingly small yet rare line of these toys made by Nasta in 1989. Only last month was I finally able to complete the collection with a massive infusion of European sets, as you may recall!
Well, that same fascination was again tweaked when I discovered the Skimmers line of vehicles in the recently posted 1988 Matchbox dealer catalog. As far as I or anyone else I've asked knows, these great vehicles never made it off of the showroom floor, so to speak. At least we get a few pictures to remember them by!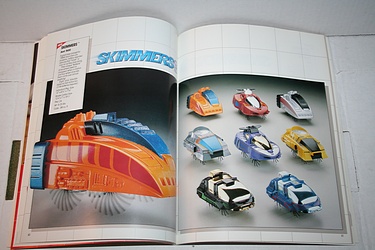 It's therefore natural that when I saw the Skreemsters in the Bandai booth at Toy Fair 2011 I got a little shot of excitement into my powered 1:24-ish scale toy car nerve center! Each vehicle has a microphone, and you 'charge' them up with sound! The more you talk or sing or recite columns from Car and Driver into your racer, the longer it'll run. They seem quite sporty and quite well built, and already have at least one race track playset that was on display. I didn't get a lot of coverage of this line, as we were busy with the great Thundercats, Power Rangers and Ben10 toys that were also on display, but do keep an eye out for these later this year! I think it will be worth your time, if you're into sets like this!
Posted by charlie on March 16th 2011, 05:49 PM
Leave Comment

Share
---
G.I. Joe Q&A - 2011 Style!

The G.I. Joe team from Hasbro has just let us know that a brand new year of their popular Q&A program is ahead of us, starting now! Questions are due to them by noon on March 21st, which is next Monday. That means you should have them to us by Sunday night - so we have a chance to get things organized!
Send 'em if you've got 'em, and we'll send the best ones off to Corporate. And remember that they are unlikely to answer things like 'how many Dukes did you make' and 'are you releasing Sarge this year'. I find it's much more interesting to ask things that give them a chance to share their actual thoughts and experiences about the work they do - that's some cool insight to read!
Posted by charlie on March 15th 2011, 06:12 AM
Leave Comment

Share
---
1988 Matchbox Dealer Catalog
I have a very special treat for you today - and that is the 1988 Matchbox Dealer catalog! These books are always an unparalleled treat, and this one is really no exception. I'd go so far as to say that it's particularly enjoyable, though there may be a hint of personal nostalgia mixed in with that critical assessment. It seems that I had a large number of the sets pictured here, and even found the Super Spin Car Wash which was, out of all the myriad amazing toys I had, one of my special favorites. Click the cover below for the full gallery of this book!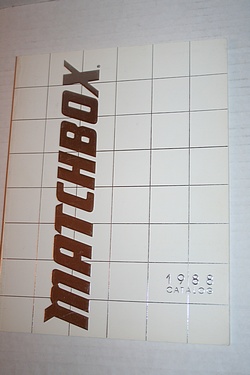 And no, I'm still not scanning pages, as I like to replicate the 'reading' experience, and don't want to disassemble the book to lay it flat on a scanner. I've added labels to the pictures, of which there are 138, so that you have a prayer of not getting bored as you look. Let me assure you it's worth while - show up for the Pee-Wee's Playhouse (Larry Fishburne!) and stay for the Skimmers (no, I hadn't heard of them either)!
Posted by charlie on March 15th 2011, 12:14 AM
Leave Comment

Share
---
Masters of the Universe Classics - Chief Carnivus
Good Monday morning to everyone! Let's continue the catching up on the
Masters of the Universe Classics
line with the fantastic figure from September 2010 - Chief Carnivus!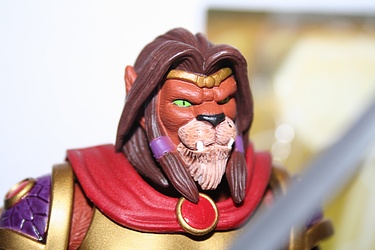 I don't spend very much time on message boards, but I think I've heard from time to time that people didn't like this release very much. I hope that's not true and that I am grossly misinformed! As far as I'm concerned, the Horsemen delivered such a cool looking character with this release and it's honestly one of my favorite in the line thus far. I guess there are only so many bulked-up dudes you can collect before a cat-headed warrior is a welcome sight. Be sure to click on the image above for the bio, and a bunch of additional pictures, of this Heroic Feline Warrior!
Posted by charlie on March 14th 2011, 02:14 AM
Leave Comment

Share
---
G.I. Joe - Pursuit of Cobra - Ice Cutter
The
Pursuit of Cobra
line continues to be trouble to find here in my small town, with Walmart clearly pulling them from shelves, and Target languishing with a glut of well-meaning yet peg-warming wave 2 figures. If you're not tired of seeing the previously hotly-anticipated Arctic Destro, then you're doing better than we are up here! What we do seem to be seeing, at least, are the two new Alpha vehicles, so at least I'm able to feature one of them today - the Ice Cutter! Click the image below for a few more angles of this set, and the bio of both the set and the driver - the Snow Serpent Officer!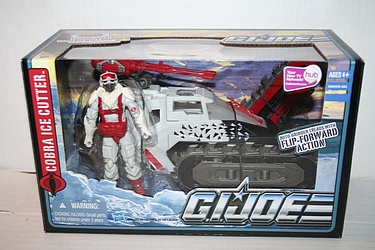 Posted by charlie on March 11th 2011, 08:17 PM
Leave Comment

Share
---
Mattel Ghostbusters - Courtroom Battle Peter Venkman
Attentive Preserve readers will have noticed that the case break for Vikor included the other fantastic monthly figure from MattyCollector for January 2011, Courtroom Battle Peter Venkman! Here is Pete, dressed in his Sunday movie-accurate finest, down to the diamond print on his tie. But better still - he comes packaged with Nunzio Scoleri, so you can properly re-enact the courtroom shoot out! Click the image below for more angles of this fun set, and the slightly revised Peter filecard on the back of the package. You might be surprised what is listed under his office supplies!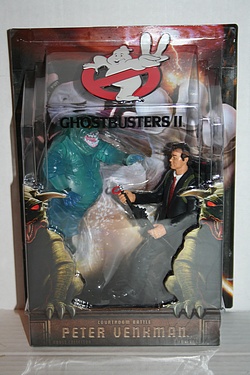 It is a nice touch that Mattel changed the logo on the top of the package to that of the second movie, from which this character is drawn. Since it's actually in raised plastic and very carefully and brightly colored in, that is no small amount of work to do, and makes you feel like that $20 pricetag is a little closer to reasonable.
Posted by charlie on March 10th 2011, 06:34 PM
Comments(1)
Leave Comment

Share
---
Masters of the Universe Classics - Vikor
Somewhere along the way, I fell massively behind on the Masters of the Universe Classics coverage here at the Preserve. It's not that I stopped liking the line or anything - I think that I just have a negative reaction to a
thing
if and when that
thing
becomes too popular, and it's possible that I sub-consciously fell victim to that reaction with the case of the runaway success of this line. Coverage of it abounds from all corners of the Internet, so I suppose I was directing my efforts elsewhere for a time - though covering Transformers instead hardly seems the refuge of greater obscurity!
Well, be all that as it may, I'm trying to get caught up so today let's take a look at the Club Eternia figure that kicked off the 2011 season this past January - it is Vikor, He-Man of the North!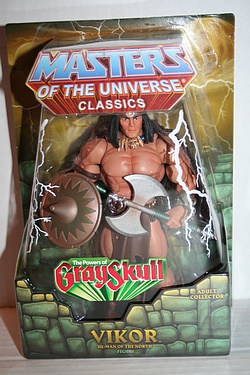 Poe over at
poeghostal.com
, by way of Robert E. Howard, put it elegantly and in such a way that I believe nothing further need be said about this amazing figure:
Know, O Prince, that between the years when the oceans drank the Valley of Gnarl and the founding of Eternos, there was an Age undreamed of, when shining kingdoms lay spread across the world like blue mantles beneath the stars. Hither came Vikor, the He-Man of the North, black-haired, sullen-eyed, axe in hand, a thief, a reaver, a slayer, with gigantic melancholies and gigantic mirth, to tread the jeweled thrones of Eternia beneath his booted feet...
Posted by charlie on March 9th 2011, 01:10 AM
Leave Comment

Share
---
Nasta Reactors - Collection Complete!
What with all of the excitement surrounding Toy Fair, I realized over the weekend that I had failed to finish adding my new shipment of
Reactors
to the Preserve archives. As you may remember, I had managed to secure a set of four of these rare vehicles from the distant France-Lands, and got to experience the euro-variant package styling and naming besides! What was truly exciting though was that the French Connection there dovetailed perfectly with the existing set at the Preserve, and has resulted in a complete set of the vehicles, at long last! Sure, I'm a packaging nerd, and I don't have all of the US boxes, but in terms of actual product, and I believe even instruction inserts, we're at 100%! Yes, very exciting, I know. Click the images of 'Crosstor' below, or as it was known in the US release, 'Reactorpod' for some more images of the set and the fairly trashed (yet complete!) box.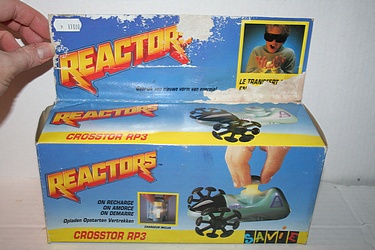 Yes, I know, here I am making a big deal of having all of the vehicles and I'm not even getting good pictures! Well, Crosstor is still nestled snuggly in the original insert cardboard, and the box is pretty much a mess so I left well enough alone. Some day I'll have them all on beautiful display under glass - in a museum - where they belong!
Posted by charlie on March 8th 2011, 12:57 AM
Leave Comment

Share
---
Transformers Power Core Combiners - Commander Crankcase
Today, heck this entire week, sort of snuck up on me, so let's take a quick look at the companion piece to the
Stakeout 5-pack
that I posted a few days ago, namely Crankcase and the Destrons!
This is another great entry in what is looking like the one and only year of Power Core sets. The keen-eyed fan can usually trace these packs back to their G1 roots, and of course this is no exception. Click the image above for a few more images and for the bio of Crankcase, which reveals still more twisted insight about the Power Core process!
Posted by charlie on March 7th 2011, 07:57 AM
Leave Comment

Share
---
Toy Fair 2011 - Celestial Buddies
Small companies are what make the industry go round. Sure, the big players are responsible for a massive percentage of total industry revenue, but as far as I'm concerned without the innovations and creativity of hopeful, brighteyed startups there would be a steady decline of the business as a whole. It's just this fact that makes Toy Fair so exciting, and while I never even come close to my dreams of visiting with every booth that seems neat, thankfully I do set aside time to see enough of them to keep my own energy and passion running high. This year, one of those booths was
Celestial Buddies
- plush planetary pals!
A play on 'planetary bodies', this brand new line of plush figures is based on the planets and the stars, each one coming with a card full of info about the celestial inspiration. The creator told us that most learning tools geared towards an astronomical theme were for older kids, so she saw a great opportunity to get kids as young as three engaged with the notion of extra-terrestrial objects. They are super cute too! I was most impressed with the tufted fur texture that she has achieved on the Sun figure, and she admitted that it took about a year of work, looking for a factory who would agree to (and was able to!) pull off such a distinctive effect. Watch the video above for some shots of her first 'wave' of figures, and to hear her talk about this great new product. Then keep an eye on their
company blog
for when they will be available for sale!
Posted by charlie on March 4th 2011, 08:26 AM
Leave Comment

Share
---
Toy Fair 2011 - Optimus Prime Outside Hasbro Showroom
Hasbro always has something cool on hand to show their clients and the media. Be it a lifesize Ark of the Covenant when they had their Indiana Jones line a few years back, or a giant Iron Man suit, or other appropriate movie prop for their current hot brand - you can be sure you'll see something unique and fun while on the tour. Well, this year they really stepped it up, because right outside of their showroom in the Times Center, parked on the street, was the massive Optimus Prime (with Massiv-er trailer!) fresh from the set of Transformers 3! I got there a little early, and got to see Prime sitting there, with only a lone, cold looking security guard pacing back and forth. Of course, why it took me 3 weeks to post this now-not-a-scoop-of-any-sort video, we'll never know, but it's still a cool enough sight that I just had to feature it!
Be sure to keep an eye out for Mixmaster, and Bumblebee behaving badly! I also heard a rumor that the next day, the NYPD ticketed Prime for obstructing traffic - now
that
would have been a picture to have!
Posted by charlie on March 3rd 2011, 07:39 AM
Leave Comment

Share
---
Toy Fair 2011 - All the Blasted Pics Posted!
I finally lit a fire beneath myself last night, stayed up a little late, and finished formatting and uploading the last of the images to the Preserve, putting a lid on Toy Fair for 2011! I'm particularly happy about how the NECA gallery worked out, which you can and may visit by clicking on Duke below...I'm sure we're all very excited for his new game to finally come out...haha!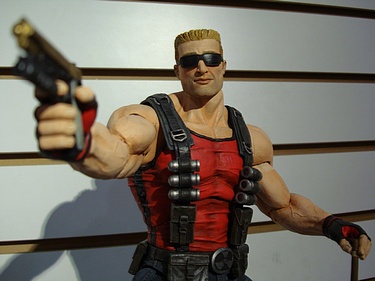 I will still be talking about the companies that we saw at the show, and highlighting various worthy products and experiences in the days and weeks ahead. The difference now being that the almost daily experience of wanting to talk about an image from the show that was still trapped on the laptop will now at least be behind us!
Oh, and every year it seems to be some sort of unofficial competition, or at least area of bragging rights, for sites to discuss how many images they were able to shovel up into their Toy Fair coverage. Well, not to be taken in by fits of ego and I know I'm not in the top 10, but for what it's worth we shot and posted a little over 3200 stills for you, the viewing public, during this great annual event. You're welcome!
Posted by charlie on March 2nd 2011, 07:40 AM
Leave Comment

Share
---
Transformers - Power Core Combiners Stakeout
While everyone else has finished up their Toy Fair coverage, I once again buck the trend of what is fashionable, popular and most especially timely by still having some items on that massive to-do list! In particular, the goodly folks at Cepia (Zhu-Zhu Hamsters!), Steve Jackson Games, Celestial Buddies and (geez!) NECA have still not gotten the great coverage they deserve. Their images are waiting patiently, along with some hopefully insightful commentary....ok no promises on that one, but I'll try.
But, like a cheeseburger or a lone pinball machine, the human mind will sadly tire of something awesome if repeated everyday, so in an effort to at least inject something new, I figured it was time to take a look at one of the Transformers: Power Core Combiners sets from the
2010 lineup
! Here we have one of the 5-pack sets, conveniently on sale at Target for $10 - Commander Stakeout and his armada!
Before undergoing the 'Power Core process', Stakeout was a loose cannon - bold, stubborn and adventurous. Then like a designer pharmaceutical, the PCP (hmm) seems to have calmed him right down. I'm not 100% sure that's a good thing, but it does give us some interesting insight into the dirty underbelly of the Power Core program, and the mad scientists who must have been behind it! Click the image above for more shots of this set, and to see the rest of the stats.
Posted by charlie on March 1st 2011, 07:54 AM
Leave Comment

Share
---