Journal Archives from April 2012
eBay Watch - MOTU Knock Off Fiesta!
Are you a fan of the hilarious, litigation-tempting He-Man knock-off figures that have, lately, come into their own in both value and collectibilty? You know, the things that make us all take a second look at the great dollar store finds, lest they be overlooked and a gem is robbed preemptively from our collections? Well this
amazing eBay auction
has figures from "Remco Warlord, Warrior Beasts, Sparkle Defenders of the Planets, Toys N' Things Troll Force, Galaxy Warriors, Galaxy Heros, Glaxy Fighters" - splendid! Click through the image for a chance to bring this veritable raft of also-rans back to your nearly-full house, today!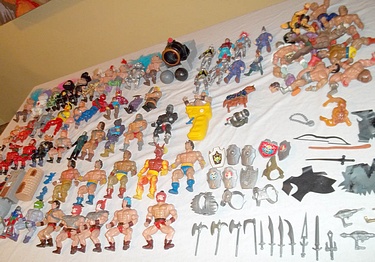 347 views and 4 bids...I smell a snipe a-coming!
Posted by charlie on April 30th 2012, 09:09 PM
Leave Comment

Share
---
eBay Watch - Tremors MONDO poster by Alex Pardee
Mondo is an offshoot of the famous
Alamo Drafthouse
, and is best described by their own marketing material, as follows:
Mondo is the poster boutique of the Alamo Drafthouse chain of movie theaters located in Austin, Texas. It's job is to make amazing limited edition art prints of great movie posters.
They take their job seriously, and turn out simply stunning and limited art; I'm always delighted when elements of recent pop culture can assume their rightful place as the works of art we all know them to be. Here is an
auction
for their wild rendition of a poster for Tremors, one of my favorite franchises. It is #61/100, so keep an eye on this one. I know it would look great in any movie room!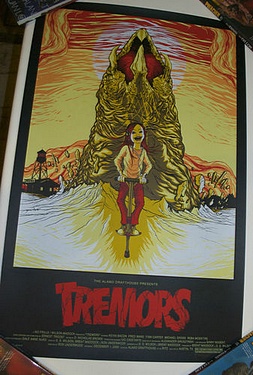 Be sure to check out the seller's
other listings
for an amazing collection of other Mondo posters!
Posted by charlie on April 27th 2012, 08:41 PM
Leave Comment

Share
---
eBay Watch - Sega Master System - Dynamite Duke
While it would be a few years yet, until Sega started leading the delightful and campy charge into the world of "FMV" cd-based games in the '90s, the cover of this Sega Master System (import) title sure does scream "15-frame-per-second postage stamp" to me! It may very well be nearly as awesome, but for different reasons. Heck - you could blow that image up and stick it on the backglass of a pinball machine and I think I'd play it every day.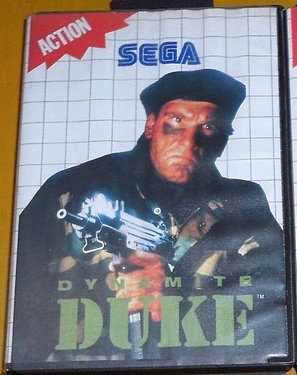 Posted by charlie on April 26th 2012, 09:31 PM
Comments(2)
Leave Comment

Share
---
Transformers Prime - Voyager Class Optimus Euro Style
Friend of the Preserve, Kaars, has stopped by to bring us more images of
Transformers: Prime
figures from distant lands! Well, at least for those of us living here in the States - I'm glad to have such a globally diverse readership here at the Preserve. What we have today is Voyager Class Optimus Prime, in all his Euro glory. More amazing still? I haven't see this figure myself on my local store shelves! Seems my Target has atoned for their very brief flurry of shelf-stocking a month ago, and we're right back in the land of empty pegs and 2009 Spider-Man figures.
Also, I have to point out the French bio line, which hilariously includes both 'chef' and 'parfait'.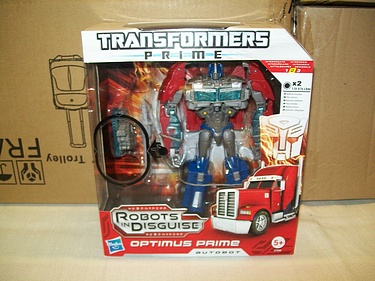 Optimus Prime est le Chef de Combat parfait, face auquel le mal n'a aucune chance.


Posted by charlie on April 25th 2012, 05:12 PM
Comments(3)
Leave Comment

Share
---
eBay Watch - Ghostbusters Score
I have a standing search for the Ghostbusters original score on CD. Not the soundtrack, mind you, but the incidental music which really ties a movie together, in particular this one. That CD was to play a pivotal role in my dramatic re-enactment of the entire film, by my self, but it is one of many projects that are simmering quietly on the backest of back burners. Patiently waiting for my act, and it getting together.
Interestingly enough, the CD of the score is tremendously expensive, commonly fetching
upwards of $100
for the chance to hope it makes it through the mail unscratched. I applaud the collectors who are willing to pony up that amount for what I imagine is not that difficult to find on line (though I also have not tried!) The value of my standing search today, however, is finding this beautiful copy of the sheet music of the original score. I should probably have bought this before posting it, though I have a suspicion that I assign somewhat unrealistic value to a number of things in this world. So be it! Here is a cool thing, that we may enjoy it together!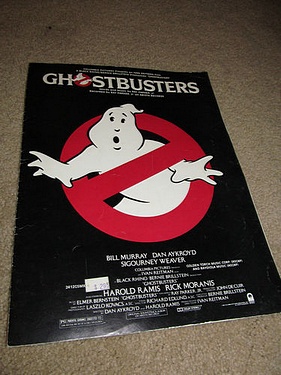 Posted by charlie on April 24th 2012, 09:35 PM
Leave Comment

Share
---
Full Motion Video (FMV) Police Lethal Force Trainer
Wounded Ronin is back on the case, and has brought us a hard-hitting review of the Mob Museum's Police Lethal Force Trainer! He even had the chance to snap some pics of the exhibit and of the sim itself - so click through, and see how it stacks up to the $5 bargain bin titles you can pick up at GameStop these days!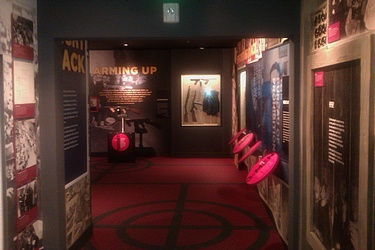 Posted by charlie on April 23rd 2012, 01:20 AM
Leave Comment

Share
---
eBay Watch - Inspector Gadget Lot
I am, it dawns upon me, a huge fan of the Inspector Gadget figures by DiC. However, I don't think that I have a single one! I do have the large 12" Gadget by Galoob, but the classy 6" figure-and-vehicle line appears to have so far eluded the Preserve. Well, I did pick up a carded Penny and Dr. Claw on Canadian cards
some time ago
but you know me, I don't really want to open them. So here, I'm delighted to see, is a fantastic, nearly complete set of figures! Time to reenact some episodes!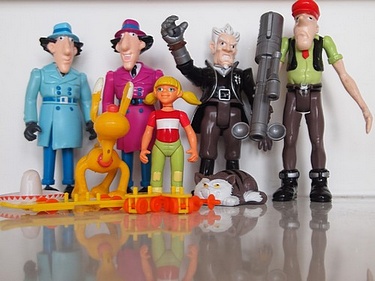 Some people complain that after all the waiting, all the wondering, and the tantalizing obscuring cardboard insert for the carded Dr. Claw, that he doesn't look crazy enough. Well, I can't agree, as I'm pretty surprised and delighted by the twisted face sculpt they dared to sell parents, and I like to feel it's cannon, coming from the same company, and that's just cool. Let's see what happens with this set - granted it is incomplete, but still a pretty cool sight to see!
Posted by charlie on April 20th 2012, 09:49 PM
Leave Comment

Share
---
eBay Watch - Spider-Man Sega 32X Complete
This title, for the somewhat infamous Sega 32X Genesis humpback addon spectacular, has been steadily increasing in price for a number of years. Now days, you'll typically see loose, somewhat dirty and beat-up loose Spider-Man 32x carts going for over $100. At least, that's the asking price...one must have sold for that amount and now you can't convince people otherwise.
So here, we have a beautiful, boxed, apparently complete example of this game - should be a scorcher!
"YOU ARE LOOKING AT AN EXCELLENT GAME CARTRIDGE/CLASSY GAME!!!!"
Posted by charlie on April 19th 2012, 08:30 PM
Leave Comment

Share
---
eBay Watch - Turbo Duo: Complete Collection
Have $10k burning a hole in your pocket? Want a totally insane, complete, Turbo Duo library of games and hardware? Well, then have a look at this delightful auction! The seller is accepting offers, of which he has received 34, so feel free to make it 35. I have never had the chance to add this particular flavor of the Turbo to the Preserve, and something tells me that today won't be the day to start!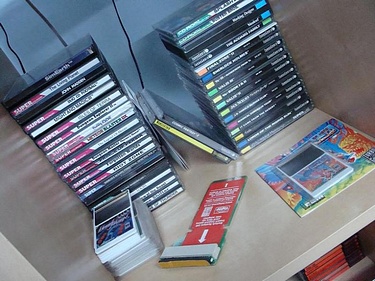 Posted by charlie on April 18th 2012, 09:59 PM
Leave Comment

Share
---
eBay Watch - Massive STARCOM Collection
Interested in a simply gorgeous and massive STARCOM collection, which will come to you direct from a fellow in Ostfildern, Germany, complete with nearly all of the rare Euro pieces from the set? Yeah, I'm interested in it too - or at least interested enough to watch. Let's see what happens!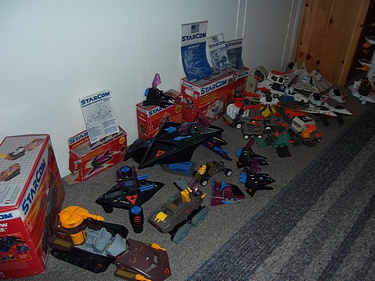 (
XL Pic
)
Please note - most of the
Powerfunktion
work!
Posted by charlie on April 17th 2012, 08:46 PM
Leave Comment

Share
---
eBay Watch - Planissor RP1 Nasta (Savie!) Euro Reactor
Most readers of the Preserve will know that Nasta's
Reactors
line from 1989 is one of my very favorites, due equally to it's scarcity, obscurity, and most importantly lack of any sort of other fanbase! Well, imagine my delight when one of the super rare Euro variants turned up on eBay a month ago - in Vlaardingen, the Netherlands, no less!
I bought the Planissor RP1 (also known as the
Powereactor RP1
in the US) for a song (and $9.99) only to find, much to my surprise, that the seller had a second one waiting in the wings! This, then, is his next (and he assures me, last) copy of the Planissor RP1 - so if you want a super rare, super cheap toy from the late '80s, that you may in fact never see again, here you go!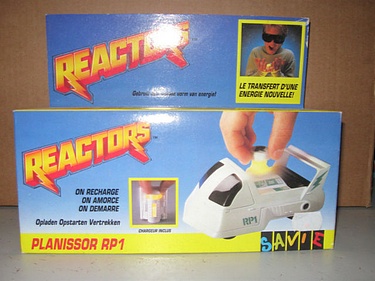 Posted by charlie on April 16th 2012, 09:15 PM
Leave Comment

Share
---
Masters of the Universe Classics - Demo-Man
Only 4 months late on this one - casual fans of the ongoing
Masters of the Universe Classics
line in December of 2011 had a chance to pick up a figure crucial to the back-story of ol' bonehead himself.
Demo-Man
here is...well...I won't spoil it for you if you don't already know - click through the image to read the bio and see more pics of this popular closer to the 2011 line (even if he did ship in January 2012 - sad trombone, Mattel!)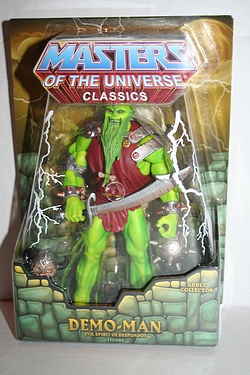 Posted by charlie on April 13th 2012, 07:33 PM
Leave Comment

Share
---
Robots - Make me some sushi!
My wise co-worker today showed me a robot that can make sushi. Nevermind the astonishing, finger-removing vigor with which it sucks in the nori, or the lack of table side chatter - that Suzumo can make me a tuna roll any day!
Posted by charlie on April 12th 2012, 09:10 PM
Leave Comment

Share
---
eBay Watch - Rocks & Bugs & Things!
Wow - this auction has ended, which is tragic because it would have been fun to watch the price escalate, but this set of Rocks & and Bugs & Things is just amazing. I know how much DoctorKent likes this line, and it's likely that he has a comparable collection so this will contain few revelations for him. The only place I've ever seen so many boxed examples from this line is in his own toy room!
The auction may be over, but have a look anyway for some more great images and the final asking price (spoiler - $661!)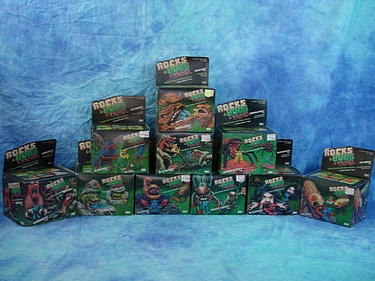 Posted by charlie on April 11th 2012, 08:01 PM
Comments(4)
Leave Comment

Share
---
eBay Watch - Instant Jayce & The Wheeled Warriors Collection
For some reason, I didn't have a single item from this popular line when I was a kid. I think my dad tended to shy away from the lines that included a bunch of parts and bits and pieces, and I can see him making that critical determination when looking these over on the glorious mid '80s TRU shelves. As such, like the Sega Master System (back then at least) they remain a thing of mystery and beauty to me.
So - this auction would be a fun way to land a large part of the collection all at once! Granted, this is better suited to a collector who doesn't suffer from a paralyzing packaging fixation, as I find the boxes for this line to be as good looking as many peers of the era. Still - the bid is low and the items are many - we all will be keeping it in mind, I'm sure!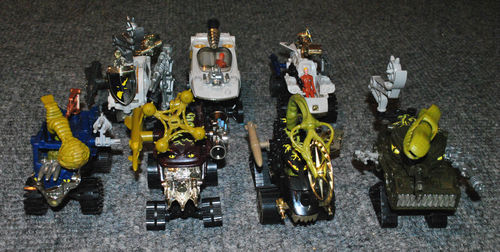 Posted by charlie on April 10th 2012, 08:27 PM
Comments(2)
Leave Comment

Share
---
eBay Watch - Lucky & Wild!
A machine I've always wanted to add to the Preserve collection, but never seem to intersect with the right combo of available space, funds and time, is Lucky & Wild. A cooperative shooter, where one party drives and the other shoots, is just such a fantastic, ripped-from-the-80s format that I am immediately taken with it. I like to think that, when I eventually get one of these machines, I would always wear a white linen suit and pastel shirt to play it, and would perhaps invest slightly more time and effort into my hairstyle.
Well, I suppose here is my chance! It's near by, it is not too pricey, and it works! Holy crow - how can I not get this?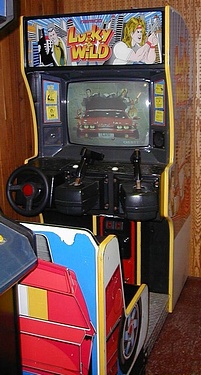 Sanity check - I guess because it probably weighs 1000lbs, takes up 20 sq. ft of floor space, and ... darn it, so beautiful.
Posted by charlie on April 9th 2012, 09:40 PM
Leave Comment

Share
---
Transformers: Prime - European Packaging - Cliffjumper
Next in the lineup of rarely seen Euro styled
Transformers: Prime
deluxe figures, we have
Cliffjumper
. And from his bio, we learn that few Autobots are as fierce as Cliffjumper - which is actually a direct quote from the single-language US cardback. Ok it's not a bombshell to start your weekend, but it'll just have to do - get to it!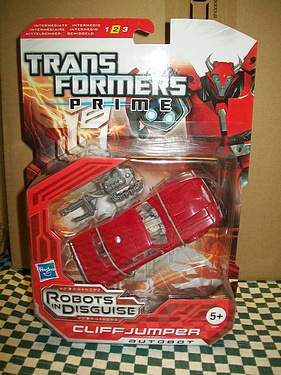 Posted by charlie on April 6th 2012, 08:35 PM
Leave Comment

Share
---
eBay Watch - Underdog Coloring Book - 58 Original Pages!
Ok, this ebay auction ends in only several hours from the time of this post, but I really did have to point it out - along with a few other sales this person is running (or which recently ended).
58 original pages from the 1979 Underdog coloring book 'Carnival Confusion'? I'm just so delighted when things like this still exist. What's also amazing, and perhaps more topical for the Preserve, were auctions for
Starcom
,
Go Bots
and
She-Ra
related books as well! All things considered, the prices were very reasonable, and I do wish I'd opened the wallet a bit on these. Hopefully they have gone to a good collector who will protect them as they deserve!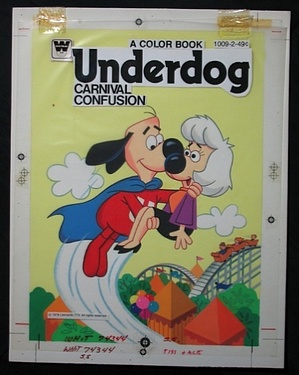 Posted by charlie on April 5th 2012, 10:55 AM
Comments(2)
Leave Comment

Share
---
Transformers: Prime - European Packaging - Soundwave!
Let's have another look at that great
Transformers: Prime
Euro packaging, as brought to us by Preserve reader Kaars. While we don't have a wildly-misinterpreted bio as we got on
Wheeljack
, we still only learn that
"Soundwave is a master spy for the Decepticons"
- fairly accurate at least!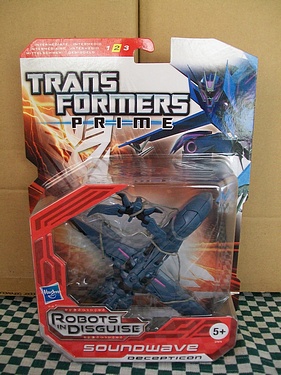 Posted by charlie on April 4th 2012, 09:09 PM
Comments(2)
Leave Comment

Share
---
eBay Watch - Rock Lords Rock Shot
And I looked, as he opened the sixth seal, and behold, there was a great earthquake, and the sun became as black as sackcloth. And the moon became as blood!
Well, maybe not nearly so dramatic as that Ray Stanz quote, but it still is interesting to see the number and variety of Rock Lords figures that keep popping up on the eBay in recent weeks! Here, then, is a carded Rock Shot figure - one that you aren't likely to see too often. The price is already climbing up there, as well it should, but join me in keeping a keen historical eye on this one, and let's all see what happens!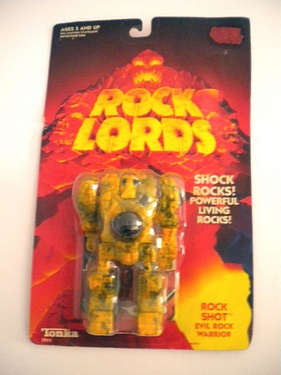 "But now...as if some unforeseen authority..."!
Posted by charlie on April 3rd 2012, 12:15 PM
Leave Comment

Share
---
Pinball Music by Suzanne Ciani - Xenon!
A great, classic video about the composition of music for the pinball machine Xenon!
Posted by charlie on April 2nd 2012, 12:36 PM
Leave Comment

Share
---