Journal Archives from March 2009
Toy Fair - WorryWoos
Starting a business with nothing but your own two hands is one of the most difficult and potentially rewarding things that you can do. That's why it's particularly enjoyable to meet someone who is putting in the time, effort and creativity to get a new small toy company off the ground and into the public consciousness. Andi Green is the energy and drive behind the
WorryWoo Monsters
, a multi-media approach to the delivery of strikingly unique characters with good messages for kids. The characters each have stories which embody an emotion, and are intended to help kids come to grips with difficult stuff like confusion and loneliness through storybooks and beautifully designed plush figures. She told us that the characters have already found a home in the Jersey school system and are being enjoyed by the kids there. It's great to see her vision and years of work culminate in her first trip to Toy Fair, and we hope to see her again next year!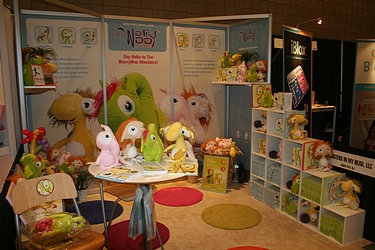 Posted by charlie on March 31st 2009, 09:01 AM
Leave Comment

Share
---
G.I. Joe Modern Era - Sharc Tooth with Deep Six
Let's dip back into the
G.I. JOE Modern Era
line today for a look at one of the fantastic vehicles from yesteryear that they brought back for the celebration, the Sharc Tooth...with Deep Six! This was certainly one of my very favorite Joe sets as a kid - the hand pump that you could use to make Deep Six submerge and then pop back to the surface of the bathtub was not to be beaten by just about any toy. The action on the wing guns which popped out like headlights on a Fiero was also particularly memorable, immediately coming back to mind in the most minute detail with a moment's effort! Here then is the remade set, which looks every bit as great as it did in 1984 (the greatest year) when it was first released!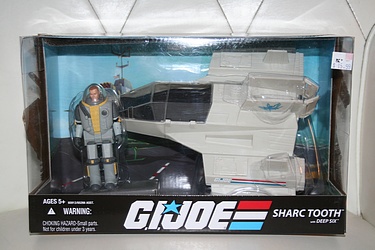 Posted by charlie on March 30th 2009, 09:22 PM
Leave Comment

Share
---
Lego Brickmaster March/April Set 20011 - Trash Truck
We are tremendously late in updating our Brickmaster gallery for the March/April period, which is no fault of Lego! Given all the conventions and busy times in February around the Preserve, we had totally neglected to re-up what we maintain is one of the best deals going for long-term fun / dollar. Fortunately, the person at Lego who took our call made sure that we didn't miss a set, and worked it out so that we were sure to get set 20011 which is the March / April Brickmaster package. Click the image below for additional pics of the latest Brickmaster offering, which is a trash truck from the Creator line. Then look for the next item from our subscription, coming in May!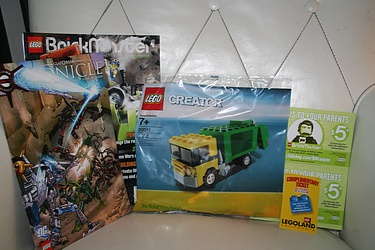 Also as an aside - the fancy meal for tonight's Sunday dinner resulted in a little left over heavy cream, so I immediately sought out a nice aperitif recipe I could use to finish it off. I was delighted to find the
David Caradine
which is at once a creamy, sweet, minty drink that is full of whiskey. It comes highly recommended from the Preserve for an impromptu Kung Fu viewing!
Posted by charlie on March 29th 2009, 07:46 PM
Comments(2)
Leave Comment

Share
---
Toy Fair - Plan Toys
Plan Toys was another of the companies we met at Toy Fair for the first time this year. They are a large company based out of Thailand who are dedicated to producing toys for all stages of child development in a socially and environmentally friendly way. They maintain high safety and quality standards, manufacture toys in the most responsible way possible and run a very green operation. The best part is - their toys are very numerous and look like a lot of fun! Some other companies who would attempt to follow these same thoughtful practices may have a limited range of product as a result, but the Plan Toys display at Toy Fair was quite huge, very cutting edge and on par with the best of the show! Click the image below for our small gallery of their booth, and
check out their site
for more information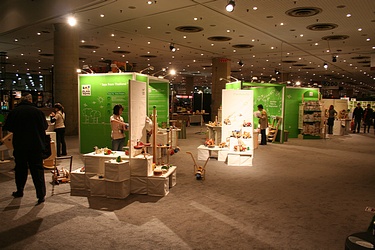 Posted by charlie on March 28th 2009, 10:26 PM
Leave Comment

Share
---
Toy Fair - Schleich
When you are in Target, checking for the latest and greatest Transformers, G.I. Joe or Teenage Mutant Ninja Turtles 25th Anniversary figures (all three lines!) you may also notice a section several aisles away with the Schleich label. This company manufactures fantastically detailed scale models of knights, castles, farm animals, sea creatures and best of all, Smurfs! Last year they celebrated the 50th anniversary of the Smurfs with a booth give away of a Smurf with a
Jeroboam
of champagne - a very cool and highly prized show exclusive let me tell you! They were back with their astonishingly beautiful booth and great products, and we finally got up the nerve to visit with them on the last day of the show, when attendance was low and we wouldn't be under foot. Click the image below for a look at some of their great products they had on display!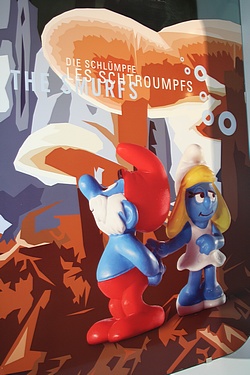 Posted by charlie on March 27th 2009, 08:32 AM
Leave Comment

Share
---
Cobra Commander or ... The Vindicator!?
The observation by friend of the Preserve abyss was too good to let pass by, so behold
The Vindicator
as Cobra Commander!

So now we have the speed suits from Robocop, the Combat Hero Commander from Jason X, and the 3 3/4" Commander figure from The Vindicator. Well done movie folks!
Posted by charlie on March 26th 2009, 07:44 AM
Comments(2)
Leave Comment

Share
---
G.I. Joe - The Rise of Cobra, Cobra Commander Leaked
This is certainly being reported to the far ends of the toy concerned Internet, but it is pretty major news in the G.I. Joe line so we're also compelled to be sure to give it due time. The Chinese eBay seller ws_toys has managed to steal some more things from the local factory, this time bringing us the
first ever look at Cobra Commander
from this summer's 'hotly' anticipated live action Joe movie. (If the auction is gone we saved a copy
here
). As you probably guessed from the Jason X looking Combat Hero of the Commander (as
brilliantly illustrated
by Rob Bricken over at
ToplessRobot.com
) this figure is a similar train wreck. The forums are abuzz with conflicting opinions, and the flame wars burn brightly this night, but we can all keep our own council on the thing and in your heart you know it to be true.
Well, maybe it'll all work out. Maybe he'll lose the head-chest tubing and put a blue bag over his head in the last 5 seconds of The Rising. Either way, let's clear our pallets with one of the sets from the current Modern Era line, since who doesn't like Wild Bill? Here we have the comic 2-pack of Wild Bill and Scrap-Iron, with the new issue by Larry Hama. Ahh, it's feeling more and more like this line from 2008-2009 will seem as if it was the good ol' days shortly!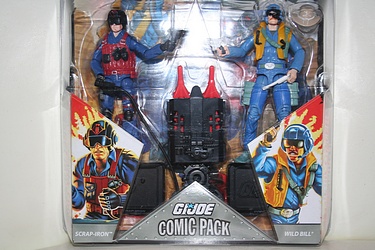 Posted by charlie on March 25th 2009, 07:39 PM
Comments(1)
Leave Comment

Share
---
Toy Fair - Silly Puppets
Any long time readers of the Preserve will probably remember
The Uncle
's fascination with puppets. He doesn't own a puppet, at least not that I am aware of, but has this romantic/demented mythology in his mind about the allure and inherent creepiness of puppets of which he wants to be a part. As such, it's always a thrill going to Toy Fair, and seeing the number of fantastic puppet companies that are showing off everything from the beautiful butterfly puppets we saw at
Sunny Puppets
, to more human-style puppets that really push that boundary he enjoys so much.
A favorite of ours is the Silly Puppets company, and they had a number of fun, wonderfully designed items on display in their booth. Sadly I was there solo on the day I found them, but he was there in spirit! Click the image below for their full gallery.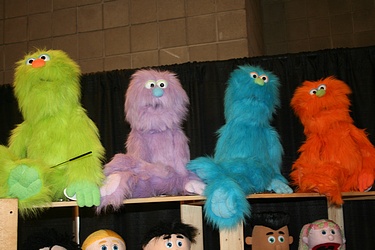 Looking more carefully at this image, I like Silly Puppets even more. They are replicating exactly the Toy Fair logo colors - check out the banner at the top of the page 'TF09'. Well done! ...and a happy accident of my haphazard photography.
Posted by charlie on March 24th 2009, 09:01 PM
Leave Comment

Share
---
Toy Fair - Fly-Goodbye
One of the small companies that we enjoyed visiting during Toy Fair,
Fly-Goodbye
came all the way from Switzerland to show off their fly-capturing device. Reminding me of a solder-sucker from the days of pinball repair here at the Preserve, the simple device was fun to use and seemed to be quite effective on the demo 'flies' that they had at the booth. The salesman was also in good spirits and friendly even on the 4th day of what was a very long show. Click on his image for a few more shots of the booth and product.
Posted by charlie on March 23rd 2009, 10:50 PM
Leave Comment

Share
---
Alyssa Milano Unveiled as Love Interest in new Ghostbusters Game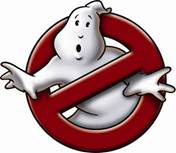 Press Release -
This just in from Atari, Alyssa Milano has been announced as as the new love interest in the forthcoming
Ghostbusters
Video Game! Apparently Sigourney Weaver wasn't interested in reprising her role as Dana, even in audio, but this seems to be a great solution! Click the 'read more' link for the full lengthy press release.
Read More
Posted by charlie on March 23rd 2009, 09:15 AM
Leave Comment

Share
---
Toy Fair - SquareEnix
The SquareEnix booth always has a lot of cool products on display at their stylish trade show setup. From their Final Fantasy and Kingdom Hearts characters to Dragon Quest slimes, you can be certain of seeing some old favorites and some brand new sculpts with them at every event. Click the image below for their full gallery to see what's on tap for 2009!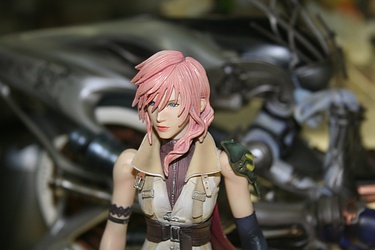 Posted by charlie on March 22nd 2009, 06:14 PM
Leave Comment

Share
---
Movie Review - Ring of Fire
It may seem a little far afield of the mission of the Preserve, but at the core of things the Preserve basically focuses on things that I find enjoyable. One of the time consuming activities around here is the viewing of questionable b-movies, and it seemed high time to create a rudimentary movie review system so we could at least catalog these experiences. One of the best that we've seen recently is the Don 'the dragon' Wilson masterpiece Ring of Fire. If you haven't seen it, and I sort of suspect most people haven't, then you should go check it out! For Don fans, it provides some fantastic moments and is worthy of the time with no doubt!
Posted by charlie on March 21st 2009, 09:15 PM
Comments(1)
Leave Comment

Share
---
G.I. Joe Modern Era - Combat Heroes Wave 3 Canceled
Among several distressing or, at least, less than positive bits of news to emerge from the latest G.I. Joe Q&A with Hasbro was the confirmation that wave 3 of their Combat Heroes line is canceled. All of us here are bigs fans of the 'Heroes' format of figure that Hasbro has recently been extending across all of their brands so this came as sad news. Unfortunately, as with the Mighty Muggs, I think people quickly got tired of what felt more formulaic than creative - seeing the same types of figures across all brands probably diluted the concepts to the point of distaste. What you'll be missing in the 3rd wave is:
Snake Eyes vs. Cobra Viper
Shipwreck vs. Crimson Guard
Gung Ho vs. Cobra Commander
Lady Jaye vs. Major Bludd
So many awesome characters in that wave that it's a real letdown! It's possible that you can scam them from one of the numerous illegal Chinese direct-from-factory eBay auctions that have been popping up recently, which have been featuring early examples of the Rise of Cobra and Revenge of the Fallen (Transformers) figures. Given how cool these look, it may be worth it!
Hasbro states that they hope to include these wave 3 figures in some multi-pack later in the year, but sadly I wouldn't hold my breath. It puts me in mind of a recent Combat Heroes ad featuring the lovely ladies of the Joe team, including Lady Jaye, and a caption like
"you thought your ex was tough!"
. Guess that ad's probably been pulled! Well, to commemorate the loss of this wave, we've finished posting wave 1 of the figures, and will have wave 2 hot on the heels. Check out Bazooka vs. Firefly, and I'll feature the back-of-package artwork again since I just love how big and bombastic it is; Bazooka is takin' back the 'stache big-time! Click the image below for the details about this set, or
here
for the Combat Heroes group page.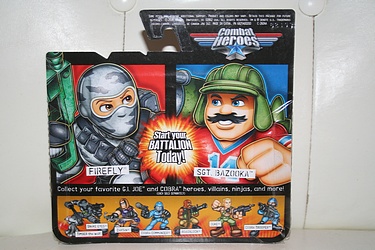 Posted by charlie on March 20th 2009, 11:46 AM
Leave Comment

Share
---
Reactors - Hypereactor-RS3
Over on the right hand 'quick nav' of the Preserve are a number of icons of the current toy lines we've been following over the last several years. Then, at the bottom, is the one vintage line that so far receives such a highlight, and that is the
Nasta Reactor
line. We've mentioned it before, and it stands as a favorite obscure series around the Preserve since the re-discovery of a lone, empty box for the
Accelereactor-RS1
in the archives several years ago. The pieces seem to be fantastically rare, and come up on eBay with exceeding infrequency.
Interestingly, two sealed examples of vehicles from this small 10 item line were available on eBay this very week! I thought that I would certainly be the only one to bid on this beautiful
Reactorpod-RP3
but was surprised to find a fellow collector in-it-to-win-it as well. I bailed at $50, and congratulations are in order for someone else on this green Earth who also is a fan of this line! If, by whatever trick of the internet, the person who purchased this piece sees our post here, or better yet is a Preserve regular(!), please drop us a line at
contact@parrygamepreserve.com
. I'd love to feature the new addition to your collection in our Reactors gallery! Along those lines, an in an effort to ease my wounds over missing what may be the first and last time I see that little number available for sale, here is a new gallery of the Hypereactor-RS3, in and out of box!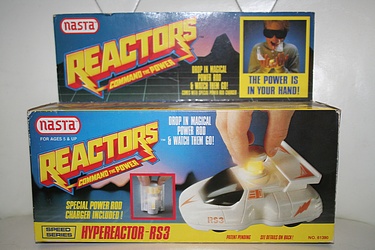 That is actually a sealed example in the photos, and amazingly we were able to pick up a loose one to match. I'd love to crack open one of these and see what sort of paperwork came with - perhaps in time, but I have a real personal philosophy about not breaking the tape. Interesting to note that the bar codes and product numbers of the two Reactors vehicles posted so far are identical. Must have made for some tough inventory control back in 1989; also might help explain the present-day tremendous scarcity of some pieces if you couldn't even track what you had or were getting on order. You would just have "10 Reactors on shelf" and would sell "a Reactor" to someone. Finding them all 20 years later will be a challenge! Hey, that's a good point - it's the 20th anniversary of Reactors - at least the Preserve will celebrate it!
Posted by charlie on March 19th 2009, 07:13 AM
Leave Comment

Share
---
Toy Fair - McFarlane Toys
We almost skipped the McFarlane booth this year, as it seems to be leaning so strongly to sports and Halo figures that it's a stretch to snag our interest. Don't get me wrong - I do have a fondness for some of the real athletic all stars of the last twenty years, but delving into the wide, wide, never-ending world of sports collectibles is something I'm not quite willing to do just yet! However, they do have some cool Guitar Hero figures, including a Slash that is worth the visit by itself. Also great fun is their How the Grinch Stole Christmas line, with perfect sculpts and colors. Click the image of one such set below to see their full gallery!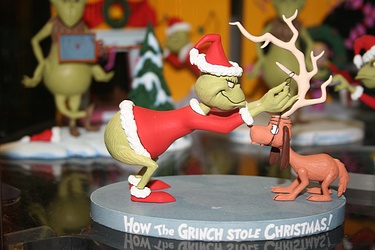 Posted by charlie on March 18th 2009, 06:15 PM
Leave Comment

Share
---
Vectrex - 3D Imager Auction
One of our favorite old gaming peripherals which has been mentioned over the years here at the Preserve is the
Vectrex
3D Imager. With incredible 1980s styling, mysterious energy beams which bombard your senses and really amazing functionality for the era, it is an object to inspire terror and wonder in equal parts. Thanks to the excellent
Retro Treasures
site, we learned about the
finest auction
of a 3D Imager that we have ever seen. The listing has now sold for the well-deserved price of $710 - be sure to check it out for a number of glamor shots of this fantastic device!
Posted by charlie on March 18th 2009, 06:41 AM
Leave Comment

Share
---
Masters of the Universe Classics - Faker Sold Out!
Correction:
Holy cow - Faker has already sold out. Looks like we should have posted this yesterday! Well, I hope everyone who wanted him picked one up - looks like the Mattel MotUC collection is really heating up. Next month, ordering will have to happen the moment the figure becomes available! Also note that they have changed their max order to 4 which was requested by the fans. This is a big difference from 10, and means that it's probably not all scalpers over-ordering, but that there is just a huge amount of interest. Congrats Mattel!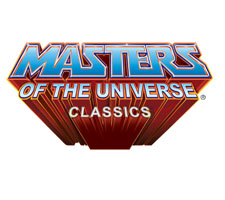 Posted by charlie on March 17th 2009, 07:24 AM
Leave Comment

Share
---
Masters of the Universe Classics - Faker
If you missed him at the New York Comic Con, now is your chance to pick up Faker from the Masters of the Universe Classics collection from Mattel! Click on over to their MotUC section of
mattycollector.com
and order up several today!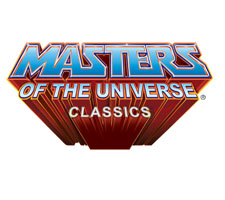 Posted by charlie on March 17th 2009, 05:19 AM
Leave Comment

Share
---
Transformers Universe - Nemesis Prime Prototype
Recently
The Uncle
secured a prototype of last year's San Diego Comic Con exclusive Nemesis Prime figure from a mysterious and exotic source overseas. We've got a gallery of this pre-production sample, compared against what we were all able to buy that weekend on the show floor - click the image below for all of the pictures!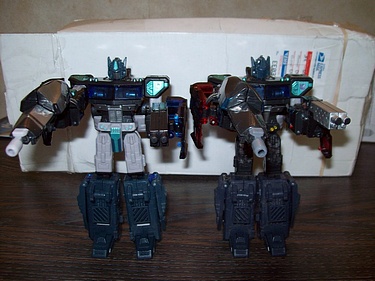 Posted by charlie on March 16th 2009, 01:00 AM
Comments(2)
Leave Comment

Share
---
Toy Fair - Casdon
Casdon Toys
(hailing from the UK) brought a variety of their Roleplay line with them to the show, featuring scale models of appliances like the popular and expensive Dyson vacuum, as well as kitchen gear and shop vacs. I was especially pleased when they pointed out to me that the shop vac, and most of their other items in the line, are named after royalty. See below for the most regal shop tool ever - the Henry!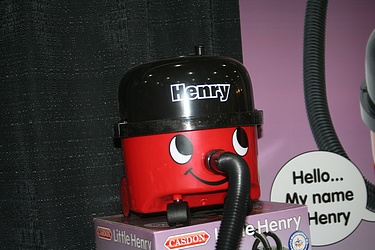 Posted by charlie on March 15th 2009, 08:34 AM
Leave Comment

Share
---
G.I. Joe Q&A Round 1, 2009
The Hasbro G.I. Joe team has given us the answers to the first round of Q&A for 2009. See below for the details!
---
G.I. Joe Q&A #1 (2009)
Preserve:
Will we see a return of the current 'Classic' line after the movie toys have run their course?
Hasbro: This is the most common question in fandom and we honestly do not have an answer on this yet. In 2009 and 2010 the plan is to continue the movie line, but bring in classic characters that fans want. With regards to a line that looks like (product and packaging) the 1980's the team is considering when is the right time and place to bring this back but have no updates at this time.
Preserve:
If a fan is only able to get one figure or vehicle from the new movie line, which should it be? ie. do you have a favorite?
Hasbro: If we HAD to pick? That's tough but the Night Raven vehicle and one of the new Vipers to troopbuild is a good suggestion.
Preserve:
Will the movie Destro figure have a removable mask?
Hasbro: Hmmmm....have we announced a Destro figure?
---
Thanks to the G.I. Joe team for their answers to our questions! As I'm sure you've seen elsewhere on line, their new Destro figure has been leaked by an overseas eBay seller. We hadn't bothered posting the pics for it, but now it seems appropriate. Click the image to go buy your own!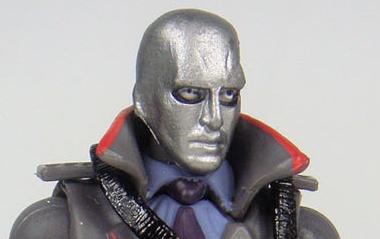 Posted by charlie on March 14th 2009, 09:11 AM
Leave Comment

Share
---
Toy Fair - Kiz Toys
Kiz Toys was founded with the goal of being a socially responsible company that makes safe, engaging products, providing kids with positive experiences and values that they carry with themselves into adulthood. The main revolution in their toy, which is a blend of physical product and online experience, is a safety abstraction layer which allows the child to go online and interact without any of their personal information needing to be exchanged. They made a big splash at the show, giving out the largest number of free bags which is always a good way to be noticed at these trade events, and they have a solid start to their product. Let's hope that they meet with deserved success!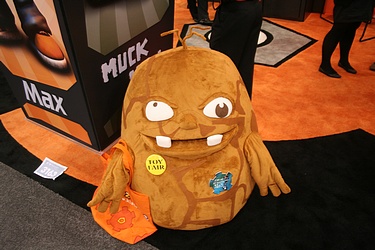 Posted by charlie on March 14th 2009, 07:59 AM
Leave Comment

Share
---
Transformers Animated - Leader Class Bulkhead
Back in November 2008, yes over 4 months ago,
The Uncle
took some pictures and wrote some notes on
Leader Class Bulkhead
from the fantastic
Transformers Animated
toy line. It is the height of inconceivability that it has taken us all this time to finally post the fruits of his labor, but at last we have. The whirlwind which is always the holiday season, coupled with the total loss of February to conventions remains our only possible excuse, but there really isn't a reasonable explanation! Here then, on the eve of Transformers Animated being canceled and the toy line scrapped, is one of the first figures in the line, Leader class Bulkhead!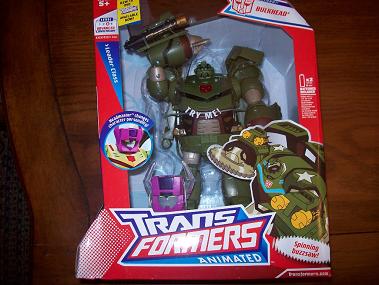 Posted by charlie on March 13th 2009, 06:56 AM
Leave Comment

Share
---
Toy Fair - Uberstix
Uberstix
was right by the main entrance, next to Gund - we'd been looking at their booth for the whole show but finally had a chance to stop by on the last day. What we found was a simple but powerful product, which was clearly well thought out and could be used to make fantastic creations from basic starting points. Now, we see this same philosophy in just about every building system, but there were several key differences in the approach and goals of this company. Started and run by a personable, energetic and unexpectedly cool guy, he brings to the field a real social conscience that he's willing to back up with his product. An entire line of his is based on the idea of creating toys from found objects, like a boat made to float with discarded water bottles. He's also designed a cutting tool that is encased in a protective shell, allowing parts to be modified without danger to young kids. Better still, he wants to get these products distributed all over the world to teach kids about construction and invention - how to send plastic parts to the corners of the earth? Well it's more simple than that, since his cutter allows a simple box of popsicle sticks to become a fortress! This is a very interesting company, and one we are glad we met.
Posted by charlie on March 12th 2009, 07:23 AM
Leave Comment

Share
---
G.I. Joe - The Rise of Cobra toy gallery
We've been working for a few days to build out a checklist for the so-far-announced G.I. Joe: The Rise of Cobra toys from Hasbro, complete with all of the press photos we received on the Hasbro tour during Toy Fair! I'm sure that everyone has seen these nice hi-res pictures all over the toy internet already, but I figured it was time to organize them. Personally I always love a checklist, not only to help keep track of what is out, what order it came out in, the different versions of each character, but also to just have the pleasure of filling it in! Click on over to
the list
- we've still got some more things to add like the Combat Heroes, Action Battlers, Roll Play items and no doubt things we can't even guess before the line launches on July 11th!

Also, a tip for the dedicated Preserve readers. I actually create 4 versions of every toy image on the site (at least in the last year or so), but the standard zoom is only to the 2nd best one! If you are ever looking at an image, but want more detail, just look up in the URL, and replace the "_M" with "_L". Viola! You have a giant hi-res image. Try it out on some of those Rise of Cobra figure pics if you like - they are straight from the photolabs at Hasbro and look great! (by way of example, normal
"_M" Storm Shadow
, and the
"_L" Storm Shadow
!)
Posted by charlie on March 11th 2009, 08:01 AM
Leave Comment

Share
---
Transformers Q&A Round #1 2009 - Results
Ok folks, the Transformers team over at Hasbro has just sent us their answers to our first Q&A for 2009. See below for the details!
---
Transformers Q&A #1 (2009)
Preserve:
Are future Transformers Mighty Muggs waves (wave 2 and beyond) going to be Toys R Us Exclusives?
Hasbro: Currently, the first two waves of Transformers Mighty Muggs are available at all major retailers within the U.S. After wave two there are no plans to ship any additional Mighty Muggs in 2009. As for 2010, it is still a little too early to discuss our plans for the brand.
Preserve:
Any plans to release Masterpiece Grimlock in the US?
Hasbro: We feel that Masterpiece Grimlock is a great offering that captures the timelessness of this character! As we continue to move forward with rounding out our line for the future, we look for the right opportunities to release him and other Masterpiece items.
Preserve:
If consumers can only get one toy from the movie line, which one should it be (other than Devestator) - which is your favorite?
Hasbro: From the team (sorry, they didn't tag each of their responses, so I'm not sure exactly who said what!):
I would have to say the Movie 2 Leader Optimus Prime would be my favorite from what you guys have probably all seen. For the Movie 1 Leader version of Optimus, we did have have final reference from Dreamworks and the development of the toy was mostly deisned using the concept art.. For the Movie 2 Leader Optimus we focused on finding ways to improve on the original toy's design with articulation, better/more acurate proportions and the new "mech-alive" feature. I was challenged with finding a way to redisgn a toy based on a character that hasn't really changed in appearance between the two movies. It was a great design challenge, plus he's Optimus Prime!


My favorite toy from ROTF has not been revealed to the public yet. But I can tell you that it's one of the toys that Bill Rawley has designed!!!


Of the figures that have been seen, my favorite is the new leader Optimus Prime figure. It does an amazing job staying faithful to the movie design of Prime.


Leader Class Optimus Prime. Although this is probably a common answer among the team, the figure is truly amazing. The detail in robot mode blows away the movie 1 version and the lines in vehicle mode are so clean, it is difficult to see the conversion points in the toy at first glance.


Unfortunately, my favorite has yet to be revealed!
---
Thanks to the Transformers team for all of the great answers to our questions! We can't wait to see what figure they were all talking about that hasn't yet been announced!
Posted by charlie on March 10th 2009, 01:53 PM
Comments(2)
Leave Comment

Share
---
Toy Fair - Gus Fink Studios
The young and talented artist behind these toys (Gus Fink) was on hand at the show to take us through his product line. The Boogily Head figures are distinctive and colorful, blending aspects of Toy Tokyo blind box style collectibles with an American vinyl sensibility. He is also in talks with the Cartoon Network to create a new show based on one of his characters from the Miko and Cola line!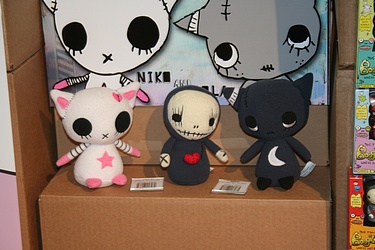 Posted by charlie on March 10th 2009, 07:34 AM
Leave Comment

Share
---
G.I. Joe Modern Era - Cobra Diver
Proving to be one of the harder to find figures from the recent
G.I. Joe Modern Era
collection, the Cobra Diver is found in wave 5 (or 12, depending on how you're counting) and even comes with one of the three elements for the MASS Device! Of course he's rare, since he's prime material for the troop-builders among us, and it is a great looking figure. I can't help but imagine all of the discarded heavy water canisters, though - piling unloved in the corner of the barracks of all of those troops. Well, click the image below to check out this quality figure, and if you see one on the shelf you probably should grab it!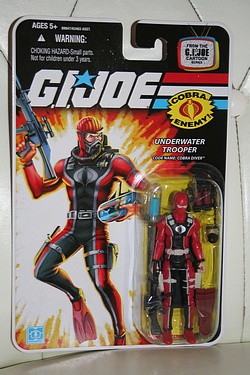 Posted by charlie on March 9th 2009, 07:20 AM
Leave Comment

Share
---
S.T.A.R.C.O.M. - Laser R.A.T.
Another break from Toy Fair coverage, because we haven't been posting nearly enough vintage toys to the Preserve for months and months! Well, today let's check out the Laser R.A.T. from the fantastic classic S.T.A.R.C.O.M. line! This set comes with Capt. Vic "Dakota" Hayes and features our favorite POWER DEPLOY feature and magnetic feet - what a great line!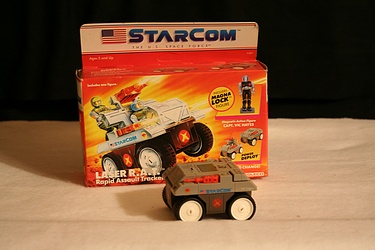 Posted by charlie on March 8th 2009, 01:58 AM
Leave Comment

Share
---
Toy Fair - Bandai
Bandai had a huge private booth at the show, with 2-story tall black walls, and giant Zords and Ben Ten towering over it. A most impressive sight it was, so of course we had to make sure to get in there and see what what going on! They were showing off their new Dragonball Z, Ben Ten, Power Rangers RPM,
Dragonball Evolution
(movie) and Kamen Rider figures. Of course we were delighted to see the figure of
Chow Yun-Fat
from the upcoming DB:E movie - click his image below for the full gallery!
Posted by charlie on March 7th 2009, 12:01 PM
Leave Comment

Share
---
G.I. Joe Modern Era - 12 Inch Destro
Alright, we have been plowing our way through the thousands of
Toy Fair
pictures for some number of days and weeks now, but at last are finally up to the final day's worth of coverage! As such, it was time to take a short detour and at least mix in a few toy catalog updates with our news barrage, so here is the 12-inch Destro from the current
G.I. Joe Modern Era
line!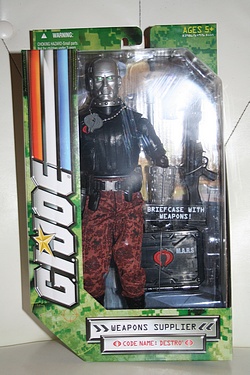 James McCullen Destro is looking good and well accessorized in this recent release by Hasbro. I continue to find this 12-inch line to be intriguing - a good value and something I feel will be even more rare and collectible than most of the 3 3/4" figures in the 'main' line.
The Uncle
certainly has some theories on that, basically that the market for these larger figures is smaller, and accordingly production is lower. Certainly it has been proving difficult to track down the waves beyond 1 and 2, which clogged pegs. It is these higher waves where the action is and where you are likely to see the really rare figures in the fullness of time. Also remember that this line, along with the rest of the Modern Era collection, will be put on indefinite hold as the movie toys come out this summer. Hopefully the movie does well and we see a return of our classic collection a year or so in the future, but anything can happen!
Collector's Tip:
So far the hot ticket in the 12-inch collection is Shockblast from the very wave in which we find Destro, wave 4. I still haven't tracked one down, and he is going for quite the premium. I also believe that the Cobra Eel from wave 5 will be very highly prized, and comes with really awesome accessories! So far there is not even a single example of either the Cobra Eel or Snow Job on ebay, both from that wave, so their rarity is looking more legitimate every day.
Posted by charlie on March 6th 2009, 08:35 AM
Leave Comment

Share
---
Toy Fair - Tonner
Our friends from Tonner had their beautiful display set up as always, full of the latest products that will be carrying them through 2009. We had seen some of the fantastic new additions like Hawkwoman, Catwoman and Maxwell Smart on display a week earlier at the New York Comic Con, but new for this show were Agent 99, Wonder Woman and Miss Piggy! The work on these pop-culture licenses keeps getting better and better, and I know that I am one voice in a large chorus who is looking forward to the Doctor Who and Torchwood figures! Still bogged down with the typical hatdance of likeness rights and such, they haven't quite revealed any part of those new lines, but it must be right around the corner! Our love for the Hawkwoman wings continues, and we chatted with them about the difficulty in finding a company who would hand-manufacture those amazing wings - well it was worth it. Click the image below to see their entire booth gallery!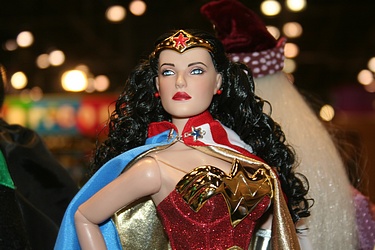 Posted by charlie on March 5th 2009, 09:57 AM
Leave Comment

Share
---
Toy Fair - Joojoo
The company who brought us the best plush pirate ship we've ever seen was back this year, showing off their pirate collection again, but now followed up by Noah's Ark! This plush boat theme is awesome, and I was told while visiting their booth that sales in 2008 as well as there on the show floor had been doing very well for it! I don't know where that product would be retailed in particular, since it's pretty big and specialized, though I bet
FAO Schwarz
has a few in stock. Click the image for the full gallery, and be sure to check out the plush cannon - too cool!
Posted by charlie on March 5th 2009, 06:16 AM
Leave Comment

Share
---
Toy Fair - Re-Ment
Where do you go for highly detailed, amazingly diverse and amusing miniature decorations, food replicas, animals and toys? Well,
Re-Ment
of course! This stuff is great, and is basically G.I. Joe scale - if only I'd ever open some figures I could really set up some great displays! Check out the pics we got of their booth by clicking the image below.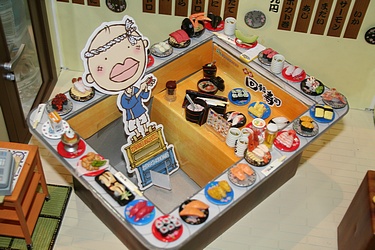 Posted by charlie on March 4th 2009, 08:16 AM
Leave Comment

Share
---
Toy Fair - TickleMe Plant
We always see the annual Toy Fair as an opportunity to expand the scope of what we talk about here at the Preserve. Certainly back around 2001 when the site was just starting out we covered all manner of things, which is something I hope to get back to in 2009. The recent deluge of interesting new toys since we turned our radar back on in 2006 has sucked up all of our coverage time - to the detriment of variety. Well, thank goodness for Toy Fair, and being exposed to so much cool stuff all in a few days.
In keeping with that, I wanted to share a wonder of the natural world, the first Action Plant - the
TickleMe Plant
! This small company debuted at Toy Fair this year, and brought with them their living, breathing, moving plants. When you touch (or tickle) the leaves, they immediately react and defensively curl up! It's a great way to introduce kids to gardening and to something a little more natural and authentic than a plastic action figure (gasp!) and will be an activity that parents and kids can really enjoy together. While I'm a terrible gardener, I do keep trying - I think years of video games and touch-typing may have permanently removed any threat of a green, however dexterous, thumb. This product, therefore, appealed to me and seemed like a great idea, and like a lot of fun. As we run headlong into an uncertain future, with resources quickly being used up, it's not difficult to imagine a return to basics and I think that a company focusing on natural and renewable ways to play has their sights set in the right direction! Click the image below for our small gallery of their booth, and look for a full press release soon about their clever and enjoyable product!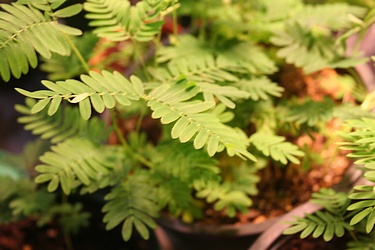 Posted by charlie on March 3rd 2009, 10:28 AM
Leave Comment

Share
---
Toy Fair - Mattel Galleries
Ok Preserve readers, we have finally polished off our
Mattel gallery
, so be sure to check out pics of a fantastic
Matchbox
boat, the
Hot Wheels
dual jump race track with the longest ever gap (16"? We'll have to check) and awesome Battle Force 5 line, some
Secret Saturdays
figures, mind control with
Mind Flex
and a great new computer enhanced line called
Xtractaurs
! Check out a few highlights below:
The path into the massive Mattel showroom, which took up the entire 2nd floor of Javits where the Press Room was last year, was guarded by their friendly Elmo Tickle Hands greeter!
With Mind Flex, you levitate the ball with the power of your mind! Strap on some electrodes, and see if you can drive the fan to float a small ball all Man-O-War Air Raiders style! Once you can handle that, you can try to run it through an obstacle course!
Hot Wheels Battle Force 5 reminds me of
M.A.S.K.
both in scale and attitude, which is a great thing! We'll have to learn more about this line.
Xtractaurs feature excellent stylish dinos and a DNA extraction gun! Buy a dino, extract his DNA and use it to augment or create your online dino character and do battle! Buy more dinos, add more DNA and pump him up! Great idea, slick looking figures, and a nice merging of a solid physical collectible and the necessity of digital tie-in these days.
Posted by charlie on March 2nd 2009, 08:20 PM
Leave Comment

Share
---
Toy Fair - Mattel Tour: Ghostbusters
We're hard at work building out the set of galleries that highlight our tour through the vast Mattel showroom, but mid-way through wanted to make sure to stop and highlight their great, impending Ghostbusters line!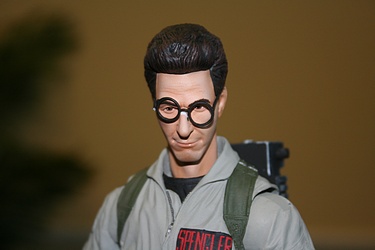 We continue to be very excited about their plans for this brand, and what they have shown so far is looking to be on the right track and made with a lot of passion for the franchise. While they didn't have any new pieces to show at Toy Fair that we didn't see at New York Comic Con the week before, we were able to get up closer and get some better shots - hopefully more news about this exciting line will be out soon!
Posted by charlie on March 1st 2009, 04:33 PM
Leave Comment

Share
---