Journal Archives from June 2010
Lego - Shuttle Adventure (#10213)
As NASA gets closer and closer to 'retiring the space program' as I often mistakenly say, I find that I am filled with increasing nostalgia for the shuttle. Growing up in the 80s, that vehicle
was
space flight for kids who were interested in such things. Seeing it sitting on the launchpad, with the classic silhouette and a night's worth of condensation burning off in the early morning sun holds such promise, hope and technical wizardry. Now of course the remaining shuttles are being mothballed, probably within the year but the date of the last flight keeps being pushed out. Either way, if I were up in the space station currently, I'd be a little worried!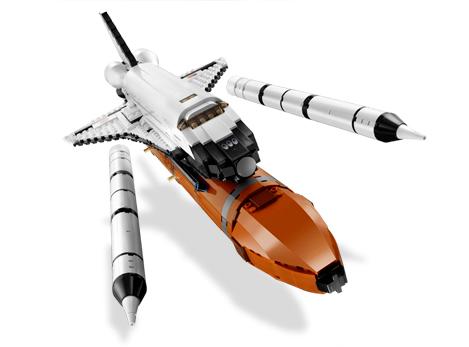 In keeping with the observance of how awesome the shuttle is, and what a shame that we're turning the page in our space initiatives (hopefully, though, for the better) I wanted to point everyone towards this simply fantastic Lego Shuttle Adventure (#10213) set! Gracing the front cover of the Lego catalog which just came in the mail yesterday, this 1204 piece , $99.99 set stands at 17.4" tall, and is a thing of beauty. Click the image to visit Lego's online store for a few more images and details, and consider adding this set - soon of historical importance - to your collection.
Posted by charlie on June 30th 2010, 07:31 AM
Leave Comment

Share
---
Transformers Universe - Darkwind Toys R Us Exclusive
In celebration of the news that the many and varied
new waves
of
Transformers
are, even as we sit here, flooding into stores nationwide, let's have a look at Darkwind from the
Transformers Universe
collection. This Ultra Class figure came out as a Toys R Us exclusive in April 2009, and is a repaint of the more widely available Silverbolt.
In keeping with my newly rekindled interest in posting the legendary Generation 1 Transformers collection, I'll mention that the character first saw toy form as the slightly differently named 'Darkwing', a Powermaster in the increasingly gimmicky yet still awesome 1988 line. He was able to form a little 2-jet gestalt with partner Dreadwind (the combo of which was named Dreadwing) which was indeed pretty cool!
I seem to remember that I took both jets to school one day, 22 years ago (whoa), and that after some time in a sand fort (egad, no!) the joints were never quite right. Well, that's what I was saying about the G1 collection - it's not perfect, but it was well loved and will be finding it's way onto the Preserve at long last! Click the image below for more shots of this updated figure that is amazingly over a year old already!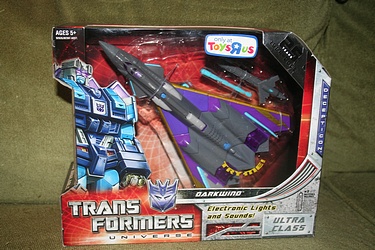 Posted by charlie on June 29th 2010, 12:49 PM
Leave Comment

Share
---
G.I. Joe Q&A - Due Thursday Night

It's that time again! The next round of the G.I. Joe Q&A is due on July 5th to the Hasbro brand team, but I'll be away from the computer devices for that entire week so need to get it in early. If you have any burning questions about the past, present or future of everyone's favorite military line, be sure to send them this way asap!
Remember also this handy reference to un-fuzzy the sorts of things they are and are not likely to answer:
Topics open for discussion – Deco Decisions, Design Choices, Design Process/Development and Redeco/Retooling. Also, questions pertaining to past and current Lore/Storyline, Line Strategy and Marketing.
Topics that cannot be addressed - "When will X toy be made/redesigned/released?", Hypothetical, Sales/Cost Data, Product Idea Submissions, Potential Design/Redesign and Future Movie/Entertainment.
Posted by charlie on June 29th 2010, 06:45 AM
Leave Comment

Share
---
eBay Watch - Sucklord Suckrealm 61 Figure
One of the independent rockstars of the toy world is
The Sucklord
. His figures, made in the depths of New York's Chinatown, are the stuff of legend, and are quite coveted by the discerning collector. Being that I've been a 'corporate collector' my entire life, I'm only just learning about such excellent things, and wanted to point everyone to the last few hours of a rare Sucklord
figure auction
. It will be interesting to watch the final bid, as the figures typically crest the $100 mark. Feel free to help it along! And if you need more encouragement, here is a video from the robotman himself.
Posted by charlie on June 28th 2010, 11:15 AM
Leave Comment

Share
---
Botcon 2010 Wrap-Up Press Release

Press Release:
This past weekend Botcon took place in sunny Florida. There was such a flood of amazing announcements from the Hasbro Transformers team, that it was hard to even know where to begin the coverage! I didn't have a chance to fly down there to see the proceedings first-hand, but was content in the knowledge that any number of other sites had it well in hand. My nod to the event was the kick-off of the Preserve's Transformers G1 coverage, as seen yesterday with the classic figure
Dirge
!
Well, to lend us all a hand and help get us caught up, our friends at Hasbro have sent us a press release describing some of the news and events from the show, and will be providing photos shortly. Click the link for their official release, which mainly discusses the Hall of Fame details. For coverage of the figures that were announced and revealed, wade through the massive coverage at
tfw2005.com
.
Read More
Posted by charlie on June 28th 2010, 06:34 AM
Leave Comment

Share
---
Transformers Generation 1 - Dirge
The Game Preserve has been around since 2001. Originally I enjoyed taking the time to create article-length posts and musings on games, toys and whatever, always with the notion in the back of my mind that I wanted to use the Preserve for archiving the classic collection. Over time I shifted more towards a news and archival format as I realized the sheer magnitude of the task to which I had put myself!
The original "G1" Transformers collection is the founding rock of the Preserve, and one of my proudest things. There is such a solid fan base for this toy line, though, that coverage of the full collection is replicated many times over around the Internet. As a result, I had not taken the time to focus on my favorite collection, and realized days ago that not a single, solitary G1 Transformers was added to the official Preserve Archives. Well, it seemed high time to change that, so I pulled one at random from the nearest shelf, and today let us take a look at Dirge from 1985!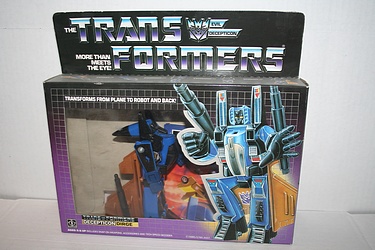 Perhaps one of the other things that kept me from starting this journey is that all of my Transformers collection was well played with, and well loved. I've never taken the time and care to go through and make sure all weapons are in place, all instruction books are around, and I am missing packaging for at least some. So we see with Dirge! One of his concussion missiles is missing, and he had a 1984 catalog in the box instead of 1985, but in my true spirit of cataloging items with context, I simply photographed the set as I found it! Perhaps now I'll go through the process of getting the figure back to complete, and now the Transformers Generation 1 journey has begun!
And speaking of older articles, feel free to learn about
Tussin
and
Incubus
, if you have the time.
Posted by charlie on June 27th 2010, 08:03 PM
Leave Comment

Share
---
Pryor's Place - Volumes 3 and 4 Found
I definitely realize that out of the population of the world, there can't be many remaining fans of Richard Pryor's short-lived children's show, Pryor's Place. Four VHS volumes of this 1984 (the greatest year!) show were released by Rhino in 1998 and are already nearly impossible to find. Volumes 1 and 2 had been in the Preserve archives for about two years now, but I had never even seen volumes 3 or 4, which sounded to be the best of the lot! Example: volume three features an episode with
Scatman Crothers
as 'Uncle Moses' who teaches little Richie to respect old people. Perhaps Richie has the ginormous shining in him!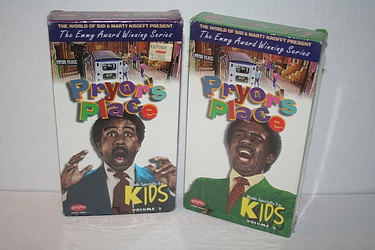 Well, the fates were smiling upon the Preserve last week, when someone put up for sale both volumes three and four,
non ex-rentals
and the other 3 fans of this show who always run the prices up appeared to be on vacation! So, I am delighted to have added both of these already-scarce collectibles to the Preserve! Click the image above for a larger view of these two titles, and follow the following links for
Volume 3
and
Volume 4
detail pages.
Posted by charlie on June 26th 2010, 05:37 PM
Leave Comment

Share
---
Funspot - Weirs Beach, NH
I am a huge fan of arcades. Having spent much of my youth bumming around the local arcade
Challenges
in the Willow Grove Mall, in the suburbs of Philadelphia, I was immersed first-hand in what (I would later come to learn) was sadly the decline of the original arcade industry. The transition to more 'violent' games rang in the end of the 'classics' and the notion of the dreaded 'family fun center' or 'kid gambling' as I always thought of it, took over arcade by arcade like a blight. I still always had an amazing time, getting to play, Smash TV, Pac-Man, Double Dragon, Teenage Mutant Ninja Turtles (beating which with best friend Ryan was a weekly ritual and a $20+ habit), and the sit-down Afterburner, on the rare weeks where the hydraulics were actually working. My arcade often had a few fun new pins as well - playing the Terminator 2 machine to coincide with the release of the movie was particularly memorable! It is therefore always very exciting to find and visit a surviving arcade, so many years later.
This brings us to Weirs Beach, New Hampshire. Not only does the boardwalk in this small resort town feature several perfect classic boardwalk arcades, with some real vintage machines going strong, but there is also a labor of love not many miles up the main road. If you aren't an arcade enthusiast you likely have not heard of
Funspot
, but the Guinness Book of World Records has, as it holds the title of the largest operating arcade.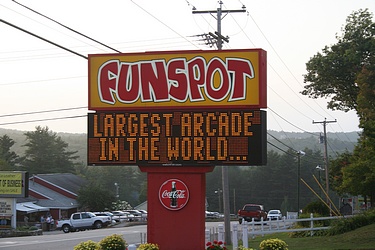 They have a truly intelligent business model - wherein under one giant roof exists bowling, skee-ball, redemption (shudder), a bar, retro-mini-golf, and the American Classic Arcade Museum. While the rest of their facility is plenty of fun, and you could spend many a happy hour rolling for the pins or throwing a skeeball to win some tickets, exchangable for groucho glasses or a spider ring, the real key is that classic museum. And, as with any good gaming museum, the machines are all playable. When coupled with their
fantastically easy to obtain coupon
, you get so very much playing time and entertainment for $20. Better still, you know you're helping to support a truly important endeavor for fans of history, fans of gaming, and fans of the last 30(+) years.
In 2008 I visited and secured permission to snap some photos of their classic arcade. While I didn't get every shot that I had hoped, being not yet as well steeped in the rigors of Toy Fair and other convention photography skills, I did manage to get 150 images, mostly singles, of their huge collection. Given that I don't even have a picture of all of the classics, let alone the pinball machines, that gives you an idea of scale. Looking at the huge set of wonderful imagery, I honestly didn't know how to organize it, so I have simply thrown them all on a page to be enjoyed. I've added titles to the first 30 or so images, but for now the rest are left as an exercise to the reader, which I highly encourage you to be! I may be fortunate enough to make a return trip to this important location sometime this year, and will hope to return with an improved and updated photoset. Add this one to your list of places you simply must visit if you have ever been a fan of the arcade.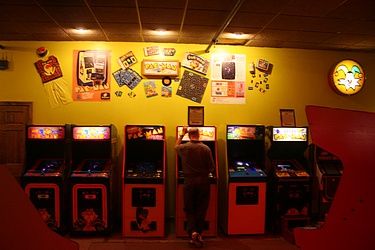 (I adore this image - click for larger view)
Posted by charlie on June 25th 2010, 07:40 AM
Leave Comment

Share
---
Batman - The Brave and the Bold: Batman vs. The Top
This 2 figure Action League pack from the
Batman: The Brave and the Bold
line is not one of the most rare sets to find, but now that the line is rapidly drying up I guess everything is actually pretty rare! There are numerous figures from this set in the Preserve archives that haven't had the front-page treatment yet, so the arrow pointed to these little dudes today.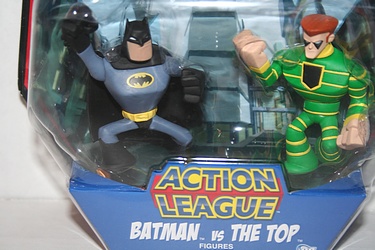 The Top is actually a really sharp looking figure, and because I am who I am I can't help but see the outline of a Decepticon logo emblazoned across the front of his uniform. I keep seeing strange unreleased Action League figures appearing here and there around eBay, so it seems that Mattel either has a few more packs planned for release, or those are the fleeting remnants of canceled sets we will never see. Until we know for sure, we have only what is on
the checklist
, so click the image above for the detail page on this fun set!
Posted by charlie on June 24th 2010, 11:33 AM
Leave Comment

Share
---
Press Release: Mezco Warriors Warehouse Find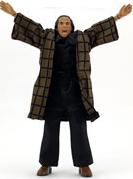 Press Release:
Mezco Toyz has just let us know that in the dark, disused corners of their vast warehouse were recently discovered the very last 8 sets of figures from their astonishingly cool Warriors figure line. Click the link to learn more about how you can come out and play, before they are again long gone!
Read More
Posted by charlie on June 23rd 2010, 08:56 AM
Leave Comment

Share
---
Xtractaurs - Thornback
Being as I was so overjoyed at the ease with which the supposed 'last two' figures in the short-lived
Xtractaurs
set were obtained from the eBay, I can't resist posting Thornback today as a direct followup to Terroar which graced these pages not 24 hours previous. (breathe in...)
Remember to stay away from this Stegosaur or he'll pelt you with his tail spikes, causing double the usual damage!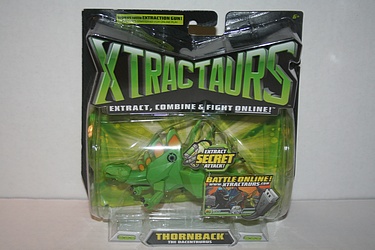 Posted by charlie on June 23rd 2010, 06:39 AM
Leave Comment

Share
---
Xtractaurs - Terroar
The end of a toy line, even a short-lived one, is a bittersweet thing. Mostly bitter, I guess, though sweet because it provides a bit of a challenging hunt for those of us who are into such things.
Xtractaurs
, the short lived Dinosaur DNA concept by Mattel, is a fine example, with only 15 figures (likely) released total, and a number of scheduled but scrapped ones evidenced by advance listings on amazon.com. As such, I expected the final figures to be tricky to find, since they were even tricky to learn about in the first place! Well, an enterprising TJ Maxx shopper, whose store appears to have a better selection than mine, appears to have discovered a pile of the final two figures in the line - Terroar and Thornback! Now, I could just be making that up, but I just have a feeling that these two were released last. It was surprising, therefore, to find a sudden glut of them on eBay, all priced at buy-it-now of $5. Well, while I do enjoy finding them myself in a dusty retail corner, given my decision to try to capture this line on the Preserve I do have to strike while the opportunity is there, so today I present to you Terroar, the Gorgosaurus!
This guy has, as you may have guessed, a special 'roar' attack which immobilizes his opponent for a time. He also sports a stylish color scheme and the confusing model number of P3427 but I will not let that alter my theory of his place in the line! Click the image above for more angles of this series ending dino. Also be sure to check out the awesome packing job the seller did...I guess they figured it was for a little kid's birthday - an easy mistake to make! Well, now it is Preserved, and safe for the ages.
Posted by charlie on June 22nd 2010, 07:50 AM
Leave Comment

Share
---
Outer Space Men Update
This just in (well, from the 18th) from the Onell Design Blog - some fantastic images of the first batch of figures in the new Outer Space Men line from Onell and the 4Horsemen!
Click here
to see how this is a line that you absolutely will need to add to your collection.
Posted by charlie on June 21st 2010, 06:42 AM
Leave Comment

Share
---
TurboGrafx-16: Parasol Stars
Let's wrap up the week with another
TurboGrafx-16
game, Parasol Stars! This title is part of a proud and long running franchise that you may better know as Bubble Bobble. I certainly spent many a glad hour as a wee lad playing said title on the NES, where doing a full run-through in 2-player mode was one of the very favorite sleep-over activities. Quite honestly I've never been a real hot shot gamer, even in mah prime, but I did always fancy that I was pretty solid with the dragons and the bubbles, and zapping the daylights out of the end boss (named Super Drunk!) with the towers of lightning bubbles was reward enough to keep me coming back over and over! Trick was that both players needed to survive the fight, or you didn't get the good ending. That always made for some tense times!
Here then we have the story of Bubble Bobble III, in 16 bit glory. I never quite got over the simple charm of the original, I guess because I always value those early experiences most of all, but this game has plenty to enjoy as well. In spite of rumors at the time (1991) of this game having an arcade equivalent, the truth appears to be that it was written for the PC Engine specifically, then ported over to these shores by Working Designs.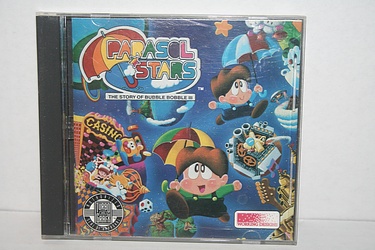 The stars of the show here are the 'human forms' of the main characters, Bubby and Bobby. I do far prefer Bubblun and Bobblun, their 'bubble dragon' names, but you takes what you can gets. Amusingly the backstory tells us that evil has returned to the world because the pair of them were so enthralled by their new magic Parasol gifts that they didn't see all the warning signs. Foolish humragons! Well, they now have 8 entire planets (plus 2 bonuses, one of which is supposed to be a bubble world - yay!) to go clean up, so I hope they, and you, are ready!
Posted by charlie on June 18th 2010, 08:28 AM
Leave Comment

Share
---
Mezco Toyz Reveals 12 Inch Leatherface and Nohell LDD

Press Release:
Mezco Toyz has just sent us a pair of press releases for two new products of theirs. Click the link to learn more about their frightening new 12" Leatherface as well as a new holiday addition to their fantastically popular Living Dead Dolls line - Nohell!
Read More
Posted by charlie on June 17th 2010, 10:58 AM
Leave Comment

Share
---
Lego World Cup
For those of you with any sort of International bent, you likely are aware that it is World Cup Time. Far and away the most popular thing in basically every country other than the United States, where businesses close and all life other than Football is suspended, and where we even have a US team (!) It is fascinating, therefore, how little mention of it is made here - probably very much by design. Well, in the spirit, I wanted to share a fun, likely totally unauthorized Lego video, highlighting the now-famous slip by England's keeper in the recent US match, which let our team end the game tied, 1-1. Enjoy!
Posted by charlie on June 16th 2010, 09:53 AM
Leave Comment

Share
---
TurboGrafx-16: Final Lap Twin
The other day when I posted
Pac-Land
I talked some manner of smack about another
TurboGrafx-16
game, Final Lap Twin. Turns out that I should have watched my tongue and given this game a little more of a fair shake before condemning it to the lower ranks of the library, for it is actually pretty cool! Not only is the racing engine fast and responsive, and the dangerous billboards whip past at a convincing and well-rendered clip, but there is a Final Fantasy-esque RPG mini-game component as well! I say 'mini-game' perhaps too hastily also, as I have made very little progress in it, and don't know how long it actually is...it may be huge!
Basically there is a 'quest mode' which, when chosen, becomes immediately familiar to any fans of FF-style top-down-overworld-map town-wandering, random-encounter-having, wise-old-man chatting game system! I was so very pleasantly surprised, and the stock of FLT definitely went way up. My first 'encounter' was with some other punk racer who sadly handed me yet another loss. After that bitter defeat, I ended up back at my home base, where my mentor/Dad gave me another $250 to apply towards the fairly detailed car upgrade system, and sent me back out into the harsh racing land...how kind! This, then, is my official apology to Namco and their great Final Lap Twin from good ol' 1989! Click the image below for a few more shots of this excellent game.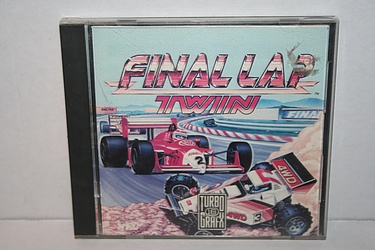 Posted by charlie on June 16th 2010, 08:15 AM
Leave Comment

Share
---
Masters of the Universe Classics - She-Ra and Keldor!
Mattel has quite the wallet-busting day planned for us all beginning at noon. Of course, odds are that if you look to your right, then look to your left, one of us won't be able to successfully complete an order, but here's hoping! Along with the Club Eternia figure of She-Ra, the bonus figure Keldor is here to represent for pre-bone-face Skeletor, and anyone who missed
Faker
back in the day gets another shot today.
Additionally, the fabled and elusive Wave 5 of
DC Universe Classics
which was originally Walmart-Only is being released today as a complete set for $70, with no changes whatsoever. Take that, scalpers! Oh, and don't forget today
also
marks the edition of the fourth and final
Ghostbuster
in 6" scale - slimed Peter (with Slimer). And if you still aren't bankrupt yet, there's a Justice League Unlimited Lobo figure for $20. You know, just because, and he's awesome so you sort of have to get him too. Phew - good luck! Click the MotUC logo below to go to their for-sale page for today.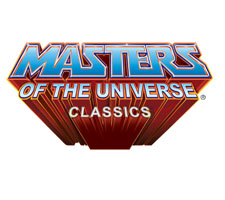 Posted by charlie on June 15th 2010, 06:32 AM
Leave Comment

Share
---
Batman - The Brave and the Bold: Final Vehicle Packs
The Internet forum rumors were true - that KMart of all places is proving to be one of the last major stores to stock this
Preserve favorite line
. I finally got the chance to look into this rumor first hand, and low and behold I was then able to fill in the remaining two slots in the Vehicle collection list! The hard-to-find sets of
Rocket Blast with Firestorm
and
Attack Sub with Batman
(and the Lead Metal Man!) were sitting right there on a bottom shelf, though the rest of the pickings were slim at best. Click the image below for a larger view of the KMart haul, and be sure to check out the full
Batman: The Brave and the Bold Checklist
!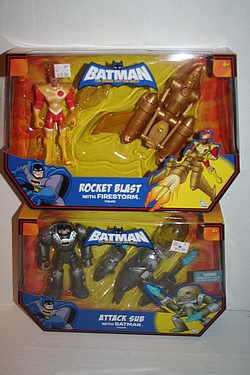 Collector Note:
Very early packages from this line indicated a cross-sell of Arrow Blast Green Arrow (deluxe figure) which never appeared in stores. Now, examples of it are turning up on line on the 2010 cardbacks - looks like he made it to retail at long last! Keep an eye out for this one, it is sure to be scarce.
Posted by charlie on June 14th 2010, 06:56 PM
Leave Comment

Share
---
TurboGrafx-16: Sinistron
The final game from the Steen collection, today I bring you Sinistron! Developed by Information Global Service and released in 1991 for the
TurboGrafx-16
(and known as
Violent Soldier
on the PC Engine), this game provided another strong entry in their robust shooter library, complete with killer music and wave after wave of enemies. Along with the standard shooter weapon powerups, you can also adjust the armored 'jaws' of the ship to alter your pattern of fire. You start out slow as molasses with a pitiful gun, making sure that when you die mid-stage you're really in deep trouble once the boss shows up! The 6 stages get, as you would expect, rapidly more impossible, but for the shooter enthusiast this is a great addition to any collection and will provide hours of frustrating fun! As always, click the image below for more pics and the full game back story.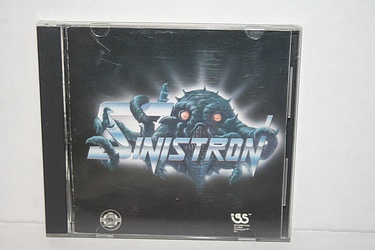 Posted by charlie on June 13th 2010, 07:08 PM
Leave Comment

Share
---
A-Team: B.A.'s GMC Van
Jazwares brings us the GMC Vandura. From an era when cars were as notable stars in a production as the men and women mugging for the camera, there can't be many people who grew up in the '80s in the US who won't recognize this vehicle almost instantly!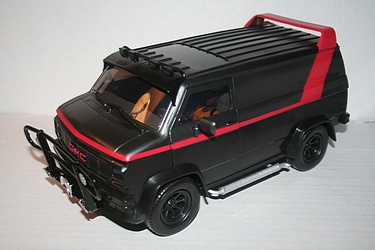 I think that they did a great job capturing the lines of the vehicle, and it displays wonderfully. The sideview mirrors and the rhino on the front are strangely rubbery when you get up close and personal, but again this is a great display piece, not meant to be roughly handled. The front doors open, and the side door slides back in a delightfully authentic way! My one complaint is the unnecessary 'lights and sounds' feature. Not only is there very little to the lights and or sounds, but the electronics for them seem to take up most of the back of the van and cause the rear doors to be unusable. The effort and price of that system could have been put into the (already affordable at $25) van, making the back doors work, and maybe beefing up those rubber pieces. Overall though, for that price, I have to give a big thumbs up to this classic van that is scaled to 3 3/4" figures. Joes anyone?
Posted by charlie on June 12th 2010, 08:02 PM
Leave Comment

Share
---
TurboGrafx-16: Pac-Land
Today it is time for Pac-Land on the
TurboGrafx-16
system. This game would fall squarely in the range of titles that are considered 'affordable' or even 'lower tier' in the TG16 library, classed along with the likes of Final Lap Twin and TV Sports Football. Well, that pricing trend does a lot to hide the good and noble history of this title, a glimpse of which I shall give you today!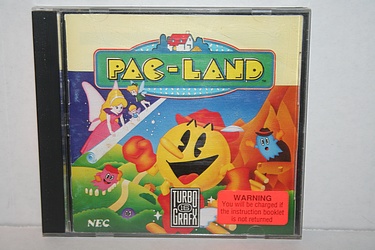 The game was first released in arcades in 1984 (the Greatest Year!) by Namco, and in the states by Bally Midway. It was one of the very first games to feature what would become the extremely commonplace side scrolling platform style, beating Super Mario Bros. to market. Along with that UI, some objects in the background also featured parallax scrolling - where clouds or distant elements would move at a different rate than closer elements - a method that would not become widely used until far later in gaming history. This title was ported to a tremendous number of home systems, and found itself among the illustrious US release list for the TG-16, and here it is for you to see! Click the image above for more shots of this fun and historically interesting title. And remember: you will be charged if the instruction booklet is not returned.
Posted by charlie on June 11th 2010, 08:03 AM
Leave Comment

Share
---
Transformers Q&A - #2 2010
The Hasbro Transformers team has sent us an answer to our questions for this round of the official Q&A. Check it out:
---
Transformers Q&A #2 (2010)
Preserve:
Why is it so difficult to find the transformers series in stores in Belgium? And the stores that have them do not even have them all.
Hasbro: While we would love to be able to provide you with an answer to this question, we are a bit confused on what information you are exactly looking for. Please give us a little more information and we will do our best to help provide you with as much information as possible.
Preserve:
We've seen a number of Scout class figures that seem to have possibly been inspired by the 1980s transforming rival...GoBots! Do members of the team have other favorite characters or figures from that under-appreciated line that they would like to see represented in this perfect modern-day expression?
Hasbro: The brand team has only decided to answer your first question
---
I guess this is the letdown for having such a successful Q&A last time! I've sent them clarification about the first question, so hopefully I'll have a better response to post soon.
Posted by charlie on June 10th 2010, 09:59 PM
Leave Comment

Share
---
Reactors - New Additions!
It is an exciting day here at the Preserve, as progress has been made on one of the long-standing quests to which I've put myself. Not one, but two new additions have been made to the
Nasta Reactors collection
, and fabulous secrets were revealed to me!
First off the
Reactorwinch-RF1
. This is the first, and apparently only, entry in the 'Funcional Series', which makes one wonder what else may have been on that Nasta drawing board when the plug was pulled.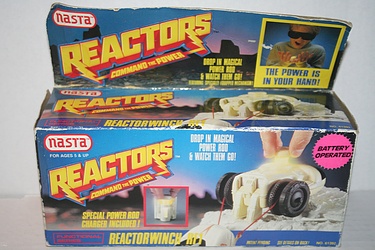 The example here at the Preserve is a little rough around the edges, but contains a mint item with sealed bags, strangely tall instructions, unused stickers and never-opened cardboard packing! The tape was slit when I received it, which is nice since I'd never do it myself, allowing me to get some good shots of the interior contents.
As much as I am fascinated by the Reactorwinch, the real story comes from the
Illuminator-RC1
. From looking at the checklist on the back of every vehicle package, it was pretty clear that while the Speed and Power series each contained three items, the Functional Series was limited to one piece and the 3x3 grid was filled out by two mysterious 'RCx' items. What did that mean? Was it a typo? They certainly seemed to be funcional themselves?? Well, last week was the very first time I have ever seen either RC1 or RC2 for sale, and I managed to pick up the Illuminator from eBay. Thank my lucky stars I guess.
It arrived last night, and I was delighted to learn two things: The packaging for this line is not standard across all sets! I don't know why this fascinates me so much, but given the difficulty in finding pieces from the line, any knowledge gained feels very valuable. Additionally, all other entries in the line so far have been consistent, so this departure stood out. The box for the Illuminator is pictured next to the Reactorwinch for comparison. Click it for a larger view.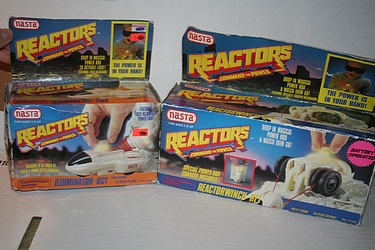 The other mystery of the universe which was solved is that the 'C' stands for 'Companion'! Specifically, a note on the box front instructs that they are "
Designed to be towed by speed & power series Reactors
". How exactly that is supposed to be accomplished is beyond me, sadly the instructions are lacking for this piece, but we may some day learn! Also be sure to check out the
fascinating writing
on the inner flap of the box. I like to imagine it is hand written, but it just can't be....can it?
Lastly, I was particularly excited that these additions allowed me to win the game of Nasta Reactor Tic-Tac-Toe that was being played on their
checklist page
. In summary, let's get a closeup of the Illuminator as well.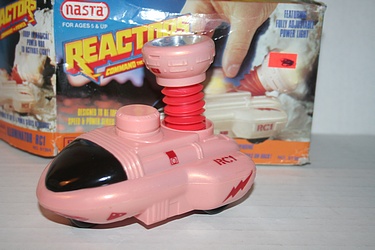 Posted by charlie on June 10th 2010, 08:59 AM
Leave Comment

Share
---
TurboGrafx-16: Klax
In 1989 Dave Akers and Mark Stephen Pierce reportedly designed a game we all came to know as Klax. Certainly it can be assumed that it was the twisted offspring of one-too-many long nights playing Tetris, and just wishing and hoping that you could come up with an idea that would sell nearly as well or be nearly so addictive. Well, they did manage to do a pretty good job, as Klax became a (gamer) household word, and became the first game to be ported to all three major systems at the time: the
NES
, the
Genesis
and the
TG-16
! Here it is for said TurboGrafx, in all of it's glory.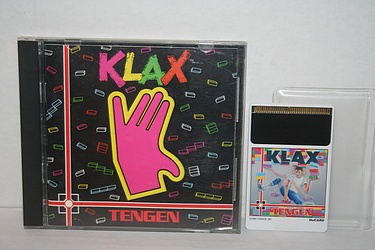 This version was released in 1990, and features the bold and self-aware tagline
"It is the nineties and there is time for Klax"
! I am always especially pleased when NEC, or I suppose in this case the Tengen design crew, took the time to opt for an absurd graphic on the HuCARD itself. You just have to smile at the 1990s absurdity - it's the bomb! *kick-split*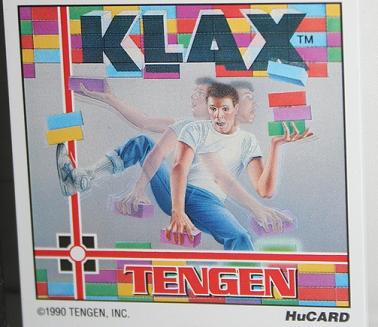 Posted by charlie on June 9th 2010, 11:57 AM
Leave Comment

Share
---
Masters of the Universe Classics - Tytus
Originally released in 1987, but never to North American collectors, the 'Heroic Giant Warlord' was available only in Europe, made and distributed in Italy. He was intended to be part of the 'Powers of Grayskull' line that never did come to pass, but at least he did make it to the shelf somehow. Complete with an action feature, tremendous scale height and actual She-Ra style 'real' hair he was a piece to be reckoned with! The most recent example I could find on eBay sold for $800, loose, with no packaging or even his signature weapon. But now, enter Mattel of 2010: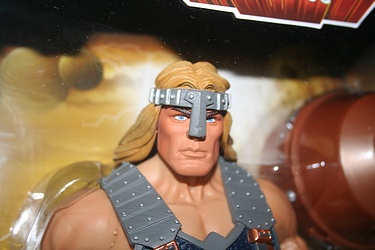 Collectors in the U.S. were delighted that Mattel included Tytus as one of their oversized figures so early in
the line
, and judging by the mere minutes it took for him to sell out, the future of the line and of oversized figures in particular still looks bright! They of course have plans to reuse his parts in as many ways as possible, so look for more huge additions to the series as the months and years glide by. Click the image above for his case break, more packaged shots, and his great plot-advancing bio!
Posted by charlie on June 8th 2010, 07:45 AM
Leave Comment

Share
---
Mezco Toyz Presents Scott Pilgrim
Press Release:
The internetworks are all a buzz over the upcoming (August) Scott Pilgrim movie. Savvy enough to give the people what they want, Mezco Toyz has just sent us images of two new 8" plush figures of the main characters themselves! Click the link for larger pics, and to read their release.
Read More
Posted by charlie on June 8th 2010, 06:53 AM
Leave Comment

Share
---
An Interview with Mel Birnkrant about Outer Space Men
The latest update in the exciting, unfolding saga of the new 4Horsemen property, The Outer Space Men, has landed on the news desk here at the Preserve. In particular, it is a long and interesting text interview with Mr. Outer Space Men himself, Mel Birnkrant!
The interview
was conducted by the fine folks at itsalltrue.net, so pop over there for the scoop.
Posted by charlie on June 7th 2010, 08:54 AM
Leave Comment

Share
---
Ghostbusters - Walter Peck
In celebration of, well, I guess Sunday, let's take a look at the fantastic Walter Peck figure that Mattel released in their
Ghostbusters line
on this past May 17th. It's interesting that he made it to the virtual shelves before the full GB team was complete, lending further credence to my suspicion that Bill Murray wasn't keen on the likeness of himself and had it redone a few times. Interestingly, the only 6" Venkman that has been unveiled is the 'slimed version', leading fans to clamor for a proper 'clean' version that will display well with the rest of the set. But, no matter, it is fantastic that EPA agent extraordinaire Peck made it into the set, and he comes with an absolutely stunning Ecto Containment Unit! Better yet, the trap that came with the
Winston figure
will fit into this piece, so when the light is green, the trap is clean. Click the image below for more shots of Peck - I am so proud of Mattel for their brave inclusion of his fourth 'attribute' - check it out!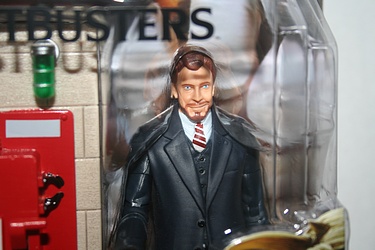 Posted by charlie on June 6th 2010, 02:12 PM
Leave Comment

Share
---
TurboGrafx-16: Galaga '90
Friend of the Preserve, lilmatt, wisely remarked recently that the Parry Game Preserve is more like the Parry He-Man Preserve lately! Well, I do have to agree, smitten as I have been with some of the new product that Mattel is cranking out, but I appreciated the reminder to keep the ol' coverage balanced. In that spirit, here is Galaga '90 for the
TurboGrafx-16
system!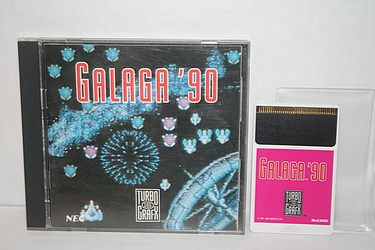 Armed to the max, he vowed to chase them across the galaxy, from space stations, to ice planets, to intergalactic graveyards. Because this time, he had something special on his side...the awesome Triple Fighter!
Are you excited yet? Well you should be! Known in the arcades and the PC Engine as Galaga '88, it was ported stateside to the TG-16 as Galaga '90. It represented a significant graphical upgrade to the classic tale. Of course, the Granddaddy of them all was 1979's Galaxian, so respect where it is due. Click the image above for more shots of the physical manifestation of this Preserve title, again from the Steen collection.
Posted by charlie on June 5th 2010, 07:14 PM
Leave Comment

Share
---
Masters of the Universe Classics - Optikk
The Club Eternia figure for May 2010 in the much loved and much hated
Masters of the Universe Classics
line was Optikk - Space Mutant Spy For Skeletor! There was some concern that he might not sell out with the same frantic pace as has been seen every single month prior, being a fairly minor character hailing not only from the depths of space but from 1990s 'The New Adventures of He-Man'. Putting to rest all of those fears, he managed to fly off the
mattycollector.com
shelves in under 15 minutes, hopefully paving the way for future obscure fan favorite figures from every corner of the MOTU Universe.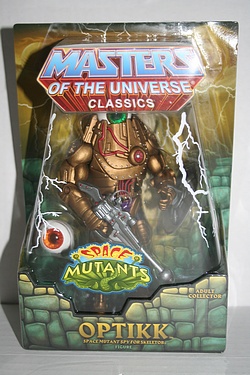 He comes from the foggy polar region of evil planet Denebria, with fog so thick you apparently need to be 100% eyeball from the shoulders up just to see your hand in front of your...eyeball. He carries a Photon Neutralizer which sounds pretty scary if you're a beam of light, and generally is an awesome piece by the 4Horsemen, as usual! Click either image to be whisked away to the full gallery - I'm such a fan of the '50s style sticker that's slapped on the package front that it just had to make it to the front page.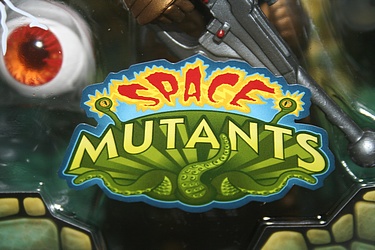 Posted by charlie on June 4th 2010, 06:19 AM
Leave Comment

Share
---
Mezco and DC Join Forces!

Press Release:
Mezco Toyz
has sent us some exciting news about their Mez-Itz line. Thanks to a newly inked deal, Mezco Toyz now has full access to the entire library of DC characters to implement in their distinctive style! But don't take my word for it, click the link or image to read their full release!
Read More
Posted by charlie on June 3rd 2010, 07:38 AM
Leave Comment

Share
---
Lego Brickmaster Set 20015 - Creator Crocodile
The next installment in the best yearly membership ever has arrived, the May/June
Lego Brickmaster
set! This time we have an 89 piece Crocodile from the Creator line (#20015), and it is large and in charge, with great articulation! So the scale doesn't make a lot of sense with their other lines - so? It's Creator - it's supposed to be big and bombastic! Click the image below for my obsessive casebreak and for more shots of the, yes I know, not opened set. Then keep your anticipation levels high for the impending release of Lego's new blind-boxed mini fig collection, coming soon!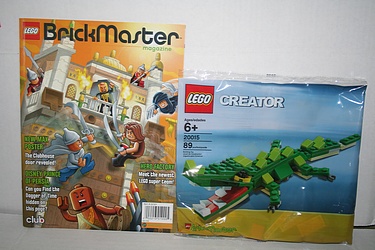 Posted by charlie on June 2nd 2010, 07:01 AM
Leave Comment

Share
---
Xtractaurs - Megastomp the Daspletosaurus
Thanks to some carefully placed eBay bids, I've managed to add what I've designated as 'series 2' of the rapidly-vanishing
Xtractaurs line
by
Mattel
to the Preserve. Sadly I'm not basing my series designation on very much, save for the relative scarcity or abundance of figures on the secondary markets, since the cross-sells on the cardbacks are confusing to say the least. Click the image below for more shots of Megastomp - an awesome albino Daspletosaurus, then also be sure to check out
Snaptor the Velociraptor
,
Strykem the Deinonychus
and
Battlespike the Styracosaurus
! I also finally realized that each character does indeed have a mini-bio on the back of their package, so have gone back to update the data for series 1. Now, the hunt begins for the last few figures, in the elusive (so I dub) series 3!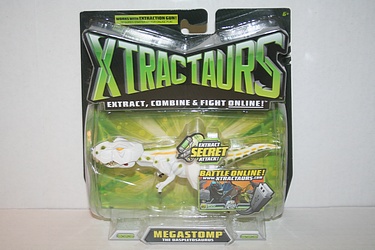 Posted by charlie on June 1st 2010, 07:30 AM
Leave Comment

Share
---